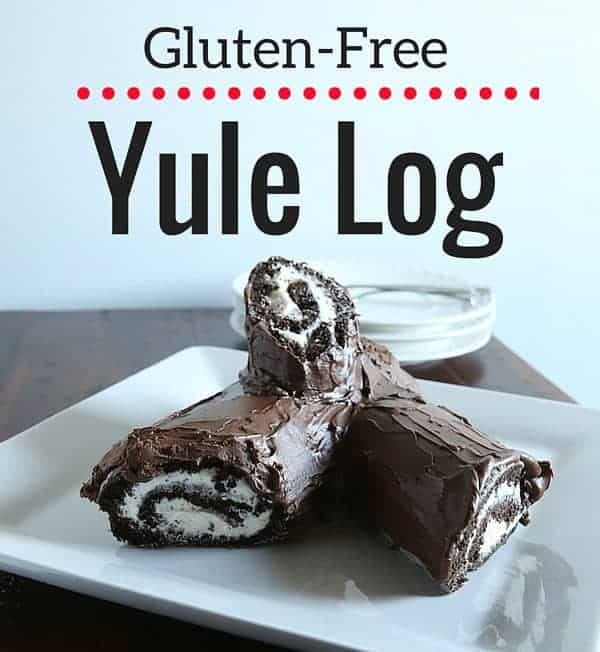 You know those recipes you mean to get around to baking? And then you…don't? That was my relationship with the classic Christmas yule log.
Last year, while I was testing recipes like a mad woman for my new paleo baking book, I thought, "Eh. I'm baking nine recipes today. Why not add another?" So I made a gluten-free yule log. It wasn't grain-free but it was a flop. Not just a flop. A floppity flop. A big 'ol FLOP. Then I got busy with the book. The holiday season came and went. And then, funny thing, the entire year came and went. I'm not joking when I say that it feels like just last week, not 12 months ago, that I made the failed yule log.
But here we are. A year later. And, I don't know about you, but it's been kind of a rough year, hasn't it? The news lately has been absolutely dreadful. So if you're feeling overwhelmed or short of time or just plain tired, don't make this recipe. It's not a terribly hard recipe. It's just involved. You need to make a sponge cake, a fluffy vanilla filling, and a chocolate icing. Oh, and you need to roll the whole thing up. If right now you crave something easy and comforting, I get it. And this isn't the recipe for your right now. (Give my easy Christmas butter cookies a try if you want easy and comforting.)
If, however, you're in the mood for a long kitchen project, the type the will drag your attention away from Facebook for a few hours, then, my friend, this is the holiday recipe for you!
Gluten-Free Yule Log: The Cake
The whole affair starts with a simple chocolate sponge cake. After whisking together the dry ingredients, you whip whole eggs until they get light and very thick, similar to how you'd make a meringue. Not to stress you out, but the entire success of the cake depends on whipping the eggs to the correct consistency. To do this, start with room temperature eggs. Add them to the bowl of your mixer and whip for about one minute. Then, in a slow and steady stream, add the granulated sugar. If you don't have a stand mixer, you're going to want to use an electric handheld mixer. (Unless you have Thor-style arms. Then go ahead and whip the eggs by hand!)
Once the eggs are light and thick, it's time to add the flour mixture. With the mixer running on low speed, add the flour mixture one tablespoon at a time. Adding the flour mixture this way allows it to incorporate without deflating the eggs.
Then spread the batter into a pan that you've both lined with parchment paper and greased generously. This is not a cake we want sticking to the pan! Actually, that said, we never want a cake sticking to a pan. The reason for both parchment and vegetable oil is because sponge cakes tend to LOVE to stick to a pan. They're worse than a regular butter cake when it comes to sticking to the pan.
Once the batter is in the pan, it bakes for a few minutes and then…
Gluten-Free Yule Log: The Reckoning (aka The Rolling)
Rolling up a cake like a cigar isn't something you do everyday. And, let's face it, the whole thing is a little weird. Imagine the first person to ever look at a cake and say, "IMMA ROLL THAT UP!"
(Of course, the second I wrote that sentence, I actually wondered who did invent the rolled up cake. Turns out, the first written account of a rolled cake occurred in 1852 in Utica, New York. Note: It is not known if the person exclaimed, "IMMA ROLL THAT UP!" before making the cake. )
To roll up a sponge cake you need two things: 1. The courage of your convictions. 2. A warm cake.
I'll let you attend to number one on the list. We'll tackle #2 together. After removing the cake from the oven, allow it to cool for three minutes. Set a timer! Three minutes goes by WAY faster than you think it will.
When your timer goes off, flip the cake, in one fast motion, onto a towel that you've dusted generously with powdered sugar. If, when you flop the cake onto the towel, it folds onto itself, don't panic. Quickly pick up the cake and smooth it out. Sponge cakes are surprisingly forgiving. Once the cake is flat on the towel, pull off the parchment paper. Dust the entire cake with powdered sugar and then, working from the longest side, roll up the cake, along with the towel.   After you've rolled the cake, place it seam side down on your counter and allow it to cool.
While the cake cools, make the filling and the icing. (See, I told you this was a day-long project!)
Gluten-Free Yule Log: The Filling
Many recipes for yule logs call for a whipped cream filling. Others use vanilla buttercream. I decided that I wanted something a little different in my cake. So I looked to my favorite, slightly over-the-top cake: whoopie pies! That's right. I filled this baby with a classic snack cake filling. It.was.amazing.
To make the filling, cream butter together with a little powdered sugar. Then add an entire small jar of Marshmallow Fluff. Cream together until it's bright white and fluffy. Done!
Gluten-Free Yule Log: The Unrolling
Now that you've made the filling, it's time to unroll your cake. First, make sure that cake is totally cool. If the cake still feels warm to the touch, go hang out until it cools. (I don't recomend making the icing while you wait because the icing is best used as soon as you make it.)
Slowly unroll the cake. Admire it. Then grab a spatula and slather the cake with the filling. Be sure to cover the entire surface of the cake, side to side, edge to edge. Then, using the towel as an aid, lift up the long edge of the cake. Roll the cake, this time WITHOUT the towel, into a log. Once the cake is rolled, run your hands down the log, squeezing gently as you go. This ensures the cake and filling stick together.
Now you need to make a decision. Do you want to leave the log as-is? There's no shame in that! Or do you want to go for a more traditional log-look? If it's the former, simply lift the roll onto a large cake platter. If it's the latter, grab a serrated knife. First, cut off each end of the log. (Cook's treat! Enjoy those scraps. You've worked hard for them!) Then, cut a three-inch piece of cake off the log at a 45-degree angle. Repeat this. Set those slices aside. Sadly, those are not a cook's treat. We need those slices in a minute.)
Transfer the log to a cake plate.
Gluten-Free Yule Log: The Frosting (or Not)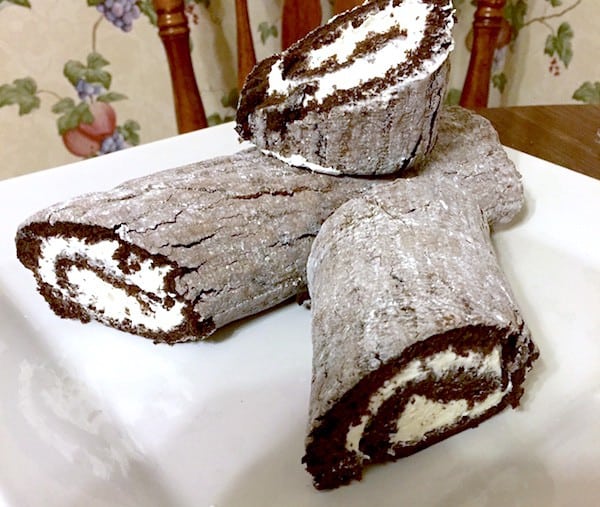 Confession: I didn't want to ice my yule log. Occasionally, and this all depends on the heat of your cake, the humidity, and magic, the powdered sugar that you put on the towel before rolling up the cake kind of melts into the cake. This makes the yule log look like a real log. It's amazing. If that happens to your cake, go ahead and leave it alone. In fact, if you don't want to bother with icing at all, no matter what your cake looks like, go ahead and skip this step. (If the powdered sugar didn't melt into a bark-like look, sprinkle a little extra sugar on the filled and cooled cake and call it a day.)
If you're like my husband, however, and the thought of an uniced cake feels wrong, then it's time to make the icing!
For this icing, melt some unsweetened chocolate and add it to a simple buttercream. Warm chocolate + butter can equal melted mess. So after melting the chocolate, allow it to cool for a minute or too. You don't want it to cool for so long that it thickens; you just want it cool enough not to melt the butter immediately on contact.
As soon as the frosting looks smooth and shiny, spread it on the log. If you want, run the tines of a fork down the log to make it look more log-like.
Then…and this part is KEY…step back and admire your work. Smile at it a little! You did that, yo!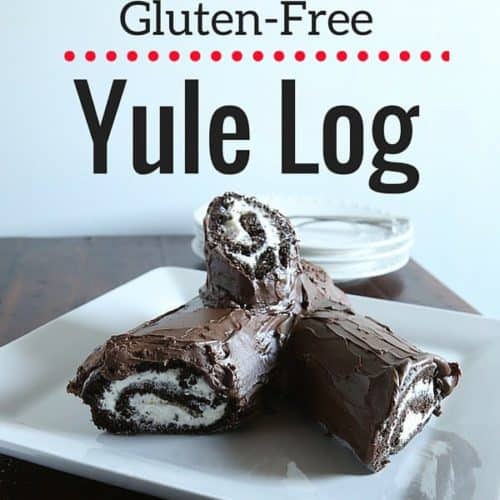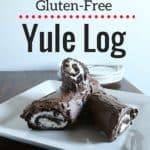 How to Make a Gluten-Free Yule Log
Be sure to whip the eggs until light and pale yellow. They help give this cake it's wonderfully light texture.
Total Time
4
hours
15
minutes
Ingredients
For the Cake
1/2

cup

white rice flour

(2 ounces; 57 grams)

1/4

cup

sweet rice flour

(1 ounce; 28 grams)

1/4

cup

Dutch-processed cocoa powder

(3/4 ounce; 22 grams)

1

teaspoon

baking powder

1/4

teaspoon

salt

1/4

teaspoon

xanthan gum

5

large

eggs, room temperature

(about 8 3/4 ounces; 250 grams, out of shell)

3/4

cup

granulated sugar

(5 1/4 ounces; 150 grams)

1/2

teaspoon

vanilla extract
For the Filling
1 1/2

sticks

unsalted butter, at room temperature

(12 tablespoons; 6 ounces; 170 grams)

3/4

cup

powdered sugar

(2 1/4 ounces; 65 grams)

1

(7 1/2 ounces)

jar marshmallow crème (I used Marshmallow Fluff)

1

teaspoon

vanilla extract
For the Frosting
2

sticks

unsalted butter, softened

(1 cup; 8 ounces; 226 grams)

4

cups

confectioners' sugar

(16 ounces; 453 grams)

3-4

tablespoons

heavy cream, half and half, or milk

(1 1/2 to 2 ounces; 42 to 56 grams)

3

ounces

unsweetened chocolate squares, melted

1

teaspoon

vanilla extract
Instructions
Adjust oven rack to middle position. Preheat oven to 350 degrees F. Spray an 18x13-inch baking pan with nonstick cooking spray, line the bottom of the pan with a piece of parchment paper, and then lightly spray the paper.

Whisk together white rice flour, sweet rice flour, cocoa powder, baking powder, salt, and xanthan gum in a medium bowl. Set aside.

Whip eggs in a stand mixer fitted with the whisk attachment until thick, about one minute. After one minute, add the granulated sugar in a slow and steady steam. Continue to whip the eggs until they are very thick, about 6 minutes. (This takes about 4 minutes on a stand mixer and up to 8 minutes with a handheld mixer.)

Reduce mixer to low. Add flour mixture, one tablespoon at a time. Mix until just combined. Spread batter evenly into the prepared pan.

Bake until the cake is aromatic and springs back to the touch, about 14 minutes.

While the cake bakes, place a large, clean kitchen towel on your counter. Dust it generously with powdered sugar.

Remove pan from the oven and immediately run a knife around the edges of the pan. Then, carefully, flip the cake out onto the prepared towel. Slowly pull the piece of parchment off the cake.

Starting from the long end, roll the cake into a snug log. Allow the cake to cool for about one hour.

While the cake cools, prepare the filling: In a medium bowl, cream butter until light and fluffy. (Use high speed on a handheld mixer or medium-high speed on a stand mixer.) Add the powdered sugar and beat until combined. Add the marshmallow crème and vanilla extract. Mix until fluffy.

Slowly unroll the cake. Spread filling over the cake, leaving about a 1/2-inch border around the cake. Re-roll the cake (without the towel this time). Using a serrated knife, trim the edges. Discard or eat as a cook's treat. Cut off two slices at a diagonal, about 2 to 3-inches each. Get creative with this! I like them to be different sizes. Set slices aside.

Transfer log to serving platter.

Prepare the frosting: cream together butter and powdered sugar in a large bowl. Add two tablespoons heavy cream. In a slow and steady stream, add the melted chocolate. Beat until smooth. Add one tablespoon heavy cream and vanilla extract. If icing is too thick, add remaining heavy cream. Use at once.

Frost cake with prepared chocolate frosting. Place icing on each slice and stick it to the cake where you'd like. You can place the pieces on either side of the log. Or stick one on top and the other on the side. Frost the slices. Serve.