Gluten-free cornbread stuffing with sausage and sage. Perfect for Thanksgiving.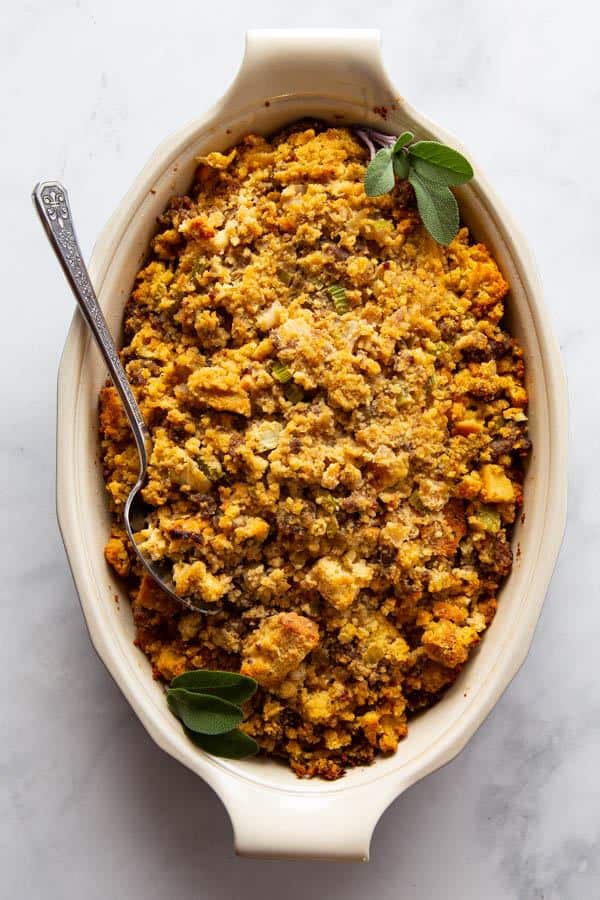 Stuffing is one of the stars of the Thanksgiving table. Like my classic gluten-free stuffing, this cornbread stuffing is packed with the flavors of the holiday: sausage, sage, onions, and celery. The best part? It's easy to make.
How to Make Gluten-Free Cornbread Stuffing
Prepare the gluten-free cornbread. (Or buy it. Whatever works for you.) Use a cornbread that doesn't contain a lot of sugar. My gluten-free cornbread is perfect for this. You'll need about 8 cups of cubed gluten-free cornbread.
Toast the cornbread and let it cool. This step adds flavor and prevents your cornbread stuffing from turning out mushy.
Cook the sausage. Use whatever type of sausage you love. Mild Italian is traditional, but (almost) any sausage works.
Cook the celery and onions in the sausage fat. Remove most of the cooking fat left behind by the sausage. Cook the celery and onions in about one tablespoon of the remaining fat plus a little butter.
Stir it all together. You're going to need a large mixing bowl to stir the stuffing together. If you don't have one, a large pasta pot (as long as it's not too deep) works in a pinch.
Add broth (but not too much). Chicken broth (or turkey broth) makes the stuffing moist (because no one wants dry stuffing!). Add the broth slowly, about one cup at a time. You want the cornbread to be damp, not soggy.
Bake. I recommend baking stuffing in a buttered baking dish. Bake until hot and golden-brown. Yes, technically that makes this gluten-free cornbread dressing instead of stuffing.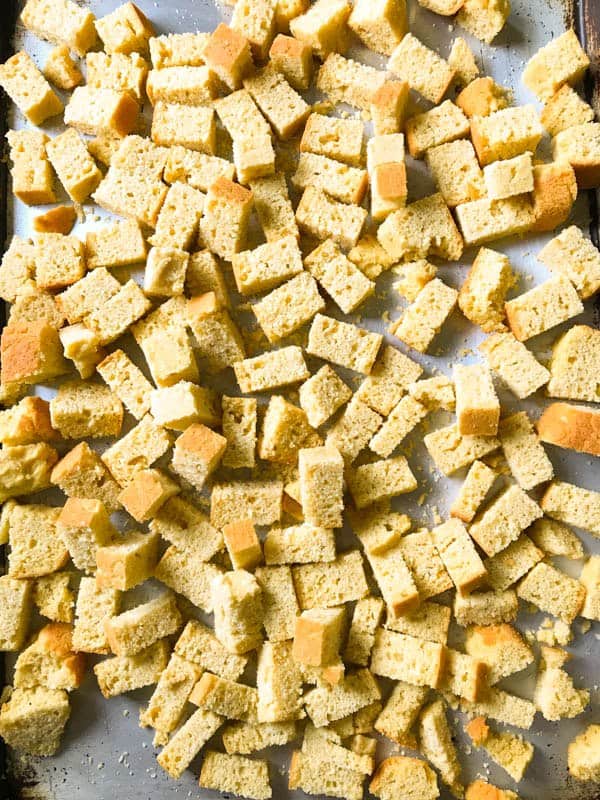 The Cornbread
To make cornbread stuffing, you need … cornbread.
The "best" cornbread to use for cornbread stuffing is whatever gluten-free cornbread you enjoy eating. Use your favorite gluten-free cornbread recipe, or grab a mix. (Or if you have a local bakery that makes gluten-free cornbread, you can buy it.)
Dry vs. Stale
It's important that the cornbread is dry. This helps both the flavor and the texture of your finished stuffing. When cornbread dries out, it loses moisture. That moisture is flavorless. We replace the lost moisture with flavorful stock, giving the stuffing a deep flavor.
Another reason it's important to dry the cornbread is texture. If the cornbread is fresh, the finished stuffing can get soggy⁠—almost mushy.
While it's perfectly fine to allow the cornbread to dry (stale) on the counter for a few days before you plan on making the stuffing, I prefer to dry it in the oven. Not only is this fast (about 30 minutes vs. several days), but it's also another step that adds flavor. When you dry the cornbread in the oven, some bits get a little color on them⁠—like toast. And you know how good toast tastes!
Cut into Cubes and Toast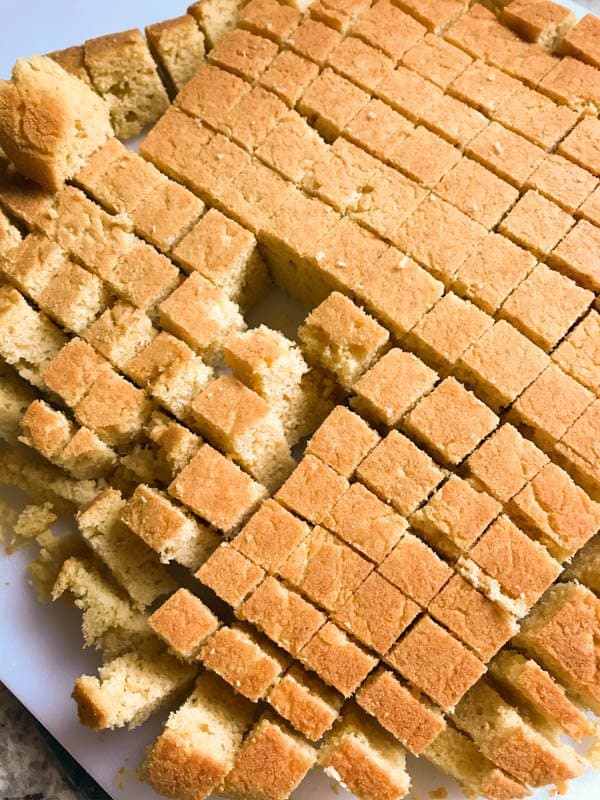 Cut the cornbread into 1-inch cubes and toast until golden brown. The cubes of cornbread break up when stirred together with the other ingredients. If you prefer large cubes of bread in your stuffing, cut into 2-inch pieces.
Cook's tip: You can prepare and toast the cornbread up to three days before you need it. After toasting, allow the cornbread cubes to cool and then place in a bag or covered container.
The Sausage
There's something magical about the combination of sausage and cornbread. But what sausage to use? Not to get all Ina Garten on you, but you should use "good sausage." What do I mean? I mean to use what you love. If you're a spicy sausage person, use it! Love the mild flavor of breakfast sausage? Go get it, friend. There's only one type of sausage I don't recommend: dried sausage. If you don't need to cook it before eating, it's not the right type of sausage for stuffing.
And speaking of cooking …
Cook the sausage before you cook the vegetables. After crumbling and browning the sausage, remove it from the skillet. Leave about two tablespoons of fat in the pan. It contains lots of flavor.
Sauté your vegetables in the same pan you cooked the sausage to get all the wonderful flavor the sausage left behind in the pan.
Cook's tip: Carefully pour all of the fat out of the skillet into a heat-proof container. Then, using a metal/heatproof tablespoon, measure two tablespoons of oil and return it to the pan. This way you don't have to worry about how much oil you're leaving behind in the pan.
The Vegetables
While there's an almost limitless variety of vegetables you can add to stuffing, I like to keep things simple and flavorful by using only sautéed onions and celery. Some recipes skip sautéing, but I find the flavor of the onions too sharp and the texture of the celery too crunchy if they aren't cooked before being added to the stuffing.
Cook's tip: To save time, you can cook the vegetables in advance. Cool the cooked vegetables and store in a covered container in the refrigerator for up to two days. Use as directed in the recipe.
The Herbs
Some folks insist on using fresh herbs for stuffing, but I'm not one of them. Since I only make stuffing in the winter, sometimes I don't have access to fresh (read: excellent) sage. This means I usually reach for dried sage. When using any dried herb, make sure it's not past its prime. Test your dried herbs by rubbing them between your fingers; they should give off a distinct aroma. If they don't pass the sniff test, it's time to buy new ones.
If you find excellent fresh sage, go ahead and use it. Just be sure to chop it finely before adding to the stuffing. Large pieces of herbs can be too strong if you get a mouthful in a bit of stuffing. So when it comes to herbs, remember to "Chop chop!"

The Broth
There's one thing that makes me cringe: when people use water in their stuffing. It's such a missed opportunity to add flavor. Chicken, turkey, or vegetable broth all work when making stuffing. For the best result, use unsalted broth and then salt to taste. Many commercial broths and stocks contain a lot of salt and can make for a stuffing that's a tad too salty.
When adding the broth, add it in stages. Pour about one cup over the stuffing mixture, stir, and then taste. (Nothing should be raw, so it's safe to taste the stuffing.) You want the stuffing to feel damp, not soggy.
The amount of broth you'll use will depend on your cornbread and how dry it is. It's always a good idea to have extra broth on hand. Sometimes stuffing sucks up broth like a sponge, and other times you only need a little.
The Eggs (Optional)
You don't need eggs to make stuffing. Let me say that a little bit louder: YOU DON'T NEED EGGS TO MAKE STUFFING.
I'm glad we got that out of the way. It's perfectly fine to make stuffing with just butter and broth. Eggs add a custard-like texture to the stuffing (think: bread pudding). If you like that texture, you can add eggs. If you don't like that texture, feel free to skip 'em.
Allergy note: If the cornbread (or bread) you use contains eggs, the stuffing is not egg-free.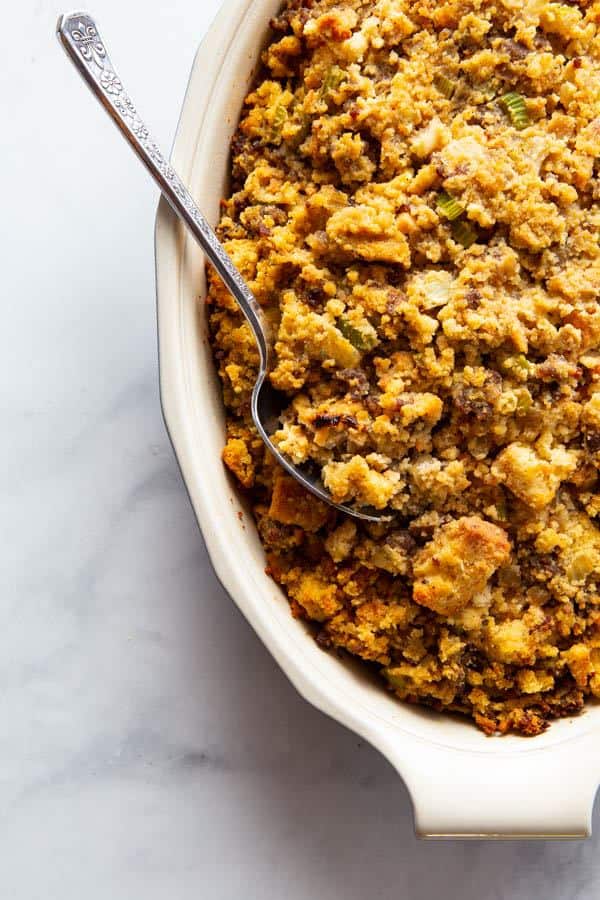 Baking
Since I don't stuff my stuffing into the cavity of a bird, technically I make a dressing. (But I call it stuffing and have no plans to stop.) I know that some folks love the flavor of stuffing stuffed into the cavity of the bird. However, for the stuffing to reach a safe temperature the meat of the bird can overcook and get dry. And who wants that?
Instead, put the stuffing into a buttered baking dish, cover it, and bake until hot. Then remove the foil and bake until the top is golden-brown.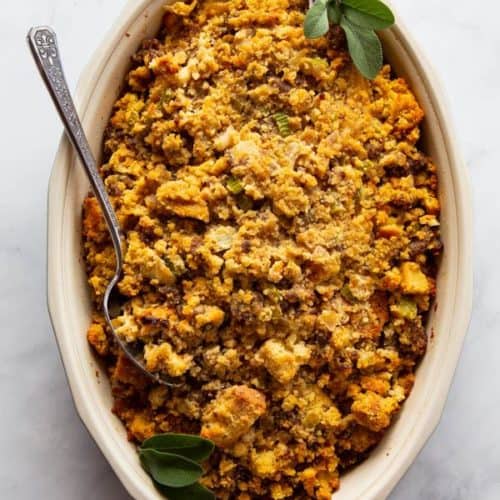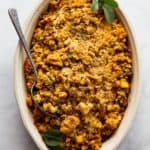 Gluten-Free Cornbread Stuffing
Gluten-free cornbread stuffing with sausage and sage. Perfect for Thanksgiving.
Ingredients
1

recipe

gluten-free cornbread/, baked and cooled

(about 8 cups)

2

teaspoons

canola oil

1

pound

sweet, mild, or hot Italian sausage, casings removed and broken into bite-sized pieces

(about 4 to 6 links)

3

celery

ribs, finely diced

1

medium

yellow onion, finely diced

2

teaspoons

dried sage or 3 tablespoons chopped fresh sage leaves

3

cups

no-salt-added or low-sodium chicken stock

1/4

teaspoon

salt, plus more to taste

2

large

eggs, whisked
Instructions
Toast the cornbread cubes: Preheat oven to 350 degrees F. Cut the cornbread into 1-inch cubes. Spread cubes onto a large ungreased rimmed baking sheet. Toast until lightly golden-brown, about 10 minutes. Remove pan from the oven. Gently turn cubes and toast until cubes are golden-brown and aromatic, about 15 additional minutes. Allow the toasted cornbread to cool on the baking sheet. When cool, place in a large mixing bowl. (Toasted cornbread may be prepared in advance and stored in a bag or sealed container for up to five days.)

Prepare the Stuffing: Grease a 9x13-inch baking dish. Set aside.

Cook the sausage: Place the canola oil in a large skillet and heat over medium-high heat until oil shimmers but doesn't smoke. Add the sausage. Crumble the sausage with a wooden spoon or meat crumbler. Cook until no pink spots remain, about 8 minutes. Transfer the sausage to the mixing bowl with the cornbread. Carefully pour the hot oil into a heatproof container, leaving about one tablespoon of oil remaining in the pan.

Cook the onions and celery: Reduce the heat to medium. Add celery. Cook until tender, about five minutes, stirring frequently while cooking. Add onions. Cook until tender and fragrant, about eight minutes. Add sage and salt. Stir to combine. Cook for an additional minute. Place mixture in the bowl along with the cornbread and sausage.

Make the stuffing: Gently stir together the sausage, cornbread, celery, and onions. Stir. Add chicken stock, one cup at a time, and stir gently. The cornbread will break up as you stir. When stuffing is damp, not soggy, stop adding broth. Taste. Adjust salt if needed. If using eggs, stir them in after you've adjusted the stuffing for seasoning.

Place stuffing into prepared baking dish: Spoon stuffing into the greased baking dish. (Stuffing may be covered and refrigerated for up to one day at this point.)

Bake: When ready to bake, cover the pan with foil. Bake stuffing until steaming hot, about 40 minutes. Remove the foil. Return pan to the oven. Cook until the top browns, about 10 additional minutes. Serve hot. Store stuffing covered and in the refrigerator for up to three days.