Crispy gluten-free latkes are a wonderful part of the holiday season.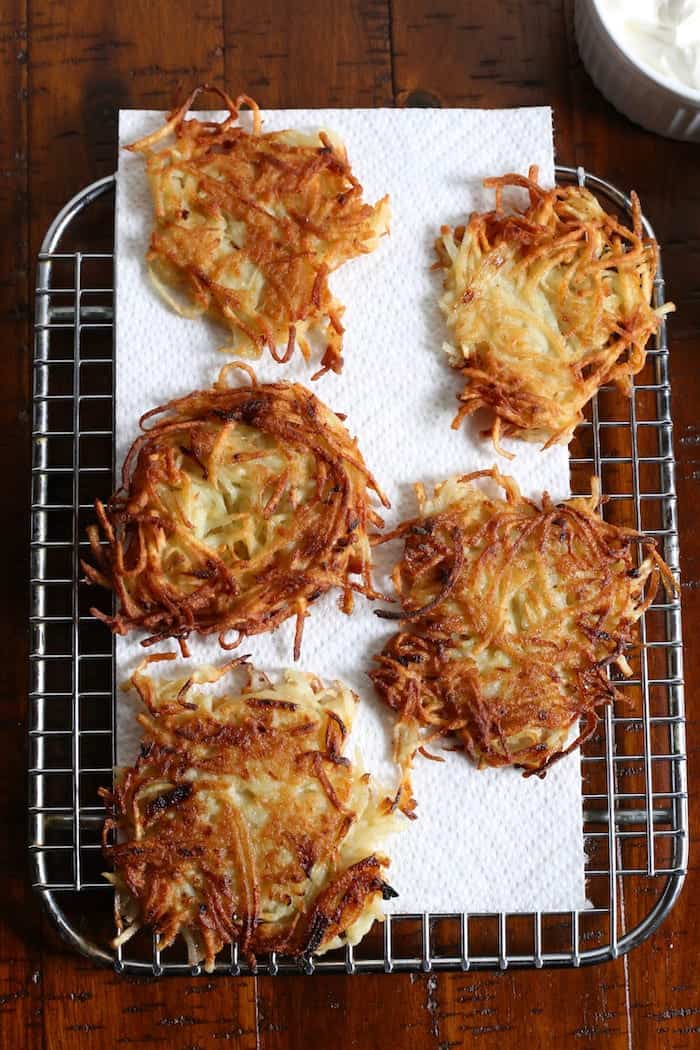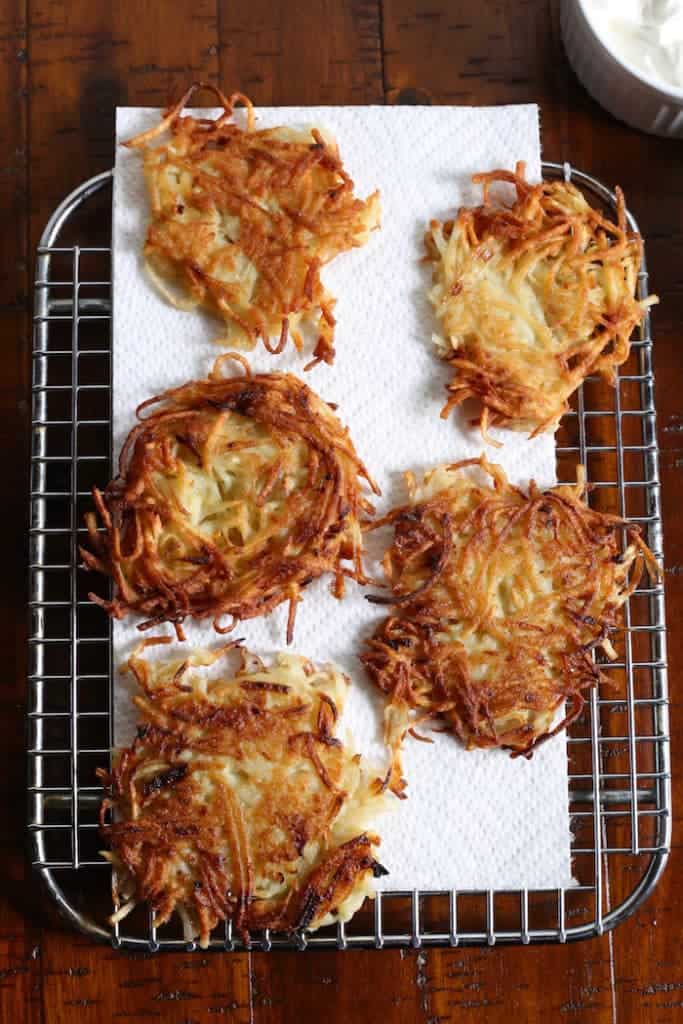 Latkes, fried potato pancakes, are a traditional part of Hanukkah. There's only one problem with them: they're often heavy and greasy. Gah!
No one wants a soggy latkes. Follow these steps and you'll make a batch of classic latkes that cooks up crispy and light.
Looking for a gluten-free sweet potato latke? I have a recipe for you!
Gluten-Free Latkes: The Potatoes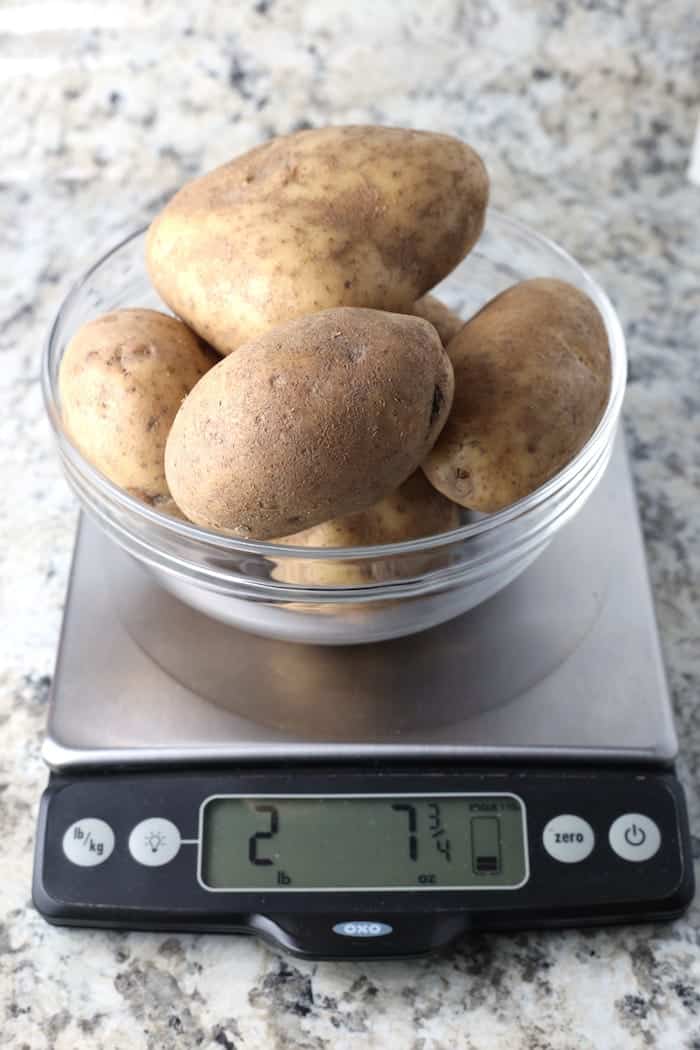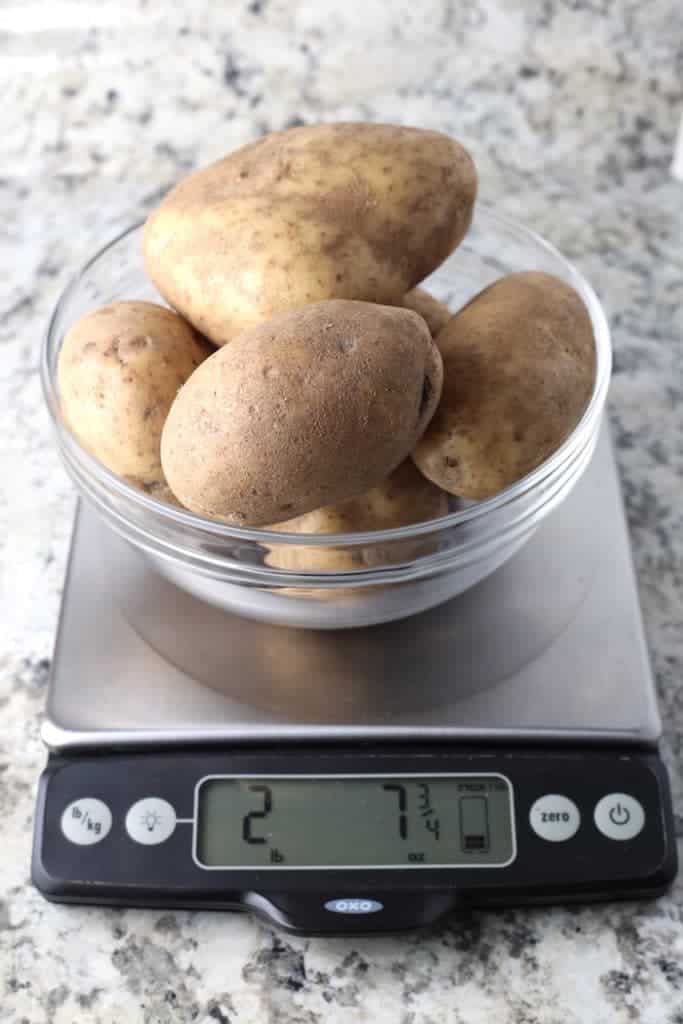 My favorite potato for latkes is the classic russet potato. These potatoes, with their dry flesh and high starch content, are ideal for frying.
When selecting the potatoes for your latkes, use potatoes that are firm and blemish-free. An eye here or there is fine, just cut them away, but you don't want a potato full of bruises or spots.
For this recipe, I use about 2 1/2 pounds of potatoes –that usually works out to five medium potatoes. This generously feeds six hungry people. If you're frying potatoes for a large gathering, this recipe doubles nicely.
Gluten-Free Latkes: The Onion and Other Seasonings
Some foods just seem made for each other: peanut butter and jelly. Macaroni and cheese. Bread and butter. Potatoes and onions.
Yes. That's right. Potatoes and onions are one of my favorite food combinations. There's just one problem with it: onions get aggressive. Use too much onion and it immediately takes over the delicate flavor of the potato. Blerg.
Since I'm making potato latkes and not onion latkes, one small onion adds just the right amount of flavor to the latkes without getting all aggressively onion-y on us.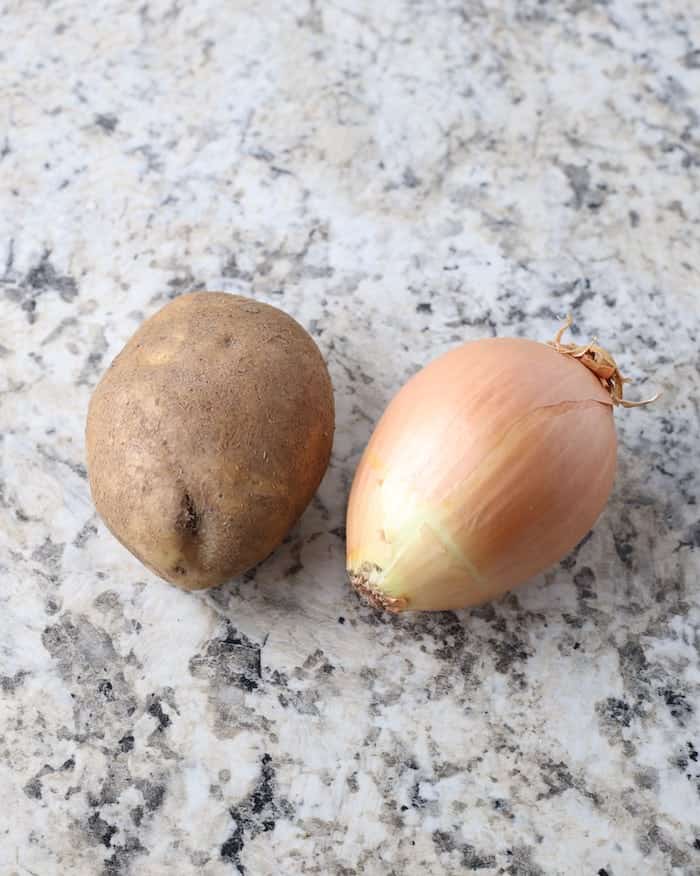 Here's what I do: I grab an onion that's the same size as the potatoes I'm using. This seems to always be the right amount of onion.
Salt and pepper are the only other seasonings I add to the recipe. That's it. If you want to get all fancy-pants on me, go ahead and stir some snipped chives into the mixture. It's a lovely addition.
Gluten-Free Latkes: The Flour
Here's where the gluten-free part of gluten-free latkes kicks in. Traditional recipes use matzo meal or wheat flour. For these latkes, I think white rice flour or sweet rice flour works perfectly. Both flours fry up nice and crispy without weighing down the latkes or adding unwanted flavors.
The difference between the white rice flour and sweet rice flour comes down to texture. Latkes made with sweet rice flour tend to fry up a little–and, really, just a little–bit crisper than those made with white rice flour.
If you don't keep rice flour in the house, use any gluten-free flour. They all work fairly well. Whole grain flours tend to add a bit of flavor and grit but since we use so little flour, the latkes turn out fine.
The only thing I'd avoid using is a flour blend that contains xanthan gum. Xanthan gum holds onto moisture and excess moisture in latkes makes for soggy, heavy latkes.
Gluten-Free Latkes: Shredding the Potatoes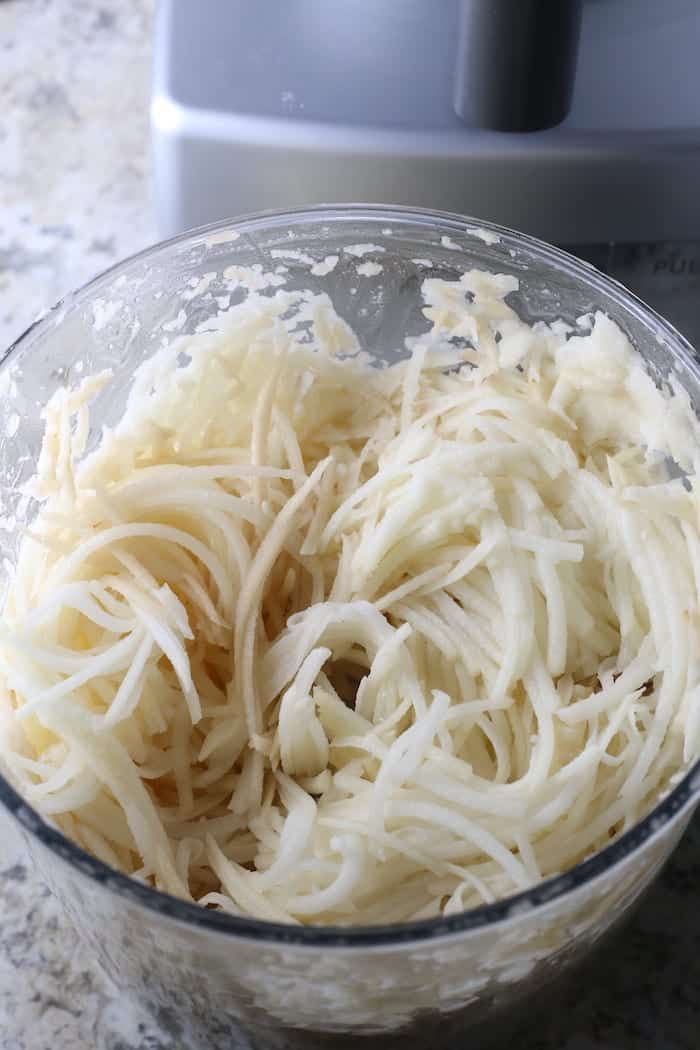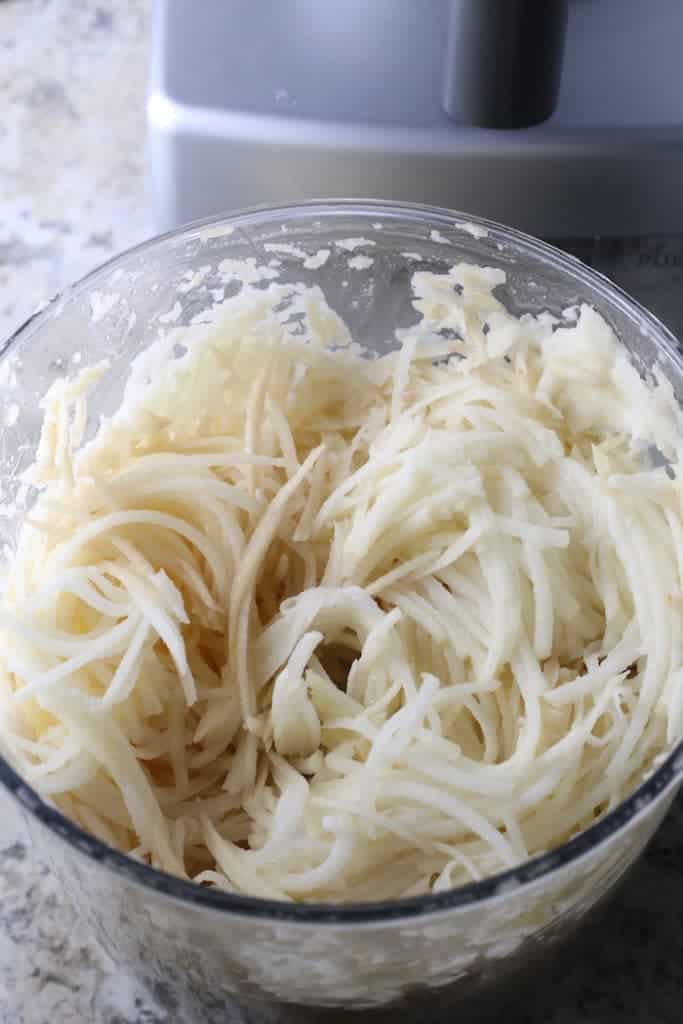 Latkes have a reputation for being a knuckle buster recipe since the potatoes are traditionally grated on a box grater.
I see no need to include my own blood in the latkes; so I skip the box grater and use the shredding disk on my food processor. It only takes about one minute to grate all the potatoes and the onion. Magic!
If you don't own a food processor, you'll need to grate the potatoes and onions. Kidding aside, take care when you do this. The starchy liquid that the potatoes release as you grate them, makes everything slippery.
Gluten-Free Latkes: Getting Rid of Excess Moisture
When making latkes I have a single focus: not eating them all straight from the pan. keeping them crisp.
Too often latkes end up soggy and heavy. There's a few reasons for this. The first is excess moisture.
As soon as you begin to grate the potatoes and onions, you'll notice that they release a lot of liquid. We want to get rid of this liquid before mixing and frying the latkes.
To do this, plop the grated potatoes and onions on a dry kitchen towel. Fold the towel over the mixture and twist the ends. Wring the towel to rid the potatoes of excess moisture. You'll be surprised how much you'll get out!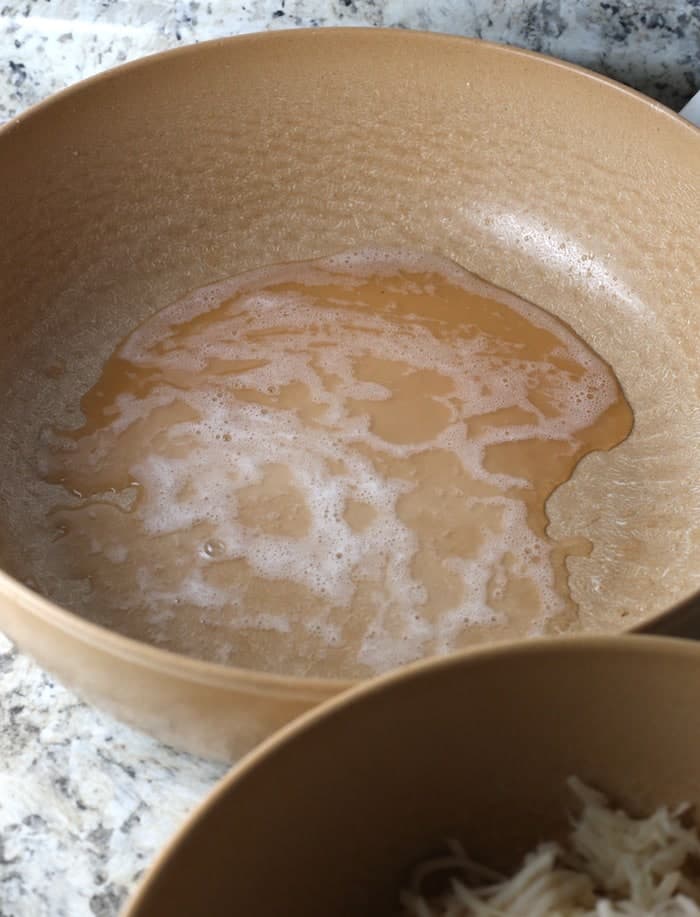 Usually I wring the towel out right over the sink. However, I wanted to show you how much liquid comes out of the potatoes and onion. It's hard to see in this photo but that's about 1/3 cup of liquid–and that doesn't even include the liquid that's in the towel.
As you can see, the liquid oxidized a little. Potatoes, like apples, turn brown quickly after you peel them. To prevent this, some people add lemon juice to their shredded potatoes. I don't like the flavor this adds to the cooked latkes. So I skip it. Truthfully, it doesn't matter if the potatoes brown a little before you fry them. Once they're cooked, they look and taste fine.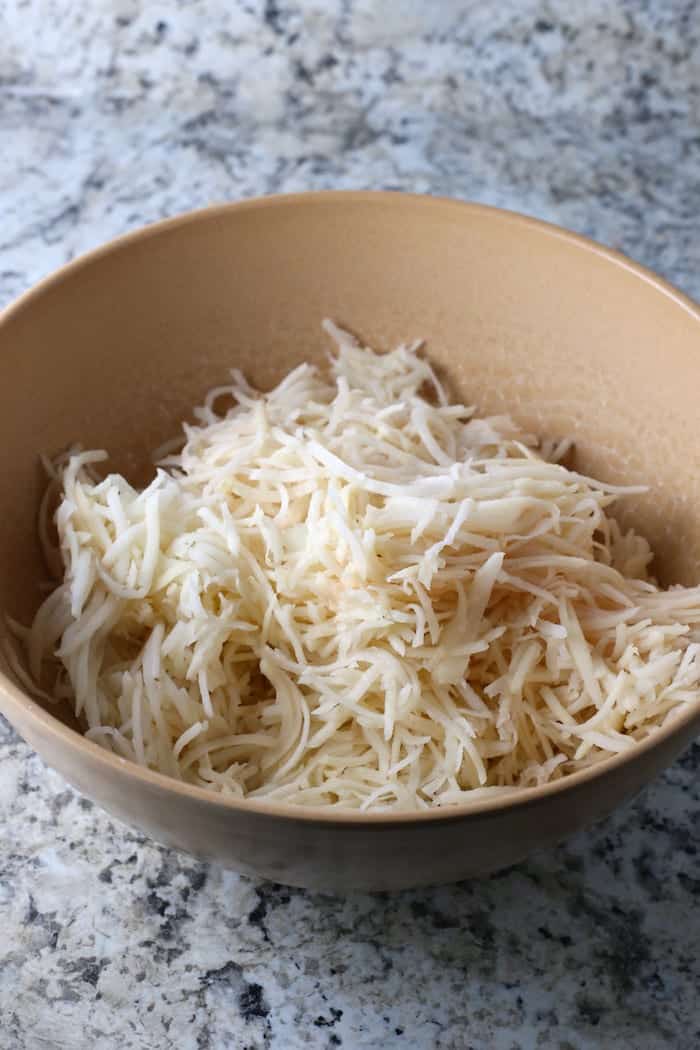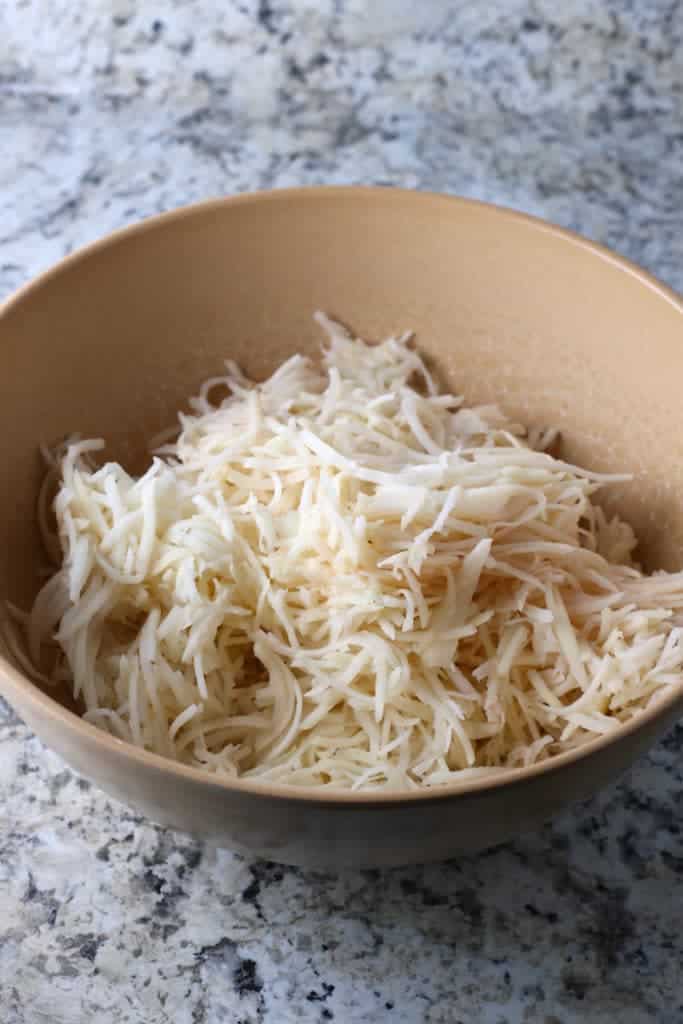 Once you've wrung out the potatoes and onion, put the mixture in a large mixing bowl. The shredded potatoes should feel almost dry to the touch. To check them, push the mixture aside and look at the bottom of the bowl. You don't want to see any pooled liquid. If you do, wring them out again. I know that this step seems a bit putzy. It's worth it; I promise.
Gluten-Free Latkes: Mixing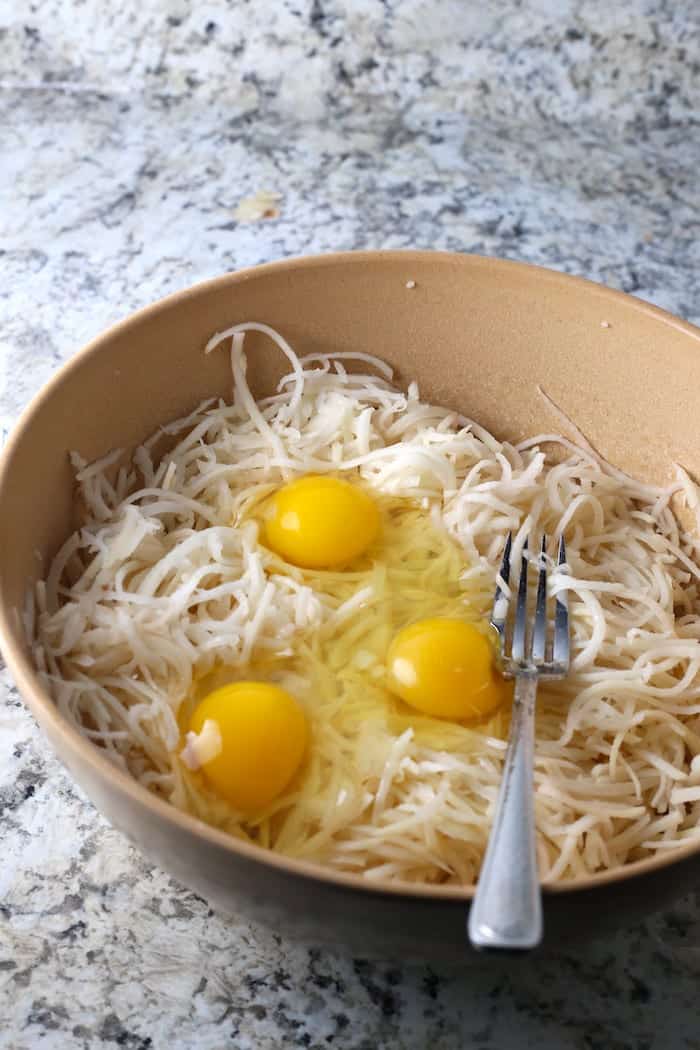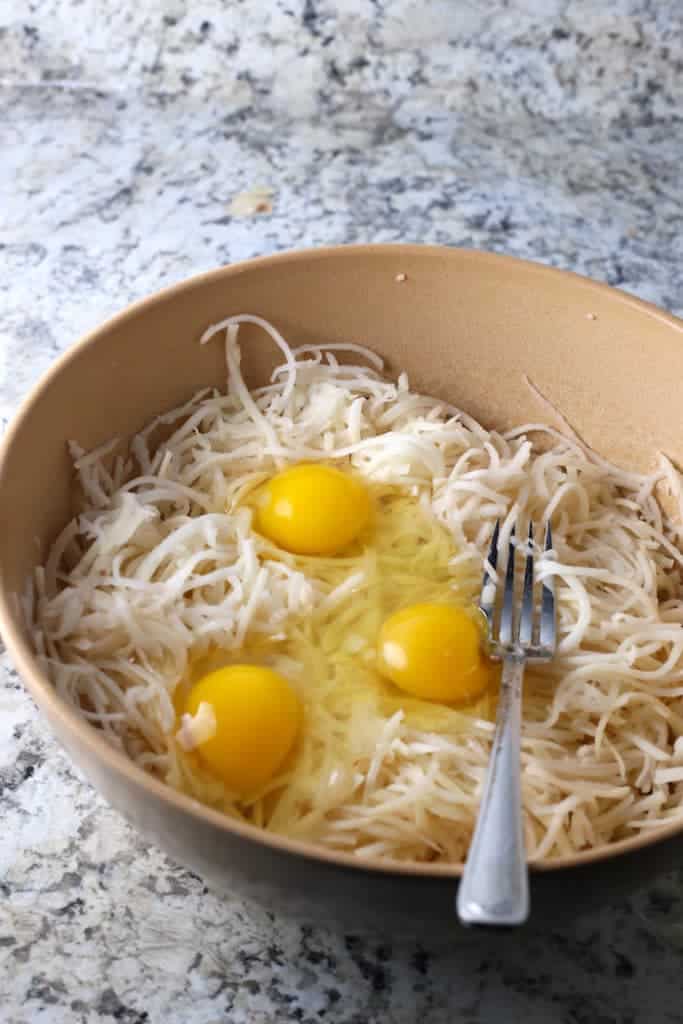 As soon as you've dried the shredded potatoes, it's time to make the latke mixture. Add the eggs to the bowl. You don't need to whisking them ahead of time. Just grab a fork and stir the mixture until the eggs completely coat the potatoes.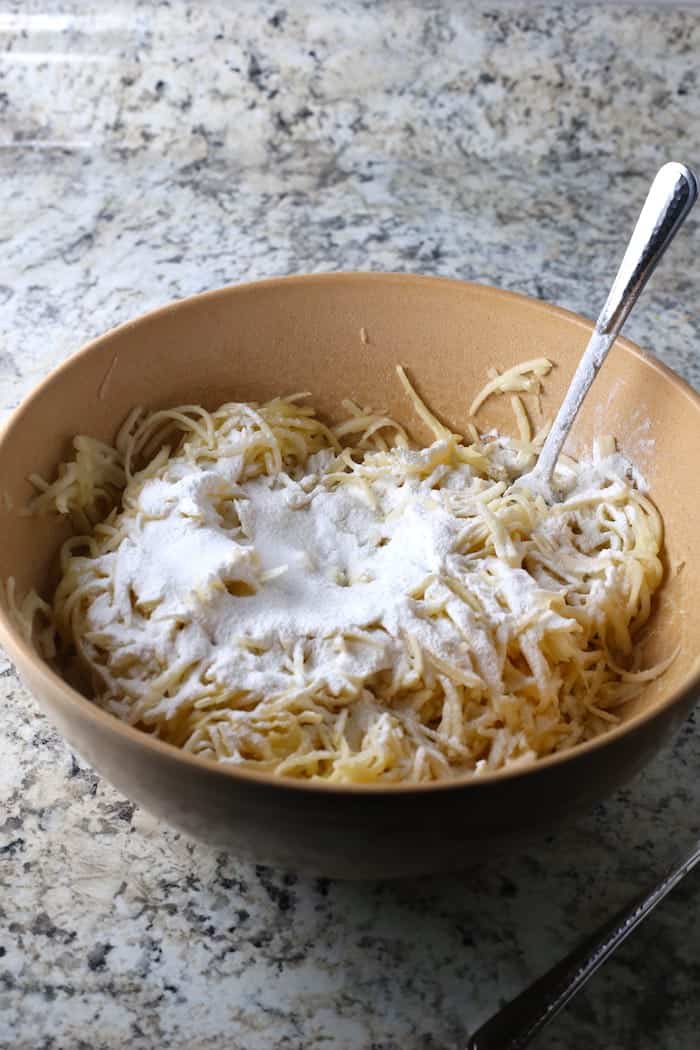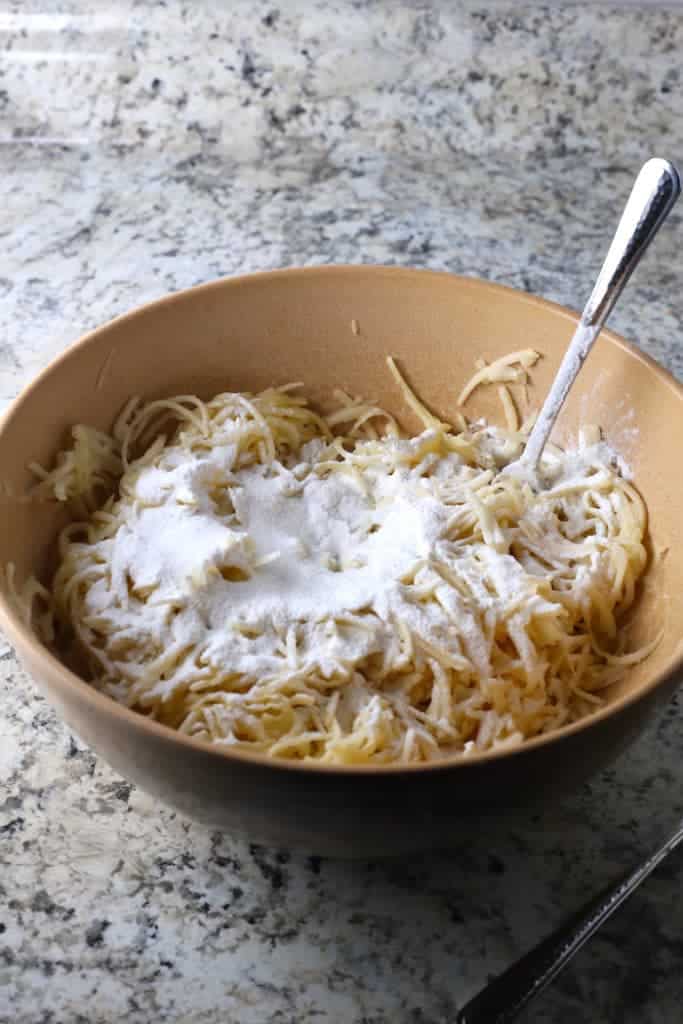 Add the white rice flour, salt, and black pepper. Stir with a fork to coat. Or you could use your hands!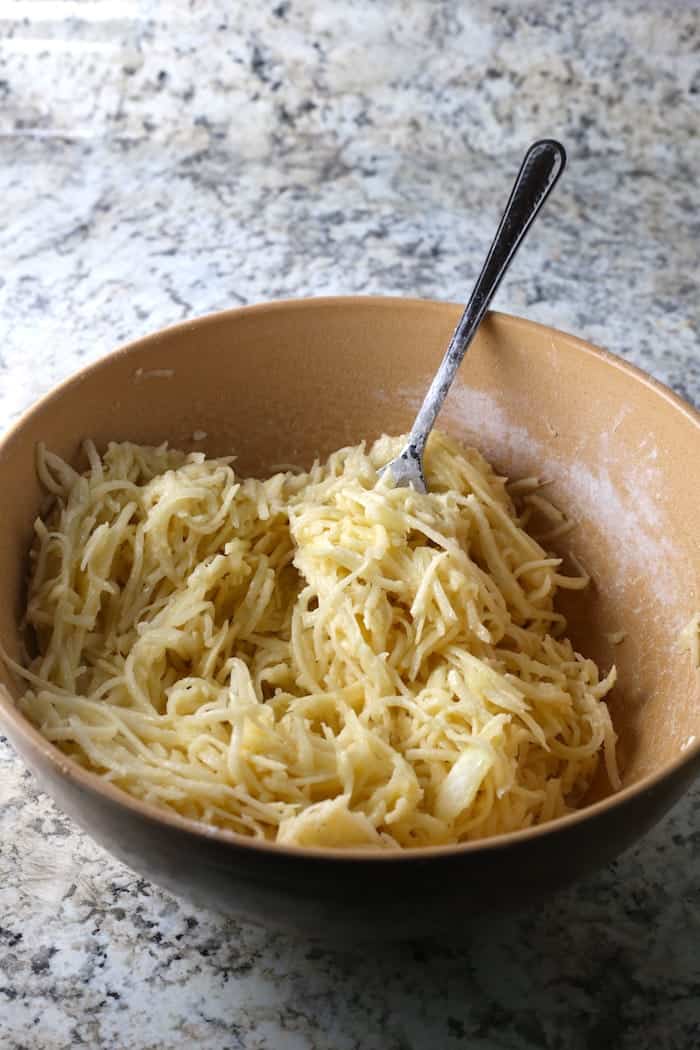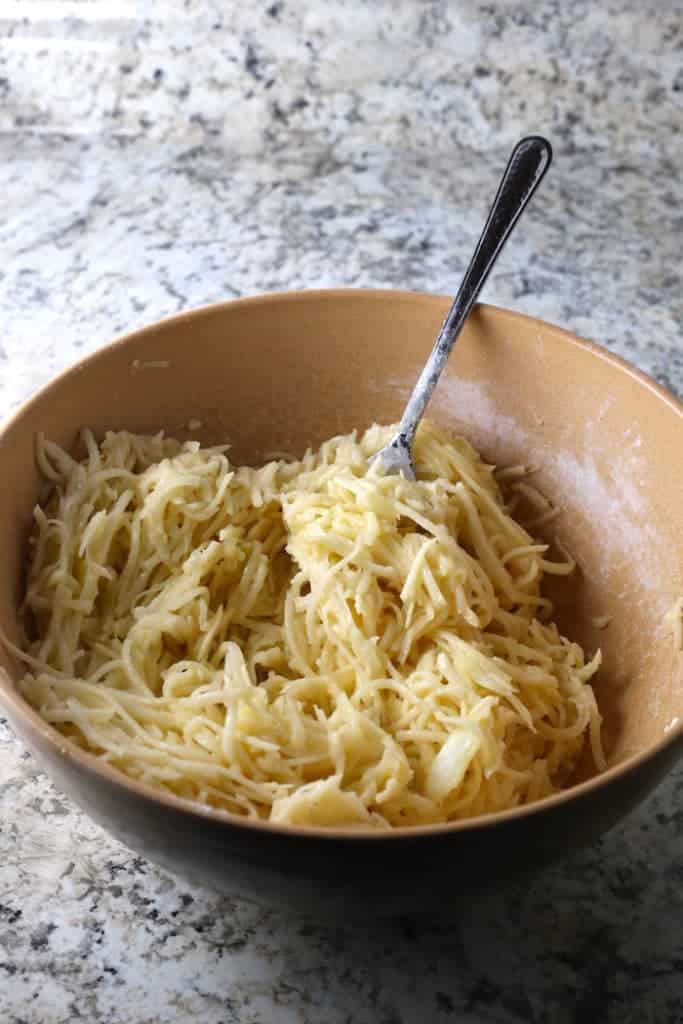 Everything is mixed together and ready to go.
It's (finally) time to fry.
Gluten-Free Latkes: Frying and Serving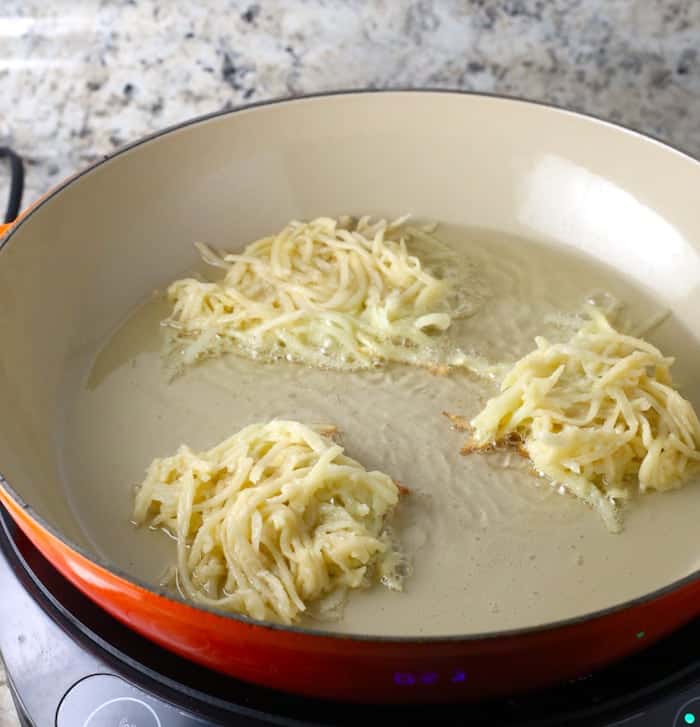 Fry the latkes in a little hot oil. We're not deep frying here. Coat your pan with about 1/8-inch of oil. I like to use safflower oil. If you want to go the traditional route, use a 50/50 blend of schmaltz (chicken fat) and vegetable oil.
You want the oil at just right temperature. If it's too cold, the latkes absorb the oil like a sponge and get oily and soggy. If the oil gets too hot, the latkes burn on the outside and remain raw in the center.
Heat your pan over a medium-high heat. Once the oil starts to shimmer but not smoke, you're set to fry. I always test my oil by dusting a little white rice flour over the pan. If the flour sizzles when it hits the oil, it's time to fry.
Cook three to four latkes at a time. More than that and the pan gets crowded, which causes the oil temperature to drop. Place a scant 1/4 cup of potato mixture into the skillet. Then, using two forks, pull the mixture apart a little. Don't mound up the latkes. You want them round and thin.
Adjust the heat as you cook to keep the oil sizzling but not smoking. Flip the latkes just once. More than that and they tend to break apart and get soggy.
Once they're cooked, transfer them to a paper towel-lined baking sheet or wire rack. You can serve them right away or you can keep them warm in a low oven until you've fried all the latkes.
Serve the latkes with applesauce or sour cream. Or both!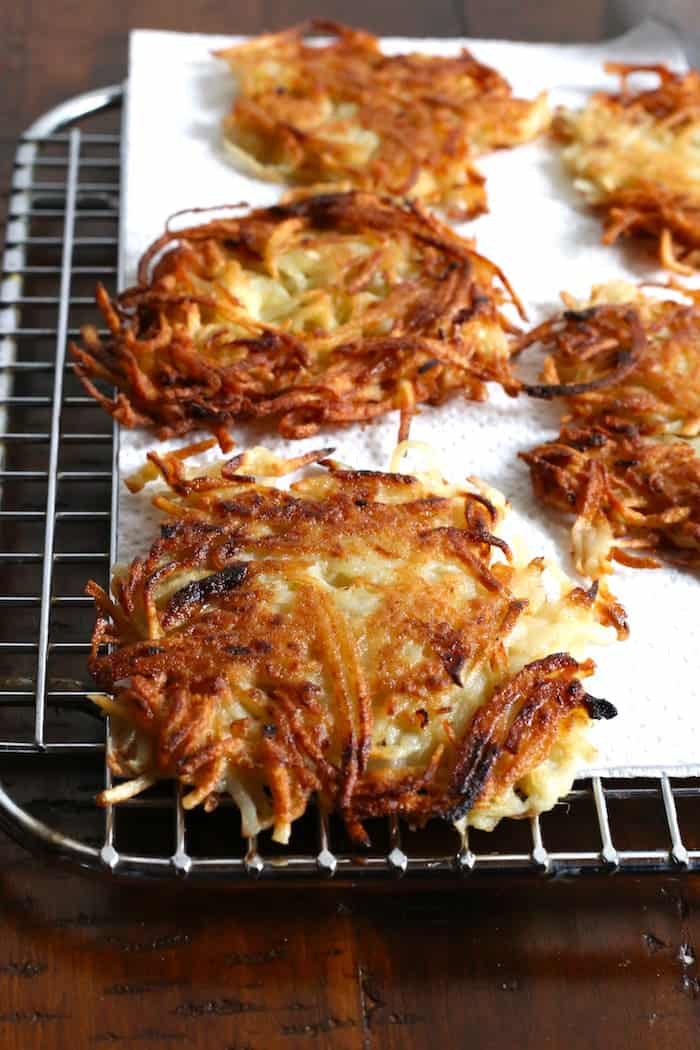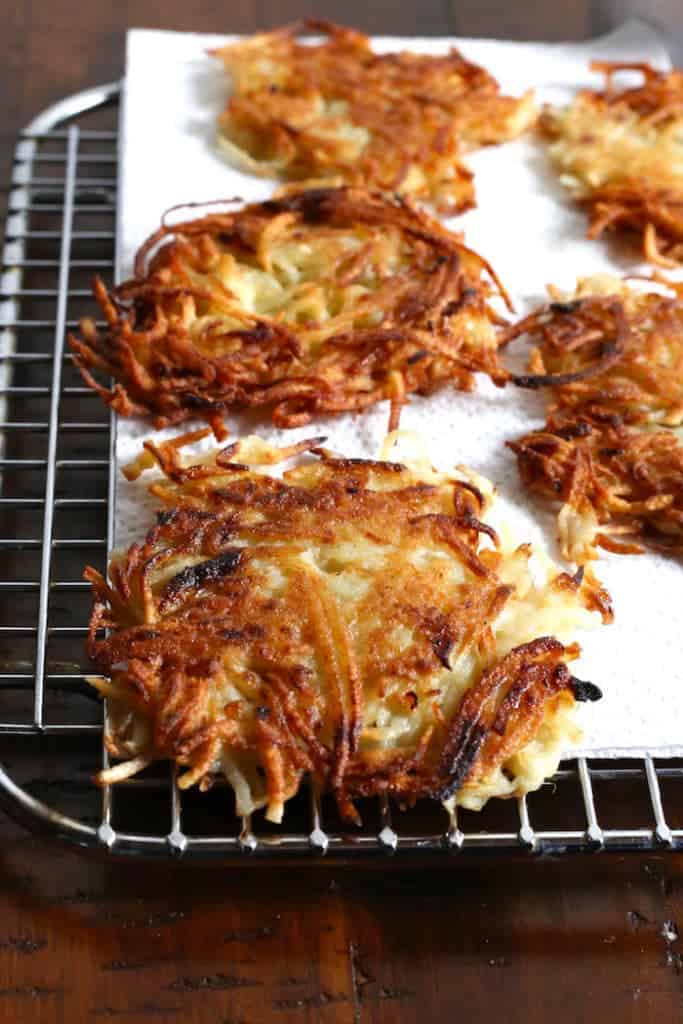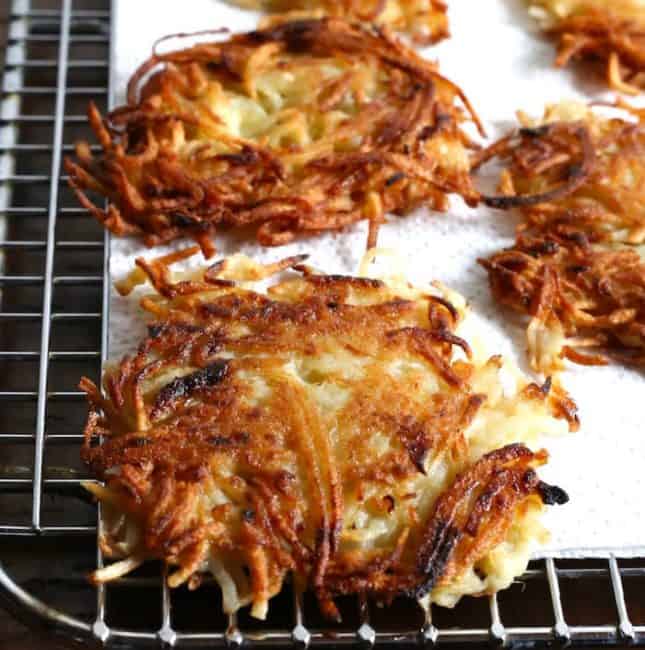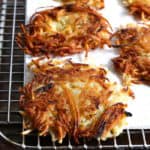 Gluten-Free Latkes
Ingredients
2 1/2

pounds

Russet potatoes, peeled

about five medium potatoes

1

small

onion, peeled

3

large

eggs

1/3

cup

white rice or sweet rice flour

1

teaspoon

salt

1

teaspoon

freshly ground black pepper

safflower oil for frying, about 1/3 cup

sour cream

optional

applesauce

opitonal
Instructions
Preheat oven to 225 degrees F. (Skip this step if you plan on serving your latkes right from the pan.) Line two baking sheets with paper towels or one large cooling rack.

Grate the onion and potatoes. I use a food processor fitted with the medium grater attachment. If you don't have a food processor, a box grater works just fine. It will just take a little longer.

Place half the onion and potato mixture on a kitchen towel. Roll towel around the grated onions and potatoes. Wring towel to draw excess moisture out of the potatoes and onions.

Add the eggs and stir with a fork to combine. Add the white rice flour, salt and pepper. Add to potato mixture and stir to combine.

Heat 1/8-inch of oil in a non-stick frying pan over medium-high heat until it shimmers but does not smoke.




Working in batches, drop a scant 1/4 cup of potato mixture into the hot oil. (The latke mixture should sizzle when it hits the oil.) Using a fork or spatula, flatten the mixture a little in the pan. I fry three latkes at a time. This will ensure your oil doesn't get cold. Cold oil=greasy latkes!

Fry for 2-3 minutes on each side or until golden brown. Transfer to baking sheet. Serve at once or keep warm in the preheated oven.

Serve latkes with applesauce and sour cream, if desired.