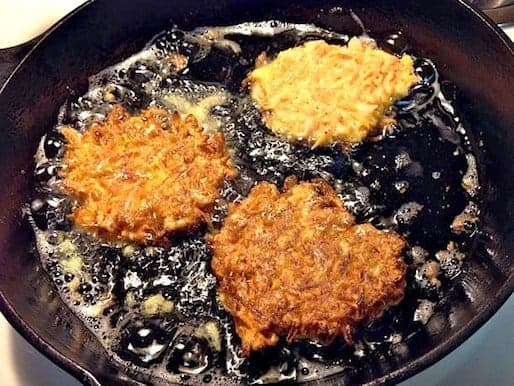 Ask anyone who makes latkes what they think of their recipe (or their mother's or grandmother's recipe) and most will tell you that "it's the best." And they're right. I mean, we're talking about fried potatoes here. So two years ago when I decided to create sweet potato latkes to celebrate Thanksgivukkah, I didn't want a recipe that competed with my traditional potato latkes. After all, that recipe is the best, so why mess with it?
I thought about what I loved about latkes—besides everything—and realized that the grated onion, just a supporting player in my regular recipe, would pair really well with sweet potatoes. I jotted down a note to increase the onion. I also wanted the eggs to play a slightly prominent role. Usually I add only enough egg to hold the potatoes and onions together; for this recipe, I decided to add an extra egg or two.
But before I settled on just how much onion and how many eggs to add, I pulled out my grater. As I started grating, I remembered what Ruth, the woman who taught me how to make latkes, once said. "The most important tools for making latkes are strong hands and a kitchen towel." Ruth would grate her onions and potatoes and then aggressively twist them in a kitchen towel to wring out excess moisture. As she twisted the towel tightly, her hands strained with the effort. Not only were her latkes nice and crisp, but they were dry enough that they didn't splatter during frying.
After ensuring that my sweet potatoes and onions were as dry as possible, I sprinkled the mixture with white rice flour, salt, and a generous amount of freshly grated pepper. Then, I added four whisked eggs. The mixture appeared looser than my regular latke recipe but for an eggy latke, it looked about right.
 The latkes fried up nicely. And after a few minutes in the hot oil, I was rewarded with tasty sweet potato latkes that were totally different from my favorite recipe. After eating a few
latkes
bites, I was sure that this recipe was the
best recipe
for sweet potato latkes. That's when I knew I'd found a recipe I'd be making for years to come—even when Hanukkah and Thanksgiving don't collide.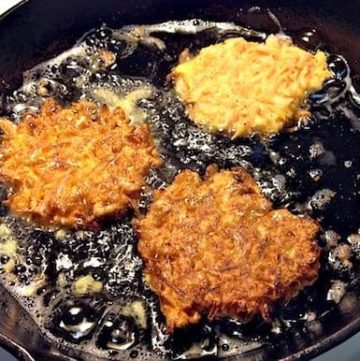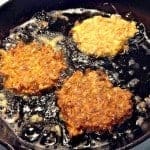 Gluten-Free Sweet Potato Latkes
Ingredients
1

medium onion

peeled

1

pound

sweet potatoes

peeled (about two large sweet potatoes)

1/2

cup

white rice flour

(2 ounces; 56 grams)

2

teaspoons

salt

1

teaspoon

freshly ground black pepper

3

large

eggs, beaten

(about 5 1/4 ounces; 150 grams, out of shell)

Vegetable oil

for frying

Sour cream and applesauce for serving
Instructions
Preheat the oven to 200 °F. Grate onion and sweet potatoes using a food processor fitted with a medium grate, or on the large holes of a box grater. Combine in a medium bowl.

Place half of the onion and potato mixture on a clean kitchen towel. Roll the towel around the mixture and wring the towel to draw out excess moisture. Unroll the towel and transfer the mixture to a large bowl. Repeat with the remaining onion and potatoes

In a small bowl, whisk together the white rice flour, salt, and pepper. Add to the potato mixture and stir to combine. Add the eggs and stir to combine. Line a rimmed baking sheet with several layers of paper towels and set it near the stove but safely away from the burner. Heat 1/4 inch of oil in an 8-inch cast-iron skillet over medium-high heat until shimmering.

Working in batches, drop the potato mixture into the hot oil by scant 1/4-cups. (The mixture should sizzle when it hits the oil.) Using two forks, flatten each latke a little in the pan. (You almost "pull" the latkes apart to flatten.)

Fry until deep golden brown, 2 to 3 minutes. Flip with a pancake flipper or spatula and fry an additional 2 to 3 minutes. Transfer to a paper towel–lined baking sheet and keep warm in oven while you cook remaining latkes. Serve with sour cream and apple sauce.