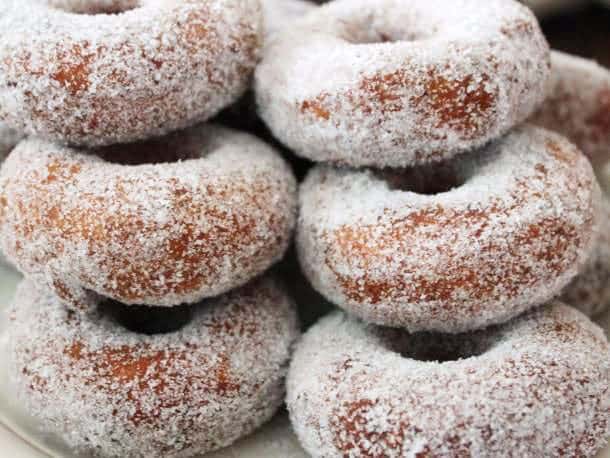 Apple cider doughnuts are a fall tradition in upstate New York and I wanted to create a recipe that anyone can enjoy. So I took a good look at my old fashioned gluten-free doughnut recipe and tweaked it. A lot.
How much? This recipe is free of gluten, eggs, and dairy. And, man, they are SO good. SO GOOD.
And, thankfully, they aren't hard to make. Here's how to do it!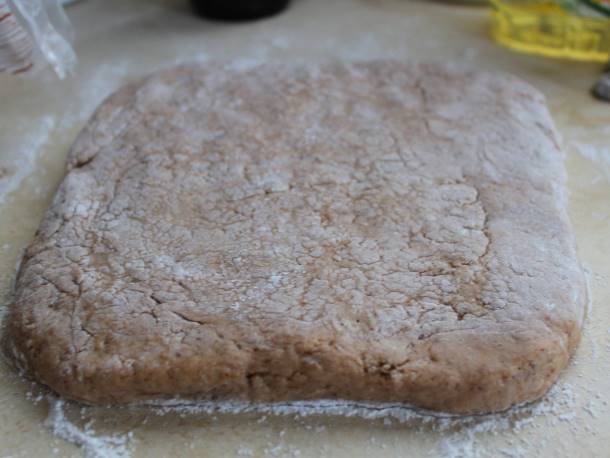 Roll out the dough, about 1/2-inch thick. Flour your counter generously with white rice flour. This keeps the dough from sticking. If it's humid in your area, you'll need to use more flour than if it's dry.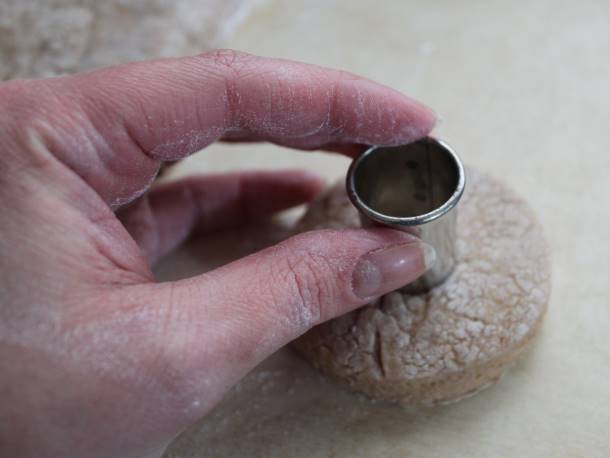 Cut doughnuts, about 2 1/2 inches each, with a large round cutter. Then cut out the "doughnut hole" with a smaller cutter. Keep those doughnut holes. (Speaking of, if you just want to make gluten-free doughnut holes, I have a recipe for you. It's not vegan, btw.)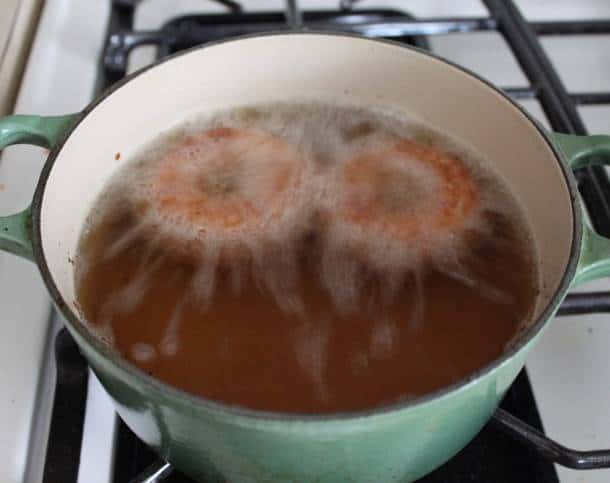 Fry 'em up. You want your oil to be 375 degrees.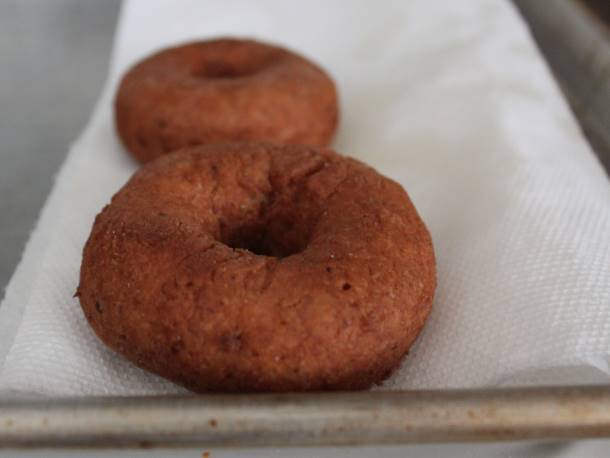 Drain doughnuts on a paper towel lined baking sheet.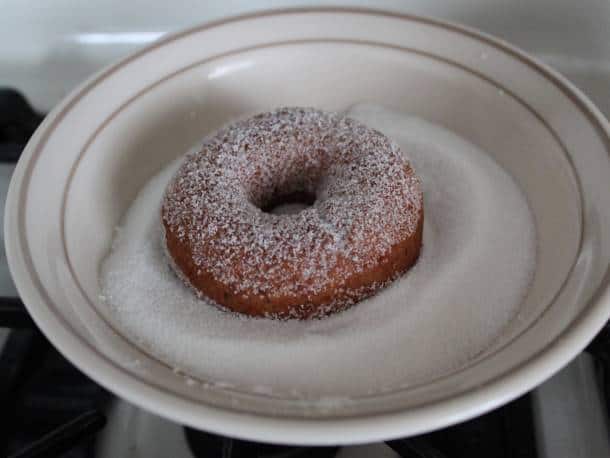 Roll in sugar or cinnamon sugar. (nom nom nom)
Enjoy!
Here are some other things to keep in mind while you make these doughnuts:
Keep them thick and small. This recipe makes cake doughnuts. After mixing, pat the dough into a large rectangle. To make the dough easy to transfer from the counter to the fryer, keep the dough about ½-inch thick and cut into 2 1/2-inch circles. This might seem like a small doughnut but it rises in the fryer.
Generously flour your counter and doughnut cutters. This dough's a little sticky. A generous sprinkling of white rice flour prevents the dough from clinging to the counter. And be sure to dip the cutter into white rice flour before you cut each doughnut.
Watch the oil temperature. Fry the doughnuts in 375°F oil. Hot oil ensures the doughnuts don't get greasy. Two things to remember: Don't crowd the fryer. If you fry too many doughnuts at once, your oil temperature drops. When frying doughnuts, give them space to move in the oil. In my small fryer, I only make two doughnuts at a time. And secondly, monitor the temperature throughout frying. Adjust as needed to keep the temperature at 375°F.
Re-roll the dough. Since you want to keep the dough thick, you'll only get about six doughnuts out of the first "batch." Lightly knead the dough back together and re-cut. No gluten means the dough does not get tough when reworked.
Place, don't drop, the dough into the fryer. To reduce splatter from the deep fryer, hold the dough close the surface of the oil. As soon as the dough hits the oil, gently place the doughnut into the oil. Don't hold the doughnut high above the oil and drop it in.
Turn doughnuts. After about two minutes the doughnuts will rise to the top of the Dutch oven or deep fryer. When they do, turn them over with the handles of two wooden spoon. Again, be gently to reduce splatter.
Make doughnut holes. Okay, you don't have to do this but you want to, right? Set aside the scraps from the center of the doughnuts. When you've fried the last large doughnut, pop these into the fryer, a few at a time. If you don't want to make doughnuts hole, roll the dough back together and cut out another full-sized doughnut.
Eat 'em right away. These doughnuts do not age well. The batch makes about twelve doughnuts and, trust me, the leftovers are not great. Either eat them the same day or give them away.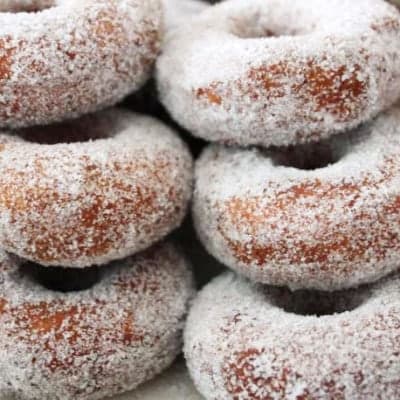 Gluten-Free Vegan Apple Cider Doughnuts
If you can't find apple cider, use apple juice. The flavor will be lighter but still wonderful.
Ingredients
2 1/4

cups

brown rice flour

(11 1/4 ounces; 319 grams)

1/2

cup

potato starch

(2 ounces; 56 grams)

1/2

cup

tapioca starch

(2 ounces; 56 grams)

1/2

cup

dark brown sugar

(4 ounces; 113 grams)

2

teaspoons

baking powder

2

teaspoons

ground cinnamon

1

teaspoon

salt

1/2

teaspoon

xanthan gum

1/2

teaspoon

ground cinnamon

3

Tablespoons

ground flax seeds

1/4

cup

very hot water

(2 ounces; 56 grams)

1 1/4

cup

apple cider or apple juice

(10 ounces; 283 grams)

2

tablespoons

vegetable oil

(3/4 ounce; 22 grams)

White rice flour for dusting counter

Oil

for deep frying

about 1 cup granulated sugar for rolling doughnuts
Instructions
In large mixing bowl, combine brown rice flour, potato starch, tapioca starch, dark brown sugar, baking powder, ground cinnamon, salt, xanthan gum, and ground nutmeg. Whisk to combine.

In small bowl, combine ground flax seeds and hot water. Stir. Allow to stand for 30 seconds. Add ground flax, apple juice, and oil to dry ingredients. Mix until a dough forms. Dough will be slightly sticky.

Generously white rice flour counter. Transfer dough to counter. Generously white rice flour top of dough. Pat dough into 1/2 inch thick rectangle.

Line baking sheet with paper towels and place granulated sugar in bowl. Set both aside.

Add enough oil to Dutch oven to measure depth of about 1 1/2 inches. Heat oil to 375°F.

Dip 2 1/2-inch cutter into white rice flour. Cut dough into rounds. Dip 3/4-inch cutter into white rice flour. Cut centers into doughnuts with small cutter.

Gently place doughnuts into hot oil. Fry until doughnuts rise to the top of the oil, about two minutes. Using the handles of two wooden spoons, carefully flip doughnuts. (If after two minutes doughnuts do not rise to top of oil, flip anyway.) Fry doughnuts an additional minute.

Using a spider (Chinese skimmer), remove doughnuts from hot oil. Drain for a few seconds on paper towels.

Transfer to granulated sugar. You want to coat the doughnuts in sugar while the doughnuts are still hot or the sugar won't stick. Repeat with remaining dough. Serve doughnuts immediately.

For doughnuts holes: Carefully place doughnut holes into hot oil. Fry for one minute. Turn, fry an additional minute.