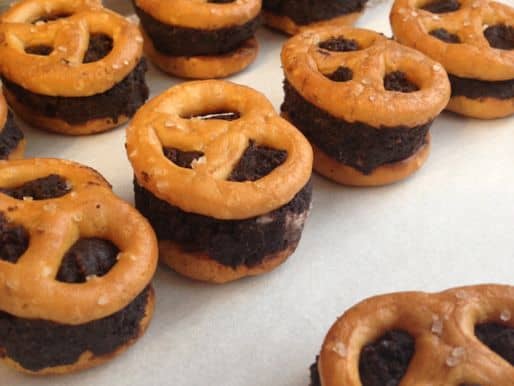 A friend of mine makes exactly one sweet treat: Oreo truffles. One day I sat in her kitchen and watched her make them. She loaded Oreos into a food processor, added cream cheese, and processed. That was it. If you're familiar with Oreo truffles, this isn't news to you. But until then, I had no idea how they were made. I figured they must be easy because my friend proudly doesn't bake, but I was still surprised by just how quick and painless a process it is.
I sat there and watched her roll the cookie-cream cheese mixture into bite-size balls and then dip them into chocolate. As her baking tray filled with the finished truffles, I wanted to try one. But I couldn't; hers were made with gluten-packed Oreos. So I put these truffles on "the list." "The list" is like my mental Pinterest board: full of good ideas that I rarely have the time or energy to do. But these truffles were different. Simply put, they were absurdly easy.
So I picked up a package of gluten-free sandwich cookies and a block of cream cheese. I threw the ingredients into the food processor, processed and then sampled. The mixture tasted good. Kind of sweet, kind of rich. Nothing terribly special. In fact, I didn't want to dip the mixture in chocolate, like my friend does, because I thought that would make the confection too sweet for my liking. Now I had a bowl of an Oreo-cream cheese mixture that I wasn't sure what to do with.
I set the bowl aside and looked up Oreo truffles, thinking there must be somethingelse to do with all that filling. And sure enough, several bloggers recommended sandwiching the Oreo truffle filling between two pretzels. This I had to try—sweet-and-salty beats excessively sweet any day. So I grabbed some gluten-free pretzels and made little sandwiches. The resulting cookies tasted fabulous.
 These are my new go-to no-bake dessert. If you like something a little sweet, go ahead and dip the filling into melted chocolate (be sure the chocolate you select is gluten-free). If you prefer something sweet, salty, and nutty, smear a little peanut butter on one of the pretzels before you make the sandwich. I guarantee you, peanut butter lovers will thank you.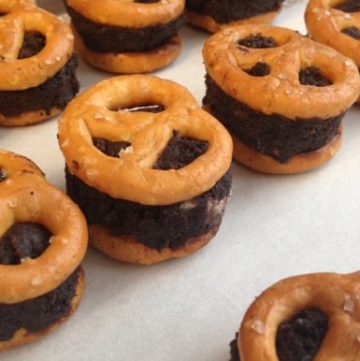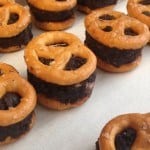 No-Bake Chocolate Pretzel Sandwiches
Ingredients
15

gluten-free chocolate sandwich cookies

3

ounces

cream cheese

about 48 bite-size gluten-free pretzels
Instructions
In bowl of food processor, combine sandwich cookies and cream cheese. Run food processor until smooth, about 45 seconds, scraping down sides as necessary. Spread mixture on bite-size pretzel. Sandwich with another pretzel. Repeat until you use all the filling.