Making a slightly over-the-top dessert is always fun for the Fourth of July. I mean, why should the fireworks be the only one to shine?
These pretty tie-dyed cupcakes take only a few minutes to make and kids love to help dye the batter.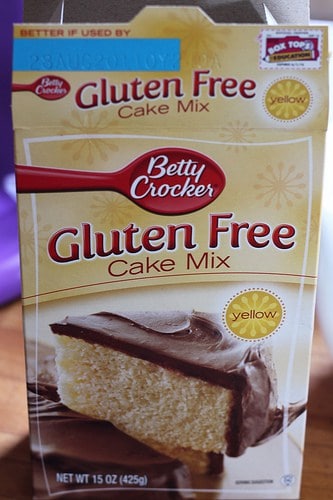 First, you need cake batter! I used Betty Crocker's Gluten-Free Yellow Cake Mix. Use whatever cake mix or recipe you love. Of course, you need white or yellow cake for this recipe to work. Chocolate cake doesn't play well with food colors.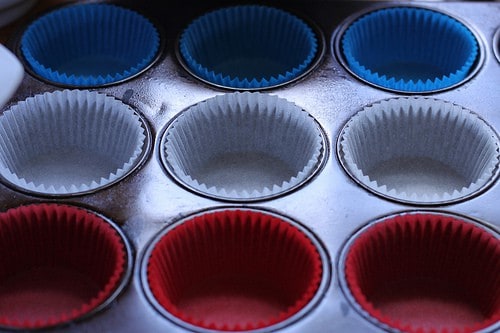 Line baking cups with paper liners. If you don't have paper liners, spray the pan with non-stick cooking spray. Just be sure it's gluten-free spray.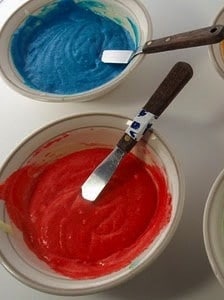 Divide batter it between three bowls.
You might notice that the third bowl is missing from this picture. And that the picture size is weird. Here is where I win the bad blogger award. I *forgot* to snap a picture of this step. The above photo? It's from when I made tie-dye cupcakes. But the point is the same: Divide the batter and color it. One bowl red, one bowl blue, and leave the other bowl untouched.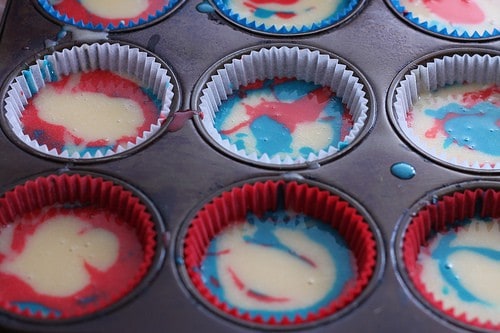 Drop a little of each color batter into prepared muffin cups. Don't swirl the batter! If you do, the batter turns a weird purplish color! The key here is not to stress about this.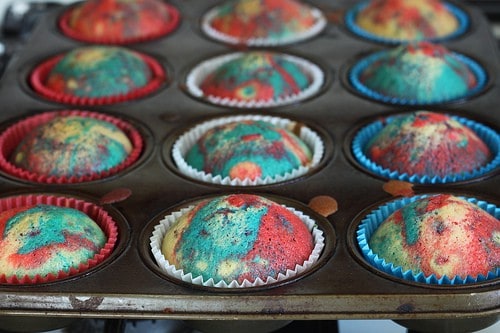 The finished cupcakes! Aren't they neat?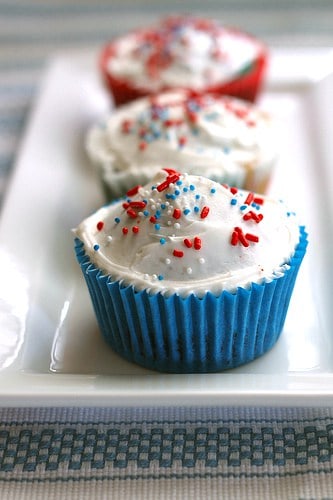 Frost with vanilla icing and top with multicolored sprinkles.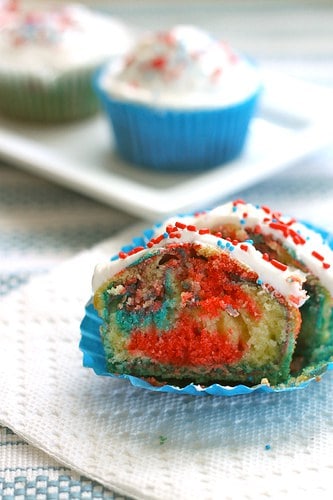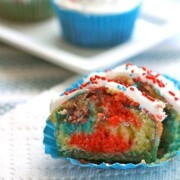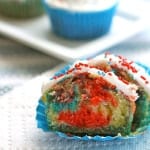 Red, White, and Blue Gluten-Free Cupcakes
These bright gluten-free cupcakes are perfect for the Fourth of July.
Ingredients
Cupcake liners

Red, white and blue, optional

1

cake mix, prepared according to package or recipe directions

Red and blue food color

White buttercream icing

homemade or gluten-free canned icing

Red

white and blue sprinkles, optional
Instructions
Preheat oven according to package or recipe directions. Line muffin pan with paper liners or spray with non-stick cooking spray.

Divide batter evenly among three bowls. Color one bowl red and one blue.

Drop each color batter into prepared muffin pan with a spoon. Fill cups about 2/3 full.

Bake until cake springs back to the touch.

Remove cupcakes from pan. Transfer to wire rack to cool.

Ice cooled cupcakes with white icing and sprinkle tops with red, white, and blue sprinkles if you want.

Yield varies depending on cake mix or recipe