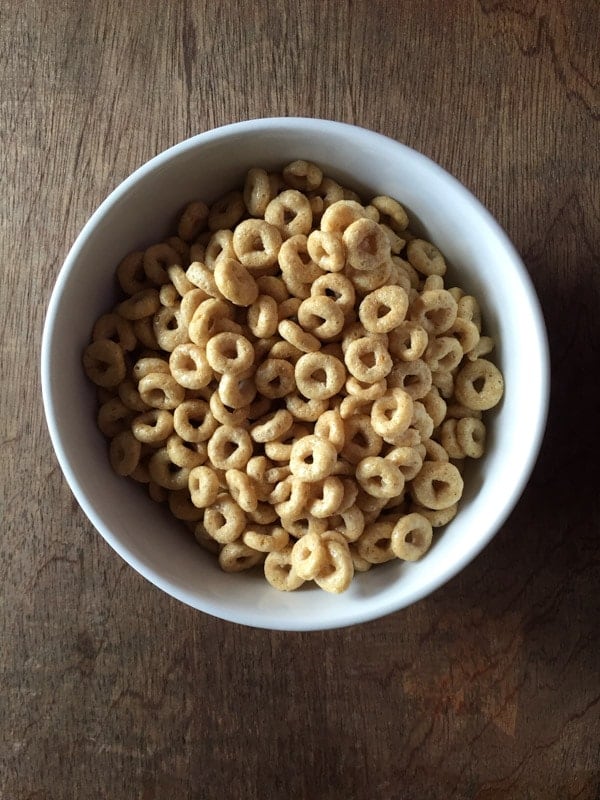 UPDATE: Since this review was posted, many questions have been raised about the safety of gluten-free Cheerios. I'm no longer comfortable eating them. (I have never experienced a reaction.) Please read about the FDA review of the cereal and the updated position statement from Gluten-Free Watchdog.
A few months ago, when General Mills announced that five varieties of Cheerios would carry a gluten-free label, people lost their minds. Some folks were excited. Some weren't. And some were just plain mean about it. Those folks decided that Cheerios going gluten-free would be a failure and that people who were excited about it were idiots. How do I know this? When I shared the Cheerios announcement on Facebook several folks sent me nasty messages. sigh I felt cautiously optimistic about the whole thing.
Oats are a tough subject in the gluten-free community. For many years, they were strictly off-limits. Then gluten-free oats entered the market. Why the confusion? Well, oats themselves don't contain gluten. However, they often they get contaminated with gluten-containing grains, like wheat, rye, and barley. This contamination can happen during growing, transporting, and handling. Even when oats are free from gluten, a small percentage of people with celiac disease can't tolerate them. Oats really are a complex issue.
You can understand why there are very real concerns about how General Mills will ensure that the oats used to make Cheerios (and soon Lucky Charms) are gluten-free. I haven't spoken to anyone at General Mills; so before we dive into this review, I want to point you to a piece from Gluten-Free Watchdog about Cheerios. Tricia Thompson fully explains the complex issues surround Cheerios. After reading her piece, I urge you to decide if you are comfortable eating the cereal.
Right now, I feel okay about the gluten-status of Cheerios. Like you, I'm sure, I try to take wise precautions when it comes to eating commercial gluten-free foods. Once in a while, I'll eat a meal out, and I buy the occasional gluten-free convenience food, like cookies and frozen pizza. Mostly I cook foods made from scratch but not always. This approach works for me and I'm thankful these options are available.
With ALL that said, let's get to the review.
The Front of the Box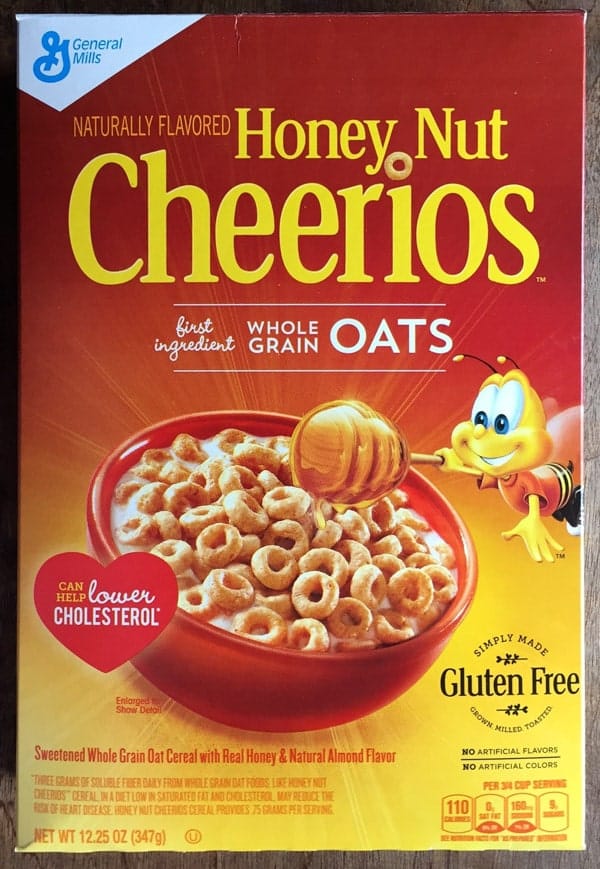 Not much changed on the front of the box except for that little gluten-free symbol. Over time, I'm sure this will change but it's nice that for now it's right on the front!
The Back of the Box

I found this really interesting and informative. It explains how General Mills decided to make Cheerios gluten-free. According to the box, the daughter-in-law of a longtime General Mills employee can't eat gluten. This inspired the idea to make Cheerios gluten-free. *cough* Along with general increased interest in gluten-free products, I'm sure *cough* But it's a nice story! I don't know about you, but my father-in-law never made a national cereal gluten-free for me. Way to go, Phil!
Let's take a closer look at one of the photos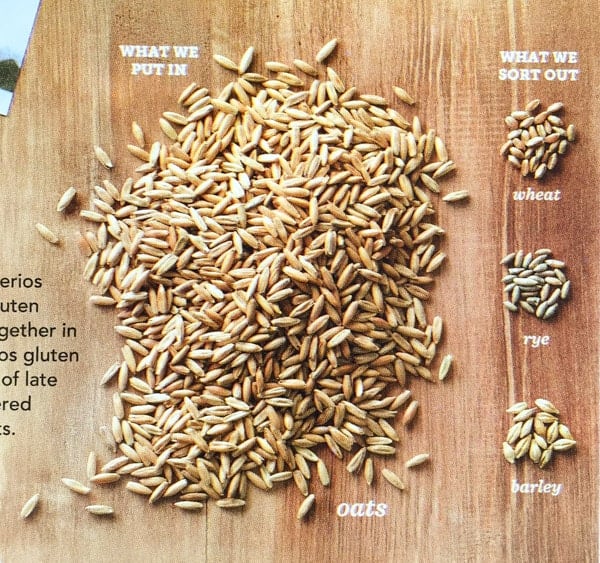 See how similar wheat, rye, barley, and oats look? Just a grain or two and the whole batch is contaminated. This is why so many people are leery of the safety of Cheerios.
The Cereal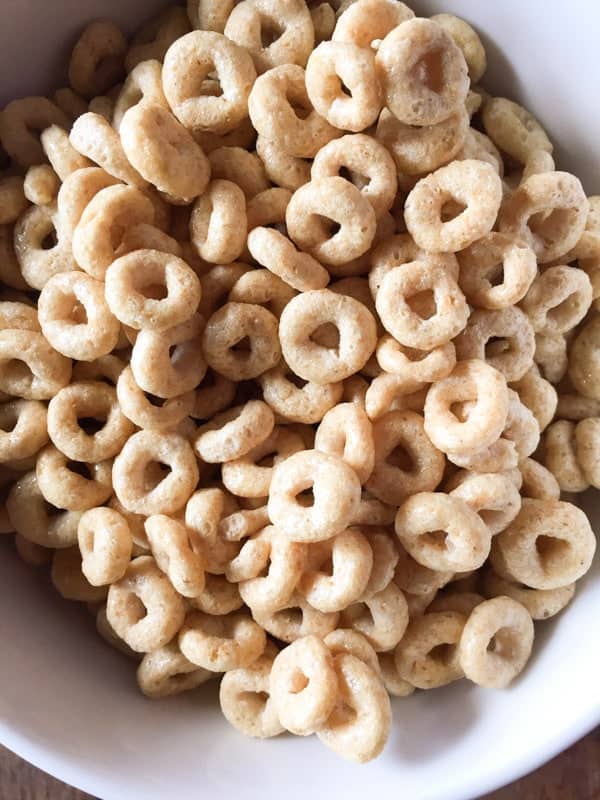 Have you ever eaten Honey Nut Cheerios? Well, then you know what gluten-free Honey Nut Cheerios taste like! To me, that's high praise. These taste like the Cheerios you remember. To be honest, I'm not a huge fan of sweet cereal but I totally enjoyed these. They were sweet, oat-y, and tasted like the cereal I remember. They were great with milk, of course, but I really enjoyed them sprinkled on top of strawberry ice cream. The cereal added a nice crunch and flavor to the already awesome ice cream.
Cost
Here's where things get exciting! Gluten-free foods tend to cost more. A lot more. This box of Cheerios cost me $1.99 because they were on sale. That's exciting! They were included in a sale. Gluten-free foods rarely, if ever, go on sale. Since General Mills made five of the "regular" versions of Cheerios gluten-free, they'll be included in sales and eligible for coupon discounts. How great is that?
Ingredients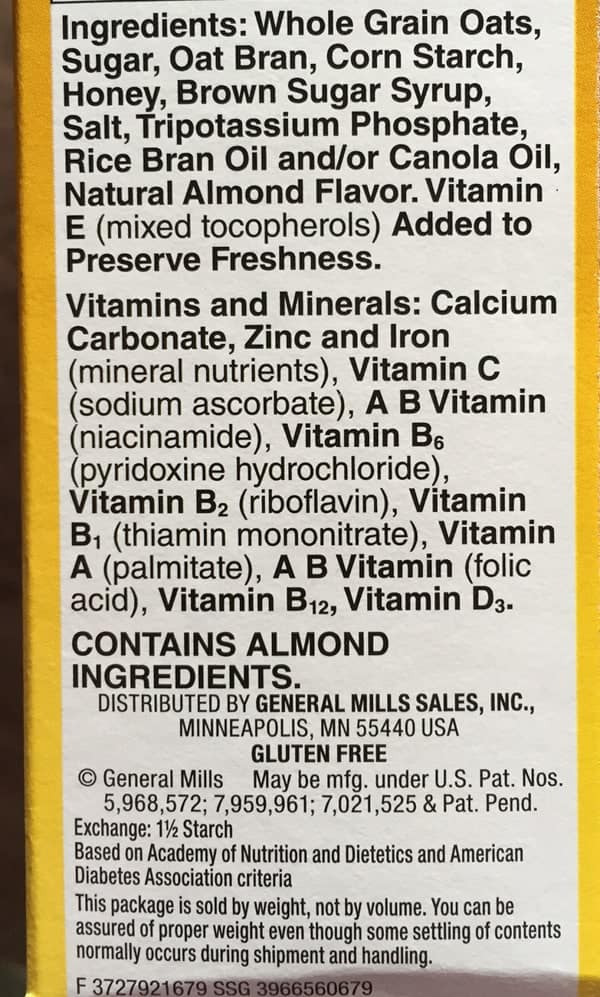 current as of August 4, 2015. Please refer to current package for accurate information.
Overall Impression
If I didn't know these were gluten-free, I wouldn't know they were any different from the Cheerios I enjoyed prior to my diagnosis. If you love Cheerios, you'll love these! Personally, I can't wait to find the classic yellow box with a "gluten-free" stamp on the front. Honey Nut are great but I'm really looking forward to the real thing.
What do you think? Are you going to give them a try or let them go by