There's a lot to love about this gluten-free chocolate cake recipe. It makes a dense, rich cake that is loaded with chocolate flavor, and, the best part, it's so easy to make. Mix the batter in one bowl and you're ready to bake.
This cake is perfect for birthday parties and other celebrations. And, just like my gluten-free vanilla cake recipe, this recipe can be used for a layer cake or a sheet cake.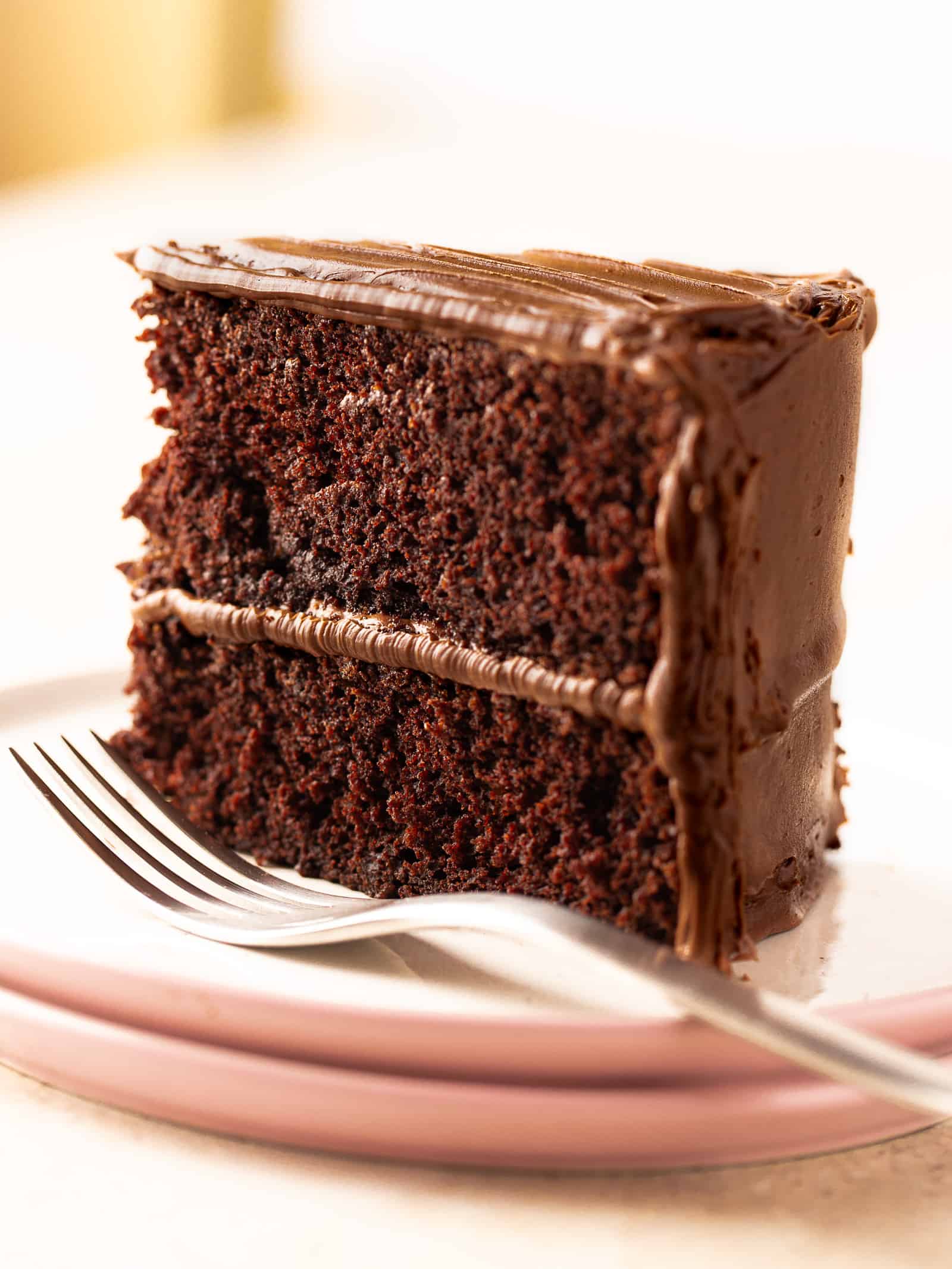 A good chocolate cake is a thing of beauty. It should be worthy of celebrations, easy enough to whip up at the last minute, and, of course really chocolatey. This recipe succeeds on all fronts.
This recipe was inspired by classic chocolate layer cakes. You know the kind? They're always piled high with frosting and served at birthday parties, BBQs, and any other occasion that calls for cake. After one bite, you'll know why this is my favorite gluten-free cake to bake.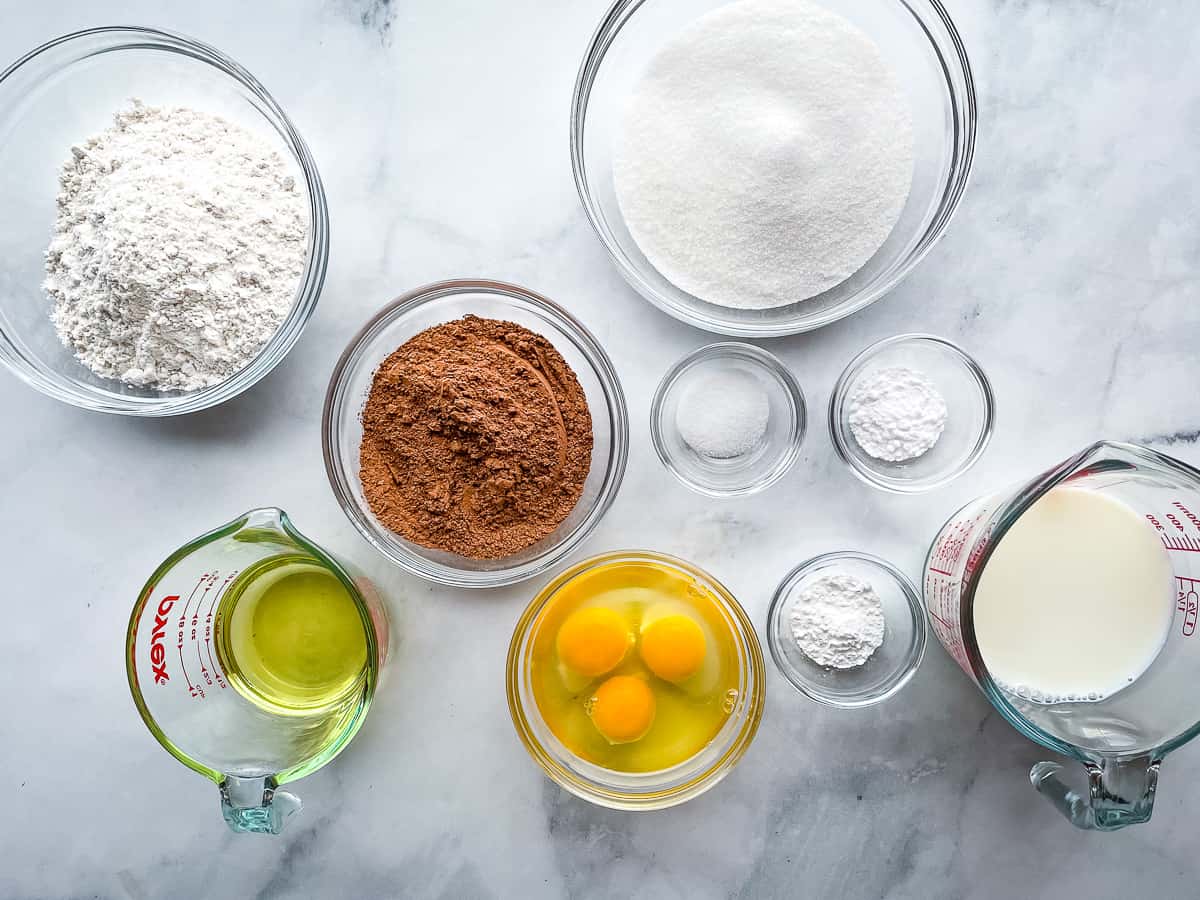 Gluten-Free Chocolate Cake Ingredients.
All-Purpose Gluten-Free Flour. Using a gluten-free flour blend makes it easy to make this cake. A good blend should give the cake a nice crumb and texture. Use a blend that contains xanthan or guar gum. Without it, the cake can turn out dense. If your blend doesn't contain xanthan or guar gum, add one teaspoon to the recipe. 
Cocoa Powder. Adds a rich chocolatey flavor and reacts with the baking soda to help the cake rise. You can use either natural cocoa powder or Dutch-process. Natural cocoa powder gives the cake a nice chocolate flavor. Dutch-process cocoa powder, which has been treated with an alkaline solution, makes a very dark and chocolatey cake. 
Granulated Sugar. Adds sweetness. Regular granulated (table) sugar is perfect for this recipe.
Baking Powder and Baking Soda. The combination of baking powder and baking soda gives the cake a lovely rise. 
Salt. One teaspoon of salt enhances the chocolate notes. It's an important ingredient in this cake. Table salt is best for baking.
Eggs. Three eggs help the cake rise and provide a lovely texture and flavor. This recipe has not been tested with an egg replacer. 
Oil. A half-cup of oil makes the cake rich and tender. It also makes the cake dairy-free! Be sure to use a neutral-flavored oil, such as vegetable oil, for the best flavor.
Milk or Coffee. Milk or coffee make this a smooth silky batter. Use dairy milk or dairy-free milk. For a mocha-like flavor, replace the milk with one cup of cooled coffee. 
Ingredient Substitutions
Gluten-Free and Dairy-free Cake.
Since the cake recipe uses Replace the milk called for with an equal amount of dairy-free milk or coffee.
Almond flour or Coconut flour.
Grain-free flour, like almond flour or coconut flour, doesn't work with this recipe. Please use my recipe for either almond flour chocolate cake or coconut flour chocolate cake if you want to bake with almond or coconut flour.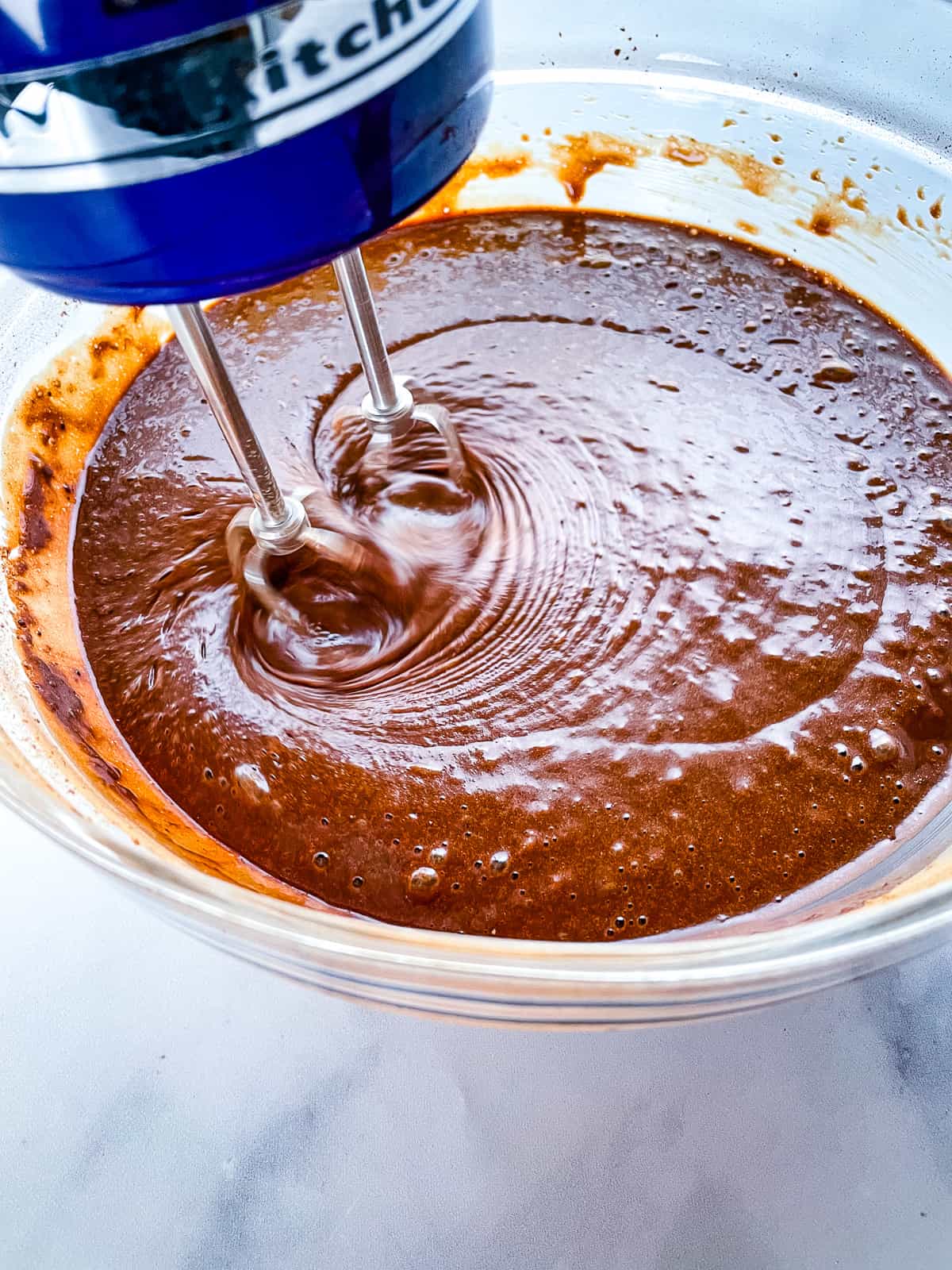 How to Make Gluten-Free Chocolate Cake. Five Steps for Success.
This recipe is almost like making a box cake mix. The big difference is that you need to measure the ingredients. Other than that, it's almost the same. Mix everything in a large bowl and bake.
1. Preheat Oven.
Cakes bake best when placed in a hot oven. I always turn my oven on before I start measuring ingredients. This way it's ready after I've mixed the batter.
If you forget to preheat your oven, no problem. It's okay to let the batter wait in the pan while the oven heats.
2. Make the Batter.
To make the batter, you'll need a large mixing bowl and a whisk. You can use a handheld whisk or electric mixer. It's up to you. 
Grab a large bowl or use a stand mixer. Whisk together the gluten-free flour, cocoa powder, granulated sugar, baking powder, baking soda, and salt. This step helps distribute the baking powder and soda throughout the flour and sugar.
Add the milk, eggs, and oil. Mix until the batter is smooth. It only takes about a minute or so. Stop and scrape the bottom of the bowl with a rubber spatula. Sometimes the dry ingredients like to cling to the bottom of the bowl. Scraping it ensures all the ingredients are mixed into the batter.
3. Bake the Cake.
Spread the batter evenly into the pan. For this recipe, you can use two 8-inch round pans or one 9-x13-inch pan. If you want to make cupcakes, use this recipe for gluten-free chocolate cupcakes.
Bake the cake until a toothpick inserted into the center comes out with only a few dry crumbs clinging to it. Two 8-inch rounds take about 30 minutes and a 9×13-inch pan takes about 40 minutes.
4. Cool.
When the cake is done, remove it from the oven. Let the cake cool in the pan for about ten minutes. If you take it out of the pan too soon, it can break. 
After about ten minutes, turn the cake out onto a wire rack. Cakes cooled in the pan can stick. If you want to serve the cake in the pan, you can let it cool right in the pan and then frost it.
5. Finish with Frosting.
Did you know that if you frost a warm cake, the frosting can melt and run off the cake? So it's important to wait until the cake is totally cool before frosting it.
I've included a yummy chocolate frosting with the recipe. It's so good and rich! If you're using canned frosting, remember to read the label to make sure it's gluten-free.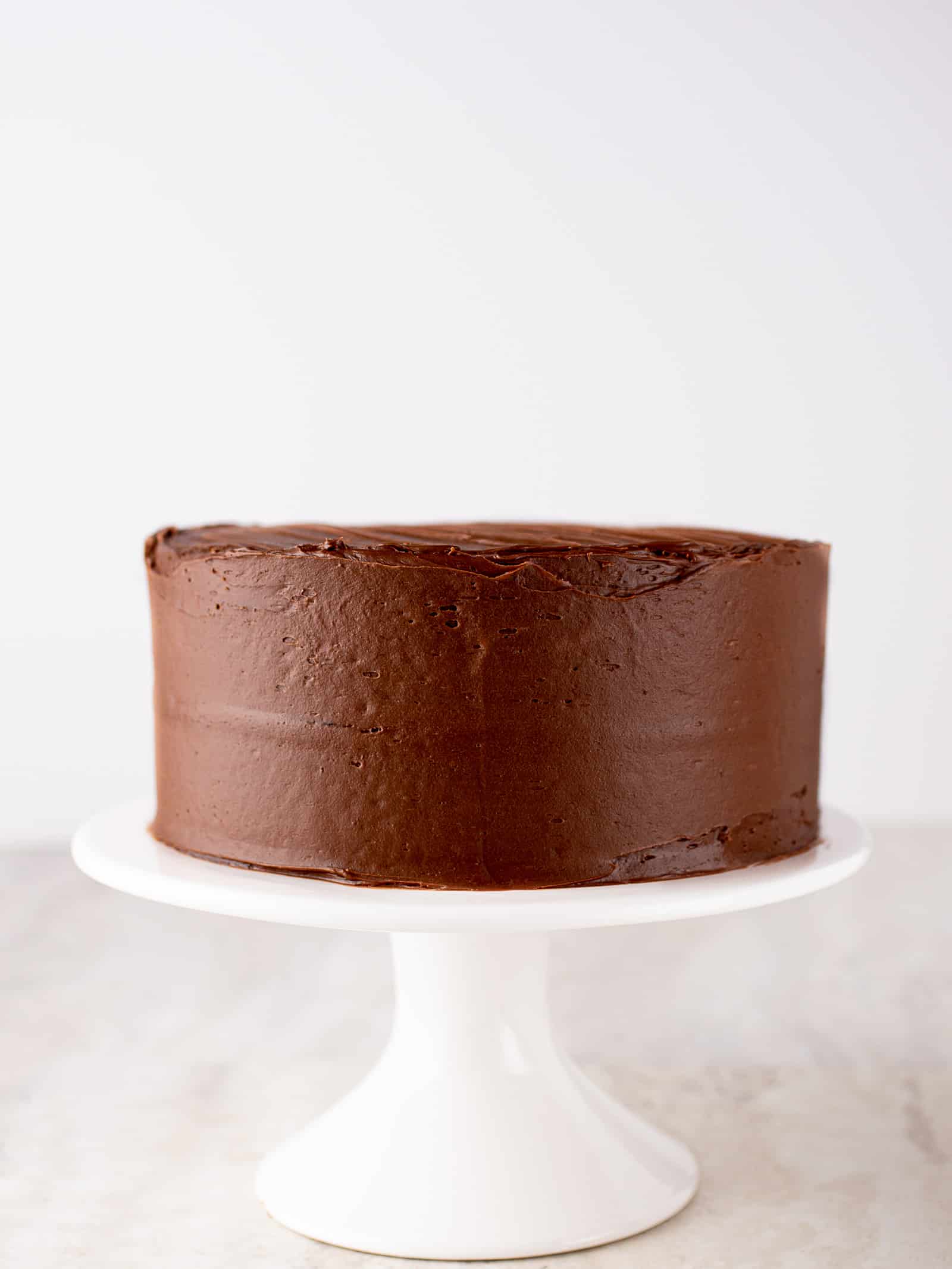 How to Store and Freeze a Gluten-Free Cake.
Cover the leftover cake and store it on the counter for up to three days.
To freeze the cake, allow it to cool completely. Wrap the cake tightly with plastic wrap and then freeze it for up to three months.
You can freeze a frosted cake too. Place the cake into the freezer until the frosting is very hard, about two hours. Remove and wrap tightly. Frosted cakes freeze really well.
To thaw the cake, remove it from the freezer and allow it to thaw at room temperature. If your cake is frosted, remove the plastic wrap before thawing.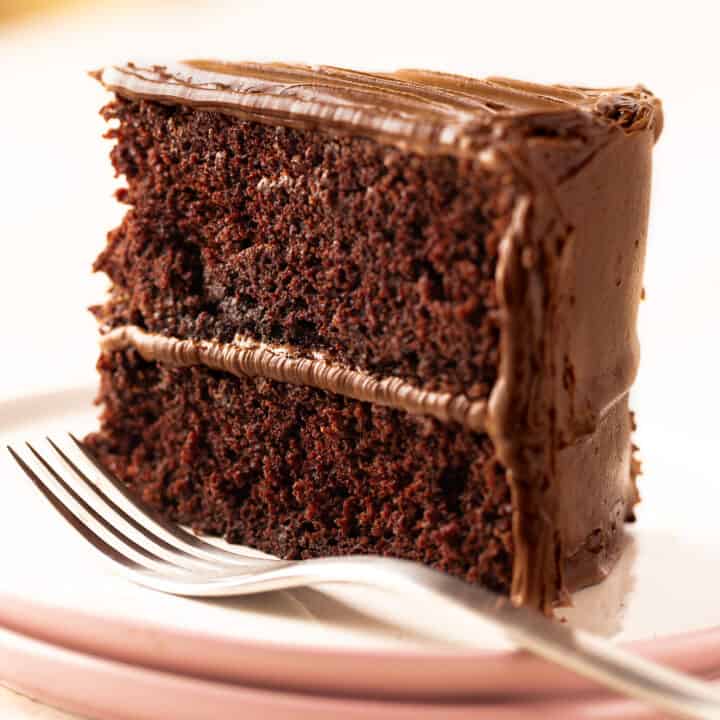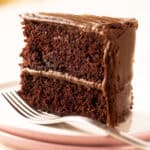 One Bowl Gluten-Free Chocolate Cake
This gluten-free chocolate cake is so easy to make. Simply mix all the ingredients on a bowl and bake. It's a moist, rich cake with a really tender crumb. Perfect for birthdays and other celebrations.
Ingredients
Gluten-Free Chocolate Cake
1 ¾

cups

Bob's Red Mill 1:1 Gluten-Free Baking Flour, see note

(9 ounces; 255 grams)

1 ¾

cups

granulated sugar

(12 ½ ounce; 354 grams)

1

cup

natural cocoa powder

(3 ounces; 85 grams)

2

teaspoons

baking powder

1

teaspoon

salt

½

teaspoons

baking soda

1

cup

milk or coffee

(8 ounces; 226 grams)

½

cup

vegetable oil

(3 ½ ounces; 100 grams)

3

large

eggs

(about 6 ounces; 170 grams out of shell)
Chocolate Frosting
4

cups

powdered sugar

(16 ounces; 453 grams)

½

cup

natural cocoa powder

(1 ½ ounces; 42 grams)

1

cup

butter, softened

(8 ounces; 226 grams)

4

tablespoons

milk, divided

(2 ounces; 56 grams)

½

teaspoon

salt
Instructions
For the Gluten-Free Chocolate Cake
Preheat oven to 350°F. Prepare your pan(s). Lightly grease: two 8" round cake pans OR one 9" x 13"- pan with nonstick cooking spray.

Whisk together gluten-free flour, sugar, cocoa powder, baking powder, baking soda, and salt in a large bowl. Add milk, vegetable oil, and eggs. Whisk batter until smooth.

Divide batter evenly between the two 8-inch prepared round cake pans OR spread evenly into 9 x13-inch pan.

Bake until a cake tester inserted into the center of the cakes comes out clean.

For 8-inch round cakes: about 30 minutes.

For 9×13-inch pan: about 40 minutes.

Allow cakes to cool in the pan for 10 minutes. Remove cake(s) from the pan and place on a wire rack to cool.

When cool, frost with chocolate frosting. Wrap cake and store at room temperature for up to three days.
For the Chocolate Frosting
Cream butter until light and fluffy. Add powdered sugar, cocoa powder, salt, and milk. Mix on low speed for about 30 seconds. Increase mixer speed to medium-high.

Beat frosting until fluffy and smooth. If frosting seems too thick, add the additional tablespoon milk. 
Recipe Notes
Gluten-Free Flour
If using a flour blend that does not contain xanthan or guar gum, add 1 teaspoon xanthan gum to the batter. Add the xanthan gum to the gluten-free flour. Whisk. And then follow the recipe as written.