The Easiest Almond Flour Chocolate Cake Ever! A one-bowl recipe that makes a moist, dense chocolate cake. The recipe is gluten-free, grain-free, and dairy-free.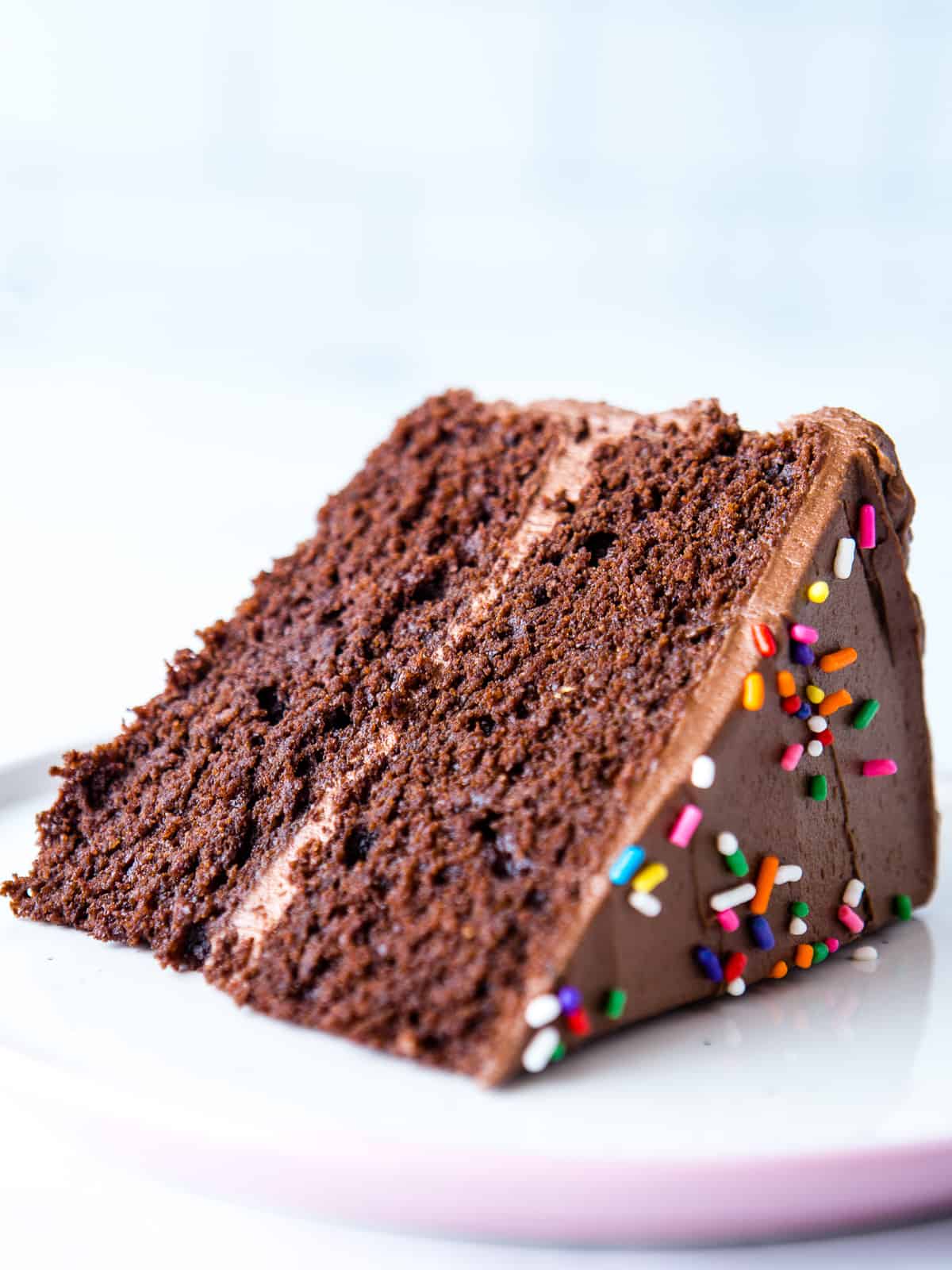 Why You'll Love This Almond Flour Chocolate Cake Recipe
Easy to Make. Like my almond flour yellow cake recipe, you only need a bowl and whisk to make this cake. If you've got an electric mixer, you can use it but it isn't required.
Flavor. This cake is for chocolate lovers. It's got a deep chocolate flavor and a hint of almond.
Texture. Moist and dense without being heavy or gritty, the texture is a dream. It's based on my popular gluten-free chocolate cake. Like that recipe, this cake is deeply chocolatey and is perfect for birthdays.
Key Ingredients
Finely Ground Almond Flour. For a delicate (not gritty) texture, use a finely ground almond flour. Almond meal, while similar, isn't as fine and can make the cake heavy.
Natural Cocoa Powder. Use natural cocoa powder in this recipe. Since it's acidic, it works with the baking soda to help the cake to rise.

Cane or Coconut Sugar. To sweeten this cake, you have two options: granulated (evaporated) cane sugar or coconut sugar. Using granulated cane sugar gives you a sweet flavor that's similar to a traditional chocolate cake. Coconut sugar lends a mild caramel-like flavor. Both work well.

Oil. A neutral liquid oil, like grapeseed or canola oil, give the cake a moist texture. Since this is an almond cake recipe, you could use almond oil if you keep it in the house.
Eggs. This recipe uses a lot of eggs. They provide structure and texture. So don't skip the six (yes, six!) eggs.
Milk. To keep the cake moist and tender, milk is needed in the batter. You can use traditional milk or a dairy-free milk, like almond milk.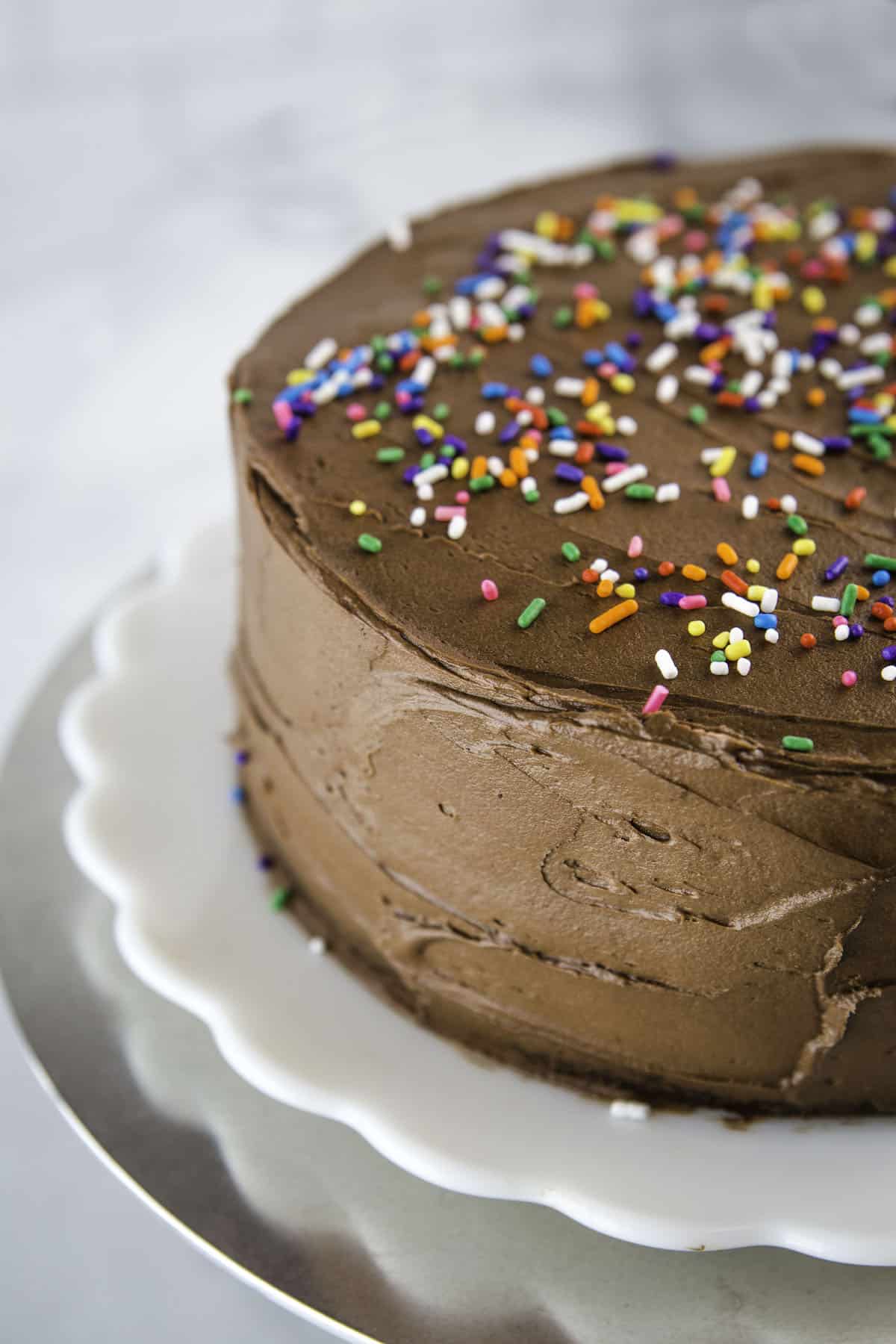 How to Make An Almond Flour Chocolate Cake. Keys for Success.
Preheat your oven. Putting the cake pans into a hot oven ensures that the cakes rise high and evenly. Turn the oven on before you start mixing the batter.
Make the Batter. Combine all the "dry" ingredients in a large bowl. (That's the almond flour, sugar, cocoa powder, salt, and baking soda.) Whisk these ingredients together to evenly distribute the baking soda. If you see any lumps of almond flour or cocoa powder, break them up by rubbing them between your fingers. Add the oil, eggs, and milk. Mix until the batter is smooth. You can do this by hand with a large whisk or use an electric mixer. It's really up to you. I've tested the recipe both ways and the cake comes out the same.
Prep the Pans. Grain-free cakes love to stick to pans. To prevent this, line your cake pan with a parchment round and then brush the parchment with a little oil. (Or use a nonstick cooking spray.)
Fill the Pans. For two even layers, divide the batter evenly among your two cake pans.
Bake the Cake. This cake is done when a cake tester inserted into the center of the cake comes out clean or with only a few dry crumbs clinging to it.
Cool on a Rack. Once you've let the cakes cool in the pan, gently turn them onto a wire cooling rack. If you let the cakes cool completely in the pan, they can stick.
Frost the Cake. You don't need to frost this cake. But if you want to finish it with frosting, let the cake cool completely and then frost with your favorite frosting, like this gluten-free buttercream.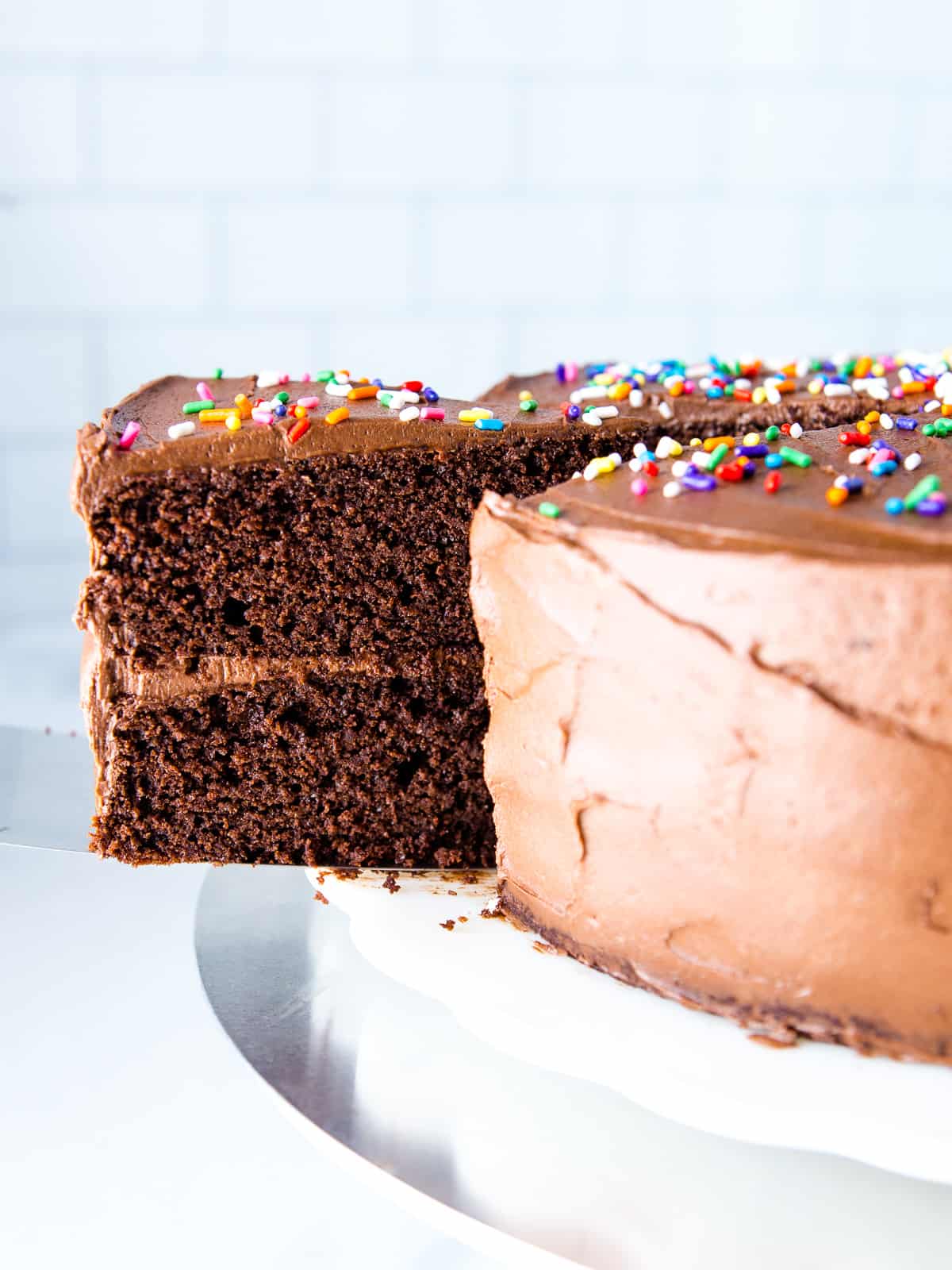 Baking Questions Answered
Can I use coconut oil in this recipe?
Coconut oil makes the cake heavy and a little greasy. I don't recommend it.
Can I replace the almond flour with coconut flour?
Coconut flour is very different from almond flour. It absorbs liquid quickly and it does not contain fat. It won't work in this recipe.
Can I replace the almond flour with gluten-free flour?
You've got two options! If you want to use a gluten-free flour, my gluten-free chocolate cake is the perfect recipe for you. This coconut flour chocolate cake recipe is great if you want to use coconut flour.
Can I freeze this cake?
Yes! Allow the layers to cool completely and then wrap well with plastic wrap and freeze for up to three months. Thaw the cake overnight in the refrigerator.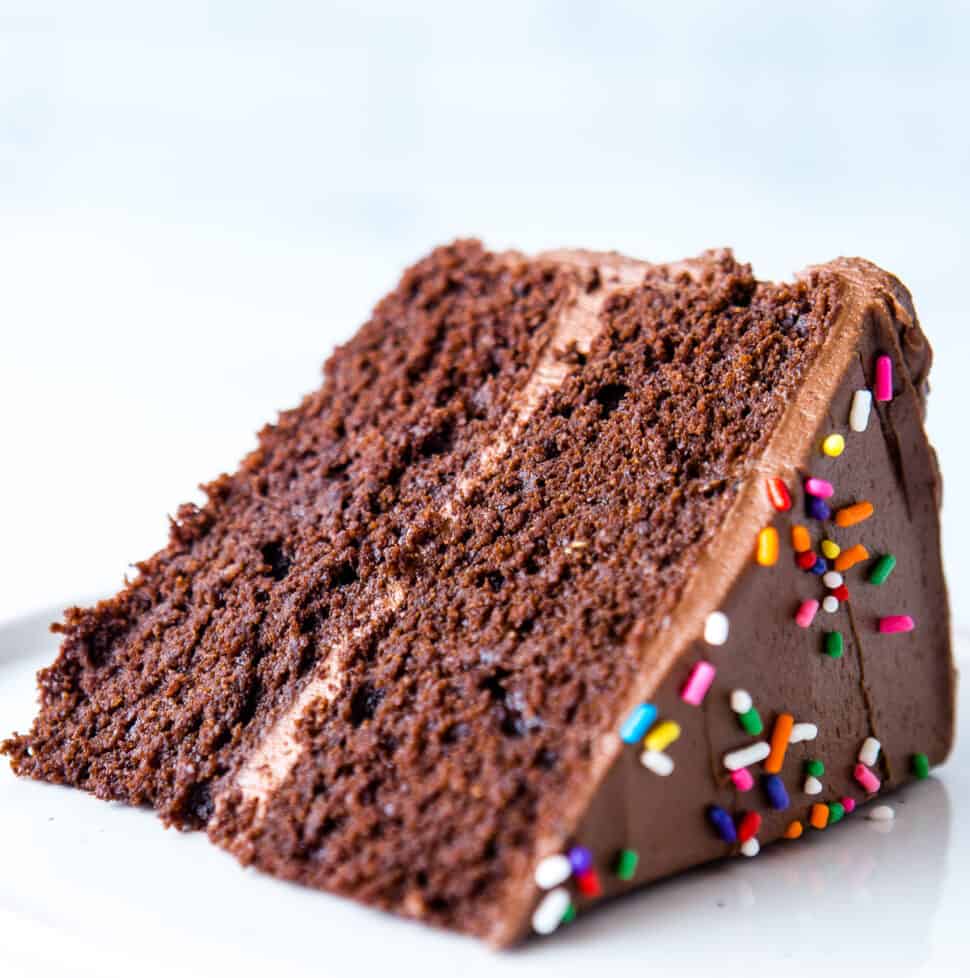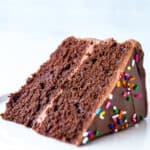 Almond Flour Chocolate Cake
Easy to make almond flour chocolate cake. Deep chocolate flavor. Gluten-free and grain-free.
Ingredients
3

cups (340 grams)

blanched almond flour

1

cup (170 grams)

coconut sugar or evaporated cane juice

1

cup (100 grams)

natural cocoa powder

1

teaspoon

baking soda

1

teaspoon

salt

⅔

cup

oil, like grapespeed oil

6

large

eggs

(about 300 grams out of the shell)

½

cup (113 grams )

milk, dairy-free or traditional
Chocolate Buttercream Frosting
4

cups (455 grams)

powdered sugar (use corn-free to keep the recipe grain-free)

¾

cup (75 grams)

cocoa powder

1/2

teaspoon

salt

1

cup (226 grams)

softened butter or dairy-free butter spread

4

tablespoons

milk, traditional or dairy-free, plus more as needed
Instructions
For the Cake
Preheat oven to 350 degrees F. Line two 8-inch cake pans with parchment rounds and grease with vegetable oil or nonstick cooking spray.

Whisk the almond flour, sugar, cocoa powder, baking soda, and salt in a large mixing bowl. Break up any large pieces of almond flour with your fingers. Add the oil, eggs, and milk. Mix the batter until smooth. Use a handheld whisk or electric mixer.

Divide the batter evenly between the two prepared pans. Tap the pans lightly on the counter to settle the batter.

Bake until a cake tester inserted into the center of the cake comes out clean, about 30 minutes.

Remove the pans from the oven. Place on a wire rack. After about 8 minutes, turn the cakes out of the pan and place directly onto the wire rack to cool completely.

Frost cooled caked with frosting. Cover cake and store on the counter for up to three days or freeze up to three months.
For the Frosting
Whisk together powdered sugar,cocoa powder, and salt to combine in a small bowl.

In a large bowl, cream the butter unitl light with a mixer. Stop mixer and add the powdered sugar mixture and milk. Turn mixer to low and mix utnil combined. Increase mixer speed to medium. Mix frosting until fluffy. If frosting seems too thick, add an additonal tablespoon of milk.