You only need a few ingredients to make this easy coconut flour chocolate cake. This cake is deeply chocolatey and very tender.

If you love my gluten-free chocolate cake recipe but are looking for a grain-free version. This recipe is for you. Like the almond flour chocolate cake recipe, this cake is snap to make and equally delicious.
Coconut Flour Chocolate Cake Recipe Overview
Easy-to-Make: One bowl plus 9 ingredients are all you need to make this cake.
Taste: Rich chocolate flavor with notes of coconut thanks to the flour.
Texture: Moist and dense.
Makes one layer. The perfect amount if you want just a little cake.
Gluten-free and grain-free.
The Ingredients
Coconut Flour. Made from defatted, dried coconut. This ingredient is unlike any other flour. It absorbs a lot of liquid. You'll notice the batter for this cake is very thick. That's because of the coconut flour
Cocoa Powder. Natural cocoa powder (Not dutch-process cocoa powder) is used in this recipe. It's naturally acidic and combines with the baking soda to help the cake rise.
Baking Soda. Leavens the cake along with the eggs.
Salt. A little salt helps to enhance the flavor. For the best results, use a fine (table) salt, not a coarse salt.
Eggs. Since this is a grain-free and gluten-free cake, it needs the protein from the eggs to help with the structure.
Coconut Oil. Adds richness. Use melted coconut oil that you've cooled a little before adding to the batter. If you prefer to use another oil, use a liquid oil, like grapeseed.
Honey. A little honey sweetens this cake.
How to Make a Coconut Flour Chocolate Cake: Tips for Success
Preheat the oven. It's important to bake this cake in a preheated oven. For most ovens, it's a good idea to turn the oven on before you start measuring your ingredients. This way it's heated to temperature when the batter is ready.
Line the cake pans. Coconut flour cakes love to stick to the pan, more so than any other cake. To make it easy to remove the cake from the pan, line the pan with parchment paper and then grease the parchment with coconut oil.
Spread the batter into the pans. This cake batter is really thick. After mixing, divide the batter evenly between the two prepared pans. Then smooth the batter, using the back of a spoon or small spatula, into an even layer.
Bake until set. Bake the cake until a cake tester inserted into the middle of the cake comes out clean. Since coconut batter is so thick, test the cake in a few spots to ensure it's done.
Cool. Let the cakes cool in the pan for about 10 minutes before removing and placing on a wire rack. If you remove them too fast, the cakes can break. If they cool completely in the pan, they might stick.
Frost. When the cakes are completely cool, frost with your favorite buttercream frosting.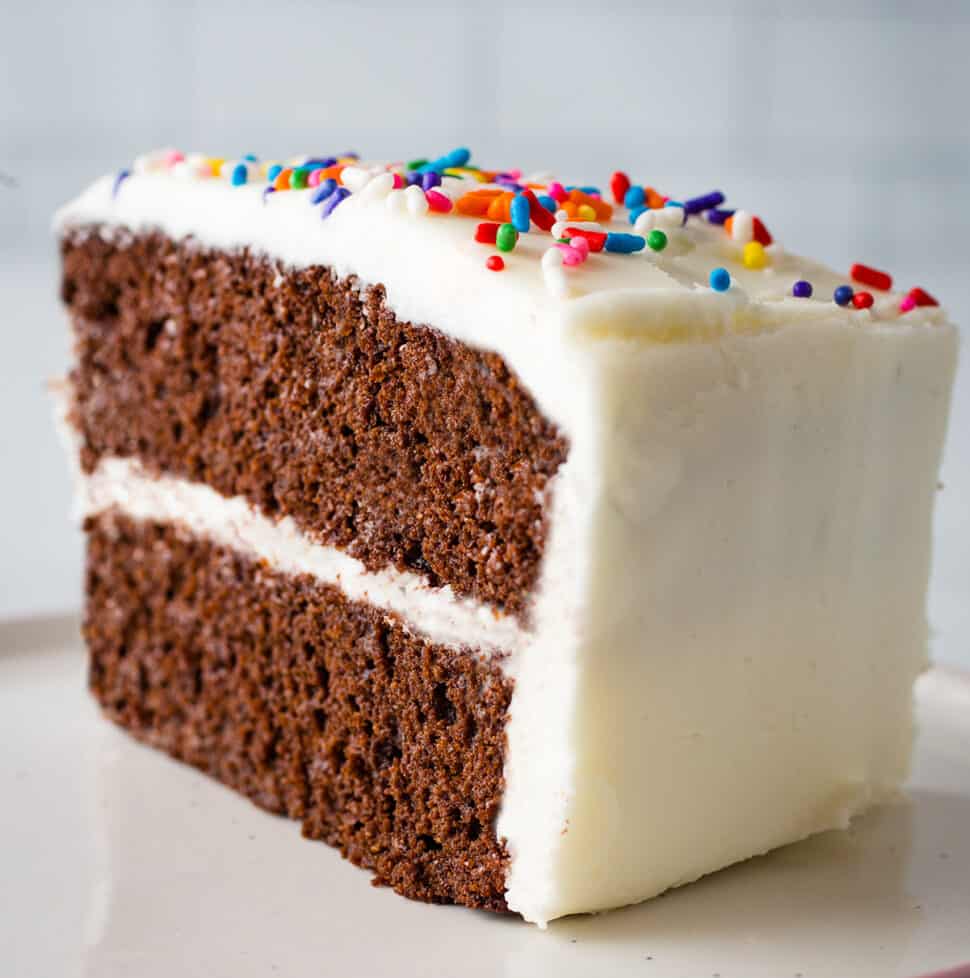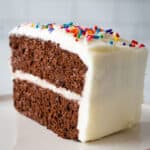 Easy Coconut Flour Chocolate Cake
One-bowl coconut flour chocolate cake. Easy to make. Deep chocolate flavor with a light coconut flavor and a moist, tender crumb.
Ingredients
½

cup (50 grams)

natural cocoa powder

⅓

cup (37 grams)

coconut flour

½

teaspoon

baking soda

½

teaspoon

salt

⅓

cup (75 grams)

coconut oil, melted and cooled slightly

4

large

eggs

(200 grams out of shell)

⅓

cup (113 grams)

honey
For the Vanilla Frosting
½

cup (113 grams)

butter, traditional or dairy-free spread

2

cups (226 grams)

powdered sugar, see note

2

tablespoons

milk, traditional or dairy-free, more if needed

½

teaspoon

vanilla extract
Instructions
Prepare the Cake. Adjust oven rack to middle position and preheat oven to 350 degrees F.

Spray an 8-inch round pan (see note) with nonstick cooking spray or brush lightly with melted coconut oil. Place a piece of parchment in the bottom of the pan. Spray the parchment lightly with nonstick cooking spray or brush lightly with melted coconut oil.

Whisk the cocoa powder, coconut flour, baking soda, and salt together in a medium mixing bowl. Break up any large pieces of coconut flour. Add eggs,coconut oil, and honey. Mix until batter is smooth.

Spread the batter into the prepared pan. Batter thickens as it sets. Be sure to spread the batter evenly into the pan.

Bake until a cake tester inserted into the center of the cake comes out clean, about 30 minutes.

Allow the cake to cool in the pan for 10 minutes and then turn out onto a wire rack to cool completely.

Prepare the frosting. Cream butter until light. Add the powdered sugar, milk, and vanilla extract. Mix until smooth and fluffy. If frosting seems thick, add additional milk.

Frost when the cake is cooled completely. For a double layer cake, split the 8-inch round in half. Place one half on a cake plate. Spread frosting evenly over the top. Set the second half on top. Frost the side and top of the cake.

Store the cake wrapped on the counter for three days or freeze for up to three months.
Recipe Notes
Ingredient Note
Powdered Sugar. Many brands of powdered sugar contain corn starch. If you want a grain-free version, you can either make your own or look for a corn starch-free brand.