Easy gluten-free cranberry bread. Moist. Tender. Dairy-free.

What does this bread taste like?
This recipe makes a pleasantly sweet bread with a gentle tartness from the fresh cranberries and a hint of orange flavor. The texture is a cross between a cake and a muffin.
What you'll love about this gluten-free cranberry bread.
Easy to make. No electric mixer required! You can stir everything together in a large bowl. (Of course, if you'd like to use an electric mixer, go for it.)
It's moist, not gummy. Some gluten-free quick breads tend to taste gummy. Not this one! It bakes up dense and moist without any hint of gumminess.
It's loaded with cranberries. You don't have to go looking for the cranberries in this bread; it's loaded with them.
Not too sweet—or too greasy. If you've made either my gluten-free zucchini bread or gluten-free pumpkin bread, you know that I like quick breads that are pleasantly sweet and moist but not overly sweet or oily. This bread fits the bill. It's sweet enough to offset the tartness from the cranberries but not so sweet that you feel like you're eating cake.
How to Make Gluten-Free Cranberry Bread
Chop the cranberries. You can do this by hand using a large knife and a cutting board or you can use a food processor. Either way, you want the cranberries to be coarsely chopped.
Make the batter. Whisk together the dry ingredients (flour, sugar, baking powder, etc.) in a large bowl and then add the wet ingredients. Stir until the batter is smooth.
Add a little batter to the pan. To prevent the cranberries from sinking to the bottom of the pan, spread a little batter, about 1/2 cup into a greased baking pan. This step is totally optional. If you don't care if some cranberries sink, skip it.
Stir in the cranberries. Gently stir the chopped cranberries into the batter. Look for them to be evenly spread throughout the batter but stop before the batter turns bright pink.
Bake. Spread the batter into the pan and bake until set. Like most gluten-free quick breads, this cranberry bread takes almost an hour to bake.
Take the temperature. The best way to ensure the loaf is done is to take its temperature. Use an instant-read thermometer to check that it's reached 205 degrees F.
Cool and slice. I know it's hard but you want to make sure the loaf cools before you slice it. This gives the bread time to set up. If you slice it too soon, it will appear gummy even though the loaf is fully baked.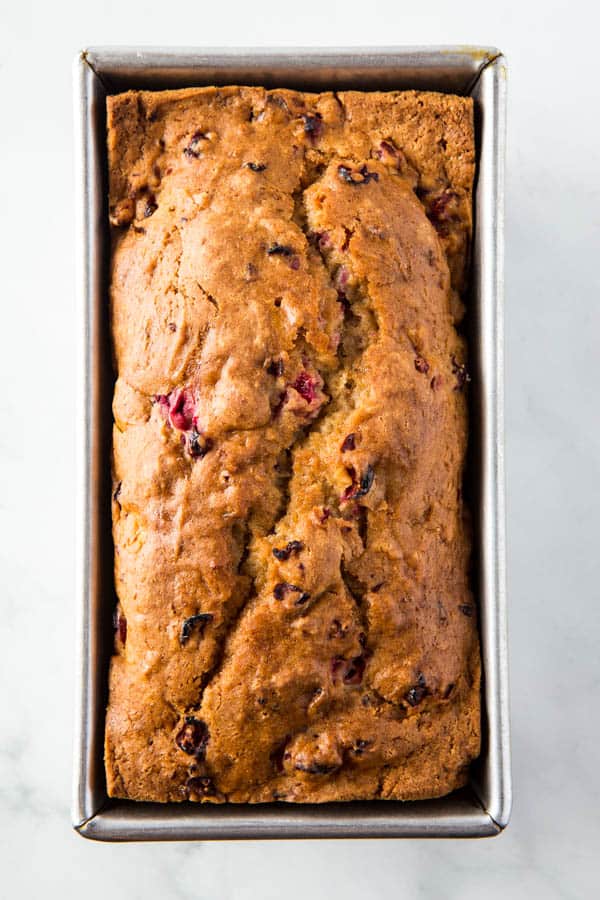 FAQs: Gluten-Free Cranberry Bread
What's the best flour to use for gluten-free cranberry bread?
I tested this recipe with Bob's Red Mill Gluten-Free 1:1 Baking Flour and it's the flour I recommend you use for this recipe.
If you want to replace the flour with a different blend, be sure it contains either xanthan or guar gum or the recipe might not work. As always, using a different gluten-free flour blend can alter the recipe even if it does contain a gum.
Can I use dried cranberries?
Yes but…dried cranberries are sweeter than fresh cranberries. You might want to cut back on the sugar by a tablespoon or so.
Can I use this recipe for cranberry muffins?
Yes! This recipe for cranberry bread can be used for muffins. Line muffin pan with paper liners or grease the cavities generously with nonstick cooking spray or oil.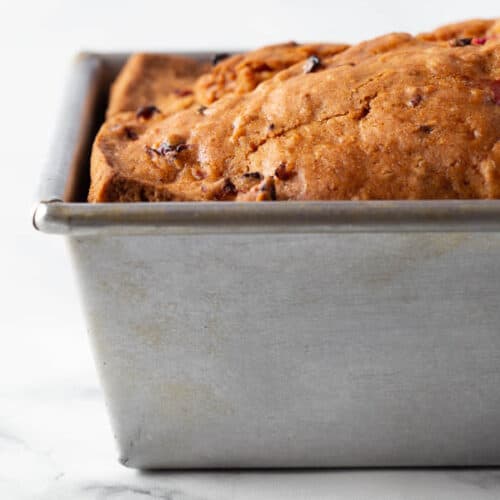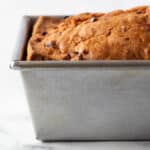 Gluten-Free Cranberry Orange Bread
Moist and tender gluten-free cranberry orange bread. Pleasantly sweet, loaded with cranberries, and a hint of orange.
Ingredients
1 1/2

cups

fresh cranberries

(5 1/3 ounces; 150 grams)

2

cups

gluten-free flour

(10 ounces; 285 grams)

3/4

cup

granulated sugar

(5 1/4 ounces; 150 grams)

1 1/2

teaspoons

baking powder

1

teaspoon

ground cinnamon

1

teaspoon

salt

1/2

teaspoon

baking soda

3/4

cup

orange juice

(6 ounces; 170 grams)

1/3

cup

vegetable oil

(2 1/3 ounces; 65 grams)

1

large

egg

(2 ounces; 56 grams)

1

teaspoon

vanilla extract
Instructions
Heat Oven. Adjust oven rack to middle position. Preheat oven to 350 degrees Grease a 8 1/2 x 4 1/2 inch loaf pan with nonstick cooking spray.

Chop Cranberries. Chop cranberries coarsely with either a chef's knife or in the bowl of a food processor. If using a food processor "pulse" the berries a few times until roughly cut. Set the chopped berries aside.

Prepare Batter. Whisk together the gluten-free flour, granulated sugar, baking powder, cinnamon, salt, and baking soda in a large bowl. Add the orange juice, vegetable oil, egg, and vanilla extract. Mix until a smooth batter forms.

Spread about 1/2 cup batter into the bottom of the prepared pan. Stir the chopped cranberries into remaining batter. Smooth batter into pan.

Bake Bread. Bake until a cake tester inserted into the loaf comes out clean, about 55 minutes.

Cool on a Rack. Cool bread in pan for 15 minutes and then turn out onto a wire rack to cool completely.

Cut and Enjoy. Cut bread into slices with a serrated knife. Store bread, wrapped, on the counter for up to four days or freeze up to three months.