A moist and delicious gluten-free zucchini bread. Easy to bake and freeze. Dairy-Free.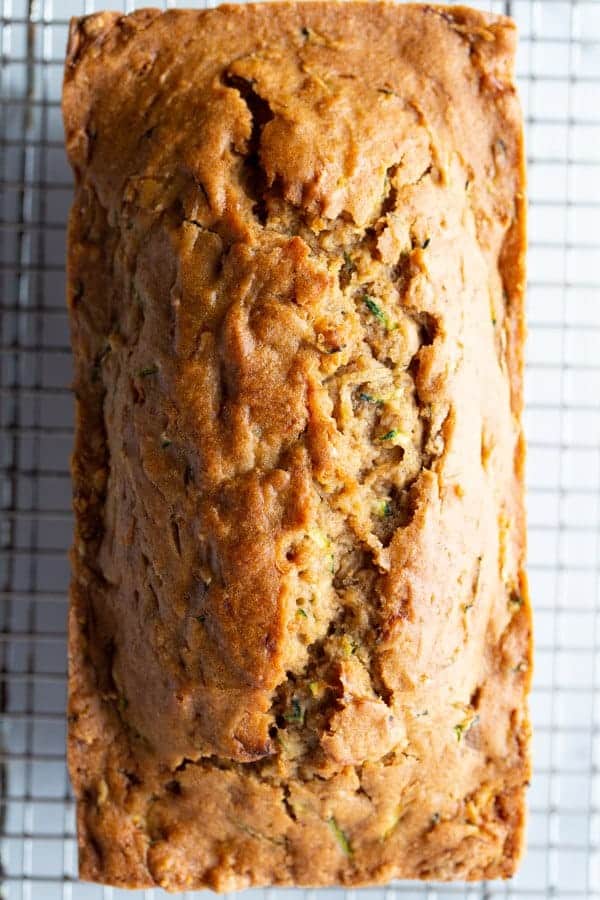 I've thought a lot about zucchini bread this summer. A few weeks ago, I created a new recipe for gluten-free chocolate zucchini bread. While working on it, I took a look at two of my earlier recipes for gluten-free zucchini bread.
My original gluten-free zucchini bread, which debuted six years(!!!) ago, uses a blend of millet flour and ground flaxmeal. It's a gluten-free whole-grain take on zucchini bread. The second recipe for gluten-free zucchini bread recipe is a bit more traditional. It includes a bit of apple juice to amp up the flavor.
Here's the thing: while both of those recipes taste great, they're both are a bit more work than I like. For example, I don't keep apple juice in the house. Do I want to make a trip to the store when I want to make zucchini bread? Nope!
I had to be honest, if someone wanted to make a loaf of easy, classic zucchini bread? Neither recipe would satisfy.
That needed to change! So I put "easy gluten-free zucchini bread" on my to-do list. I even underlined easy. So you know I was serious.
What I wanted the recipe to be:
Easy. Zucchini bread is fun to eat. It should also be fun to make! For this recipe, I didn't want to call for any ingredients that aren't always in the kitchen, like plain, unflavored yogurt, sour cream, or, I don't know, pineapple.
Dairy-free. I eat dairy. I need to say that. So although I'm really happy that making this recipe dairy-free benefits folks who are dairy-free; it wasn't the only reason I wanted a dairy-free bread. My main reason? Flavor! I love butter but in zucchini bread, it can overwhelm the other flavors whereas oil lets everything else shine.
One Loaf. Zucchini bread came about as a way to use excess zucchini. So it makes sense that many recipes make two loaves. But two loaves is usually one loaf too many for me. This recipe makes one loaf of bread. (If you want two loaves, double it.)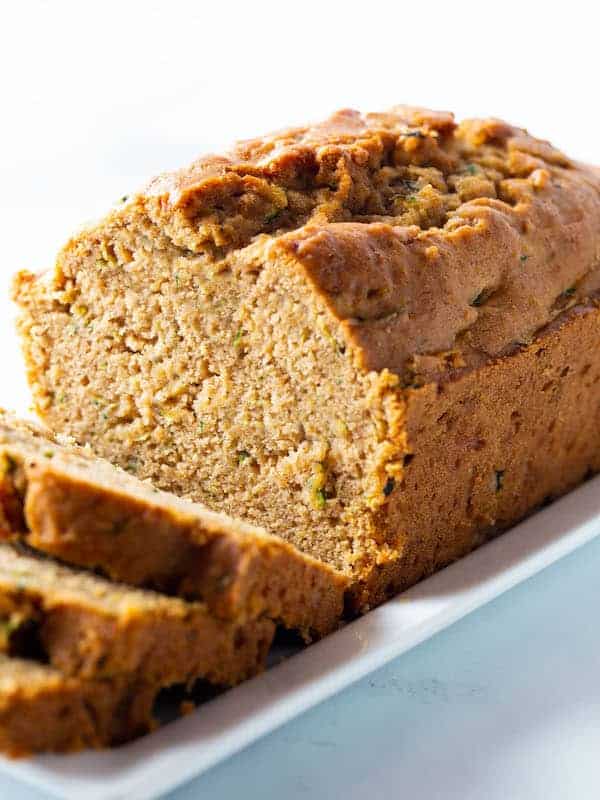 How to Make Easy Gluten-Free Zucchini Bread
Use in-season zucchini. This recipe relies on the moisture freshly grated zucchini brings to the batter. Out-of-season zucchini can be dry. Zucchini bread is best made in the summer when zucchini is fresh and abundant.
Use Brown Sugar. The flavor of zucchini bread comes mostly from the other ingredients found in the recipe. Brown sugar adds a delicate, almost caramel flavor, to the bread. Either light or dark brown sugar work.
Add cinnamon and other spices. The recipe calls for two teaspoons of ground cinnamon. If you happen to have nutmeg and cloves in the kitchen, add them. They bump up the flavor and take the zucchini bread from good to great.
Use a gluten-free flour blend. TO keep the recipe easy, I used a commercial gluten-free flour blend. It uses Bob's Red Mill 1:1 Gluten-Free Baking Flour. If you use a different flour, your results may vary.
Can I make this recipe into muffins?
Yes! Line 10 muffin cups with either nonstick cooking spray or paper liners. Fill the cups 2/3 full. Bake until the muffins spring back to the touch.
Can I add nuts?
Yes! Stir in up to 1/2 cup roughly chopped nuts into the batter.
How about chocolate chips? Can I add those?
Yesssssss! Of course! (You could also make a loaf of gluten-free chocolate zucchini bread. That's awesome too.) Stir in up to 1/2 cup chocolate chips to the batter.
How can I tell when zucchini bread is done?
Good question! Because of the high moisture content from the zucchini and the brown sugar, this loaf takes almost an hour to bake.
There are two ways to test if your loaf is done
Take the Temperature. Like my recipe for gluten-free sandwich bread, I love using a thermometer to tell when a loaf of bread–even a quick bread like this one–is done. Insert the thermometer about halfway into the loaf. You want it to reach 206 degrees F.
"Stab it and Tap it." Great name, right? This one isn't as precise as taking the temperature of the bread. First, use a cake tester (stab it). You don't want any batter clinging to the cake tester. If it passes that test, go ahead and then tap it with your fingers. You want the loaf to feel dense. If it gives of feels "squishy", it's probably not ready.
How to Freeze Gluten-Free Zucchini Bread
This bread freezes really well. If you have extra freezer space, go ahead and freeze a loaf. It's great enjoyed in the middle of the winter.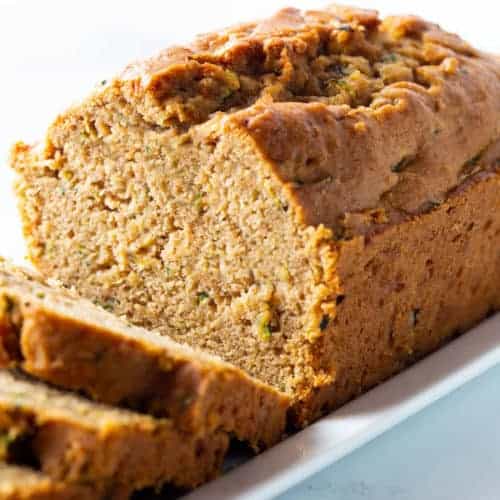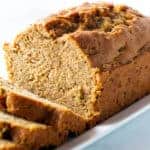 Easy Gluten-Free Zucchini Bread
A moist and delicious gluten-free zucchini bread. Easy to bake and freeze. Dairy-Free.
Servings
1
9-by 5-inch loaf
Ingredients
1 1/2

cups

Bob's Red Mill 1:1 Gluten-Free Flour

(7 1/2 ounces; 212 grams)

1/2

cup

light or dark brown sugar

(3 1/2 ounces; 100 grams)

1 1/2

teaspoons

ground cinnamon

1/2

teaspoon

baking soda

1/2

teaspoon

baking powder

1/2

teaspoon

salt

2

large

eggs

(about 4 ounces; 113 grams out of shell)

1/3

cup

vegetable oil, such as canola oil

(2 1/3 ounces; 65 grams)

1

teaspoon

vanilla extract

2

cups

grated zucchini

(about 7 ounces; 198 grams)
Instructions
Grease a 9-by 5-inch loaf pan generously with nonstick cooking spray. Or line the pan with a 7- by 13-inch sheet of parchment paper. Adjust oven rack to the middle position and preheat to 350 degrees F.

Whisk together the gluten-free flour, brown sugar, cinnamon, baking soda, baking powder, and salt. Break up any pieces of brown sugar. You can do this by rubbing the piece of brown sugar between your fingers and thumb or by using a fork.

Add the eggs, vegetable oil, vanilla extract, and grated zucchini. Stir together with a rubber spatula. Batter will look dry. Set a timer for three minutes. After three minutes, stir batter gently until smooth. Spread batter evenly into the prepared pan.

Bake until set and golden brown, about 50 minutes. A cake tester inserted into the center of the loaf should come out clean or to an internal temperature of 206°F.

Place the pan on a wire rack to cool. Once cool to the touch, turn out onto a wire rack to cool completely.

Wrapped tightly in foil, gluten-free zucchini bread keeps up to 3 days at room temperature. Freeze the cooled loaf, wrapped in plastic wrap and foil, for up to four months.
For Gluten-Free Zucchini Bread Muffins
Divide batter evenly among 10 lightly greased nonstick muffin cup. Use approximately 1/2 cup (4 ounces; 120for each muffin. Bake until golden brown and set, about 25 minutes.