Gluten-Free Funfetti Cupcakes are perfect for bake sales, kids birthday parties, or any time life needs a burst of sprinkles. Easy one-bowl recipe. Dairy-free.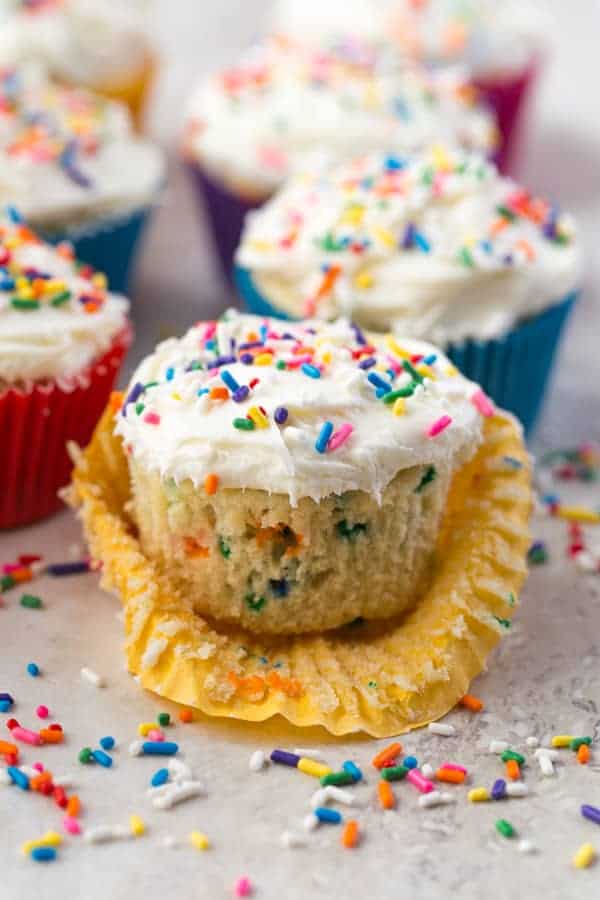 I remember when funfetti cake mix first hit the shelves. To my young eyes, it looked like a box of pure magic. I mean, it was cake with sprinkles. It practically sent out a siren call to small children everywhere. My mother, of course, did not hear the call.
I tried, I'm sure, to make my case—like I did for sugar-filled cereals. And, like my pleas for sugary cereal, it went nowhere.
Then, one day—long after it looked like hope was gone—she shocked me. As I stood next to her on a kitchen chair, she stirred sprinkles into the white cake mix she was making. My mother, ever the pragmatist, said something like, "I don't know why anyone would pay extra for that mix. You can just add your own sprinkles. It won't last."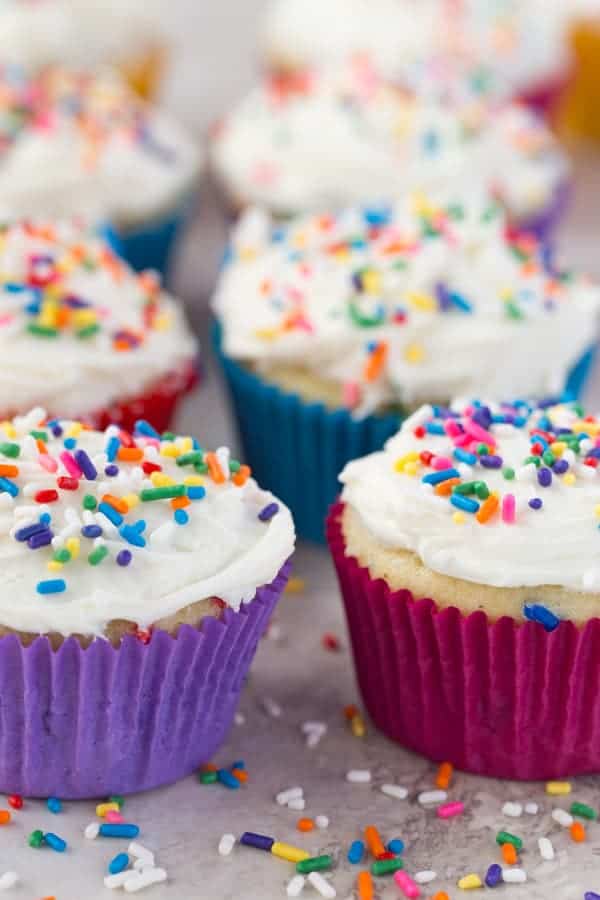 Turns out, lots of people disagreed with my mom. Thirty years later, the funfetti phenomenon continues. There's even a gluten-free funfetti mix on the market from the father of funfetti, Pillsbury.
So why make homemade gluten-free funfetti cupcakes? Taste. Seriously. Homemade > mix anyday. Plus, when you make it from scratch, you can tailor the ingredients to suit any other food allergies you or your loved ones deal with.
This isn't the first time I've made a gluten-free funfetti cake. But this is the easiest version I've ever done. The original cake required cutting shortening into the flour mixture. While that made for great cupcakes, these are–dare I say it?–just as good.
These cupcakes taste exactly like something that my nine year-old self would have loved. I mean, there are sprinkles in each bite! While my adult self appreciates the delicate texture and light almond-vanilla flavor.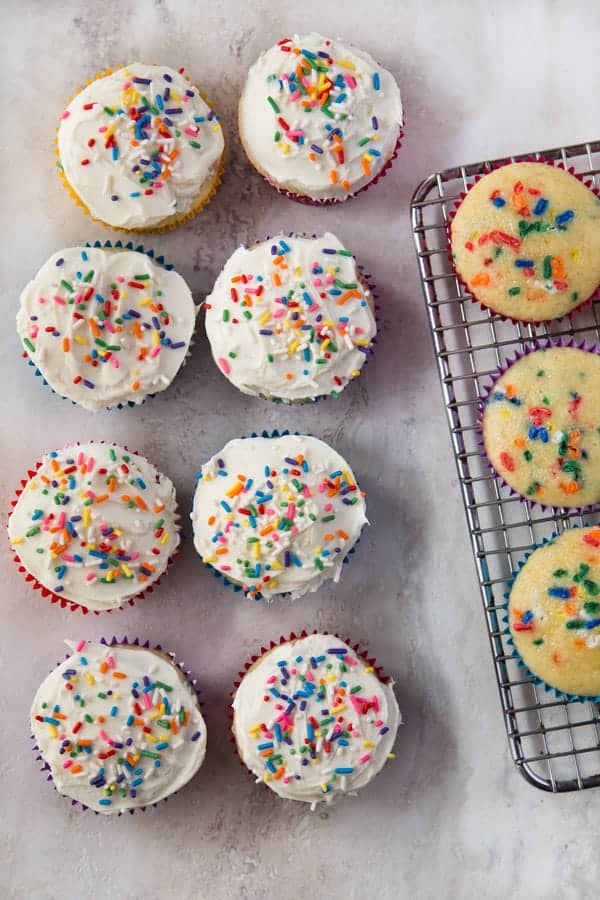 How to Make Gluten-Free Funfetti Cupcakes
Make the Batter. This is a one-bowl cake recipe. Simply whisk together the dry ingredients. Add the wet and stir. That's it.
Use "Jimmies" (aka Sprinkles or Decorettes) There are lots of different styles of sprinkles available. For the best and brightest funfetti batter, use "Jimmies." (pictured below). They are long, thin, and soft, unlike nonpareils which are hard, crunchy balls. Stir in about 1/4 cup colored into the batter.
Fill Cupcake Cups. Fill lined cupcake cavities about 2/3 full.
Add More Sprinkles. For fun, sprinkle a few extra sprinkles on top of each cupcake.
Bake. Bake cupcakes until golden brown.
Cool and Frost. Allow cupcakes to cool on a wire rack–this prevents the bottom of the cupcake from getting soggy. Then frost with your favorite buttercream.

A Note About Frosting
Once the cupcakes are cool, it's time to frost. You can either use a gluten-free canned frosting or my easy vanilla or chocolate frosting. As soon as you frost each cupcakes, top it with sprinkles. If you wait too long to add the sprinkles, the frosting can from a bit of a crust and the sprinkles will roll right off.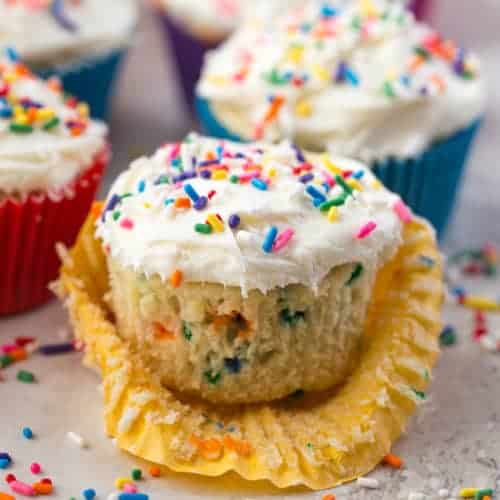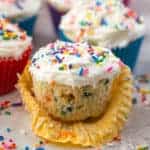 Gluten-Free Funfetti Cupcakes
Homemade gluten-free funfetti cupcakes. Perfect for bake sales, kids birthday parties, or any day that needs a burst of sprinkles.
Ingredients
1 3/4

cups

Bob's Red Mill 1:1 Gluten-Free Baking Flour

(9 ounces; 255 grams)

1

cup

granulated sugar

(7 ounces; 198 grams)

1 1/4

teaspoons

baking powder

3/4

teaspoon

salt

1/2

teaspoon

xanthan gum

1/2

cup

vegetable oil

(3 1/2 ounces; 100 grams)

2/3

cup

water

(5 1/3 ounces; 150 grams)

3

large eggs

1

teaspoon

vanilla exctract

1/2

teaspoon

almond extract,

optional

1/4

cup

rainbow sprinkles,

plus extra for sprinkling and frosting

2

cups

vanilla Frosting
Instructions
Preheat oven to 350 degrees F. Line 15 standard muffin cavities with paper liners or grease with nonstick cooking spray.

Whisk together gluten-free flour, sugar, baking powder, salt, and xanthan gum. Add oil, water, eggs, vanilla extract, and almond extract. Whisk until smooth. Stir in sprinkles.

Fill muffin cups about 2/3 full. Sprinkle additional sprinkles on top of each cupcake. Bake until set and golden brown, about 15 minutes. Remove from the oven. Allow cupcakes to cool in the pan for five minutes. Transfer to wire rack to cool completely.

Once cool, frost with vanilla frosting. Top with additional sprinkles.