Gluten-free pumpkin muffins are a perfect way to celebrate fall. These muffins are easy to make, loaded with flavor, and not too sweet.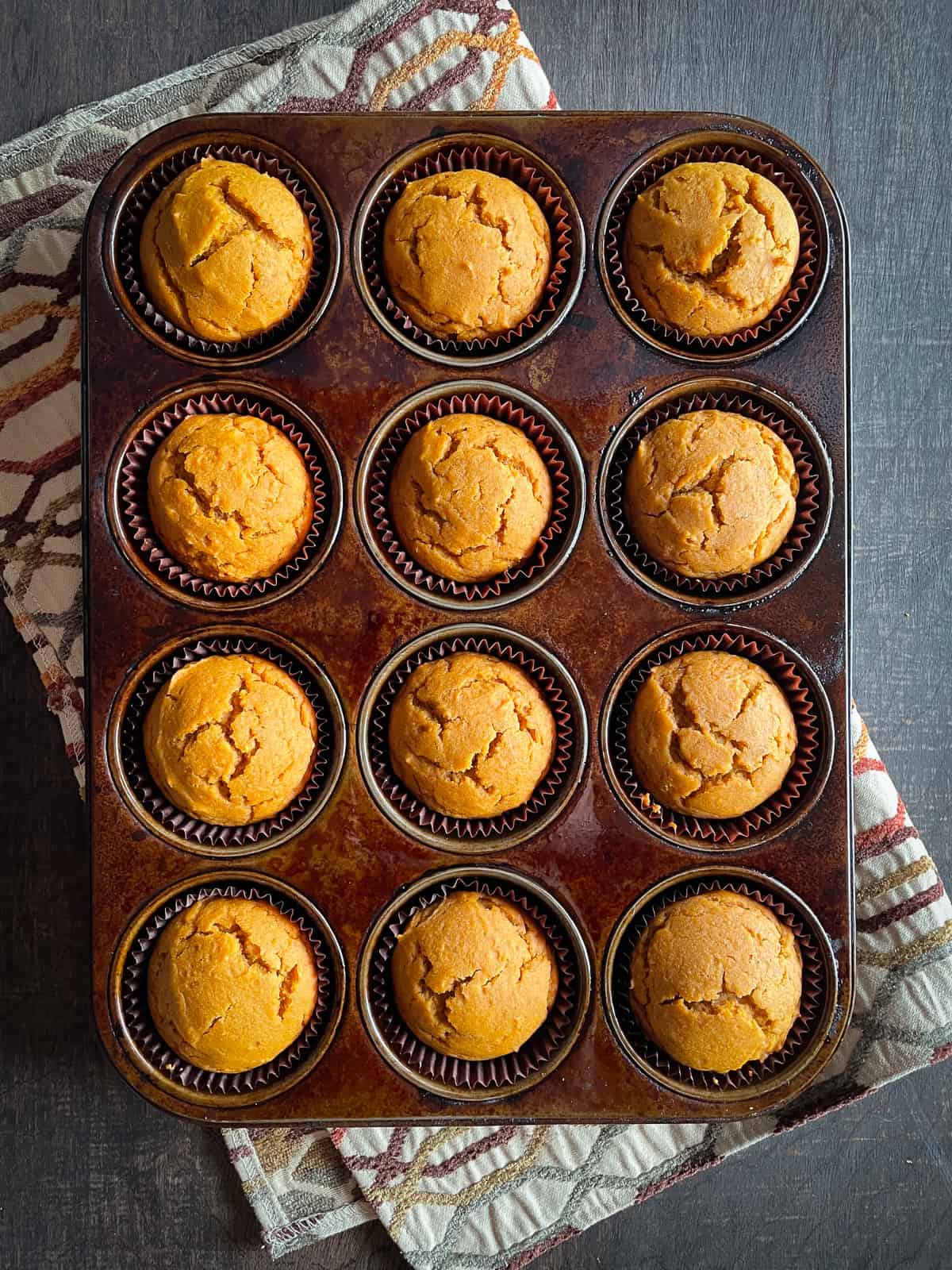 Gluten-Free Pumpkin Muffins
For a long time, I didn't think I needed a recipe for gluten-free pumpkin muffins. After all, I've got a great recipe for gluten-free pumpkin bread. But just like gluten-free banana bread is different than gluten-free banana muffins, pumpkin bread and pumpkin muffins are two separate treats. They aren't as sweet or as rich. And like most gluten-free muffins, they're really easy to make.
Gluten-Free Pumpkin Muffins Ingredients.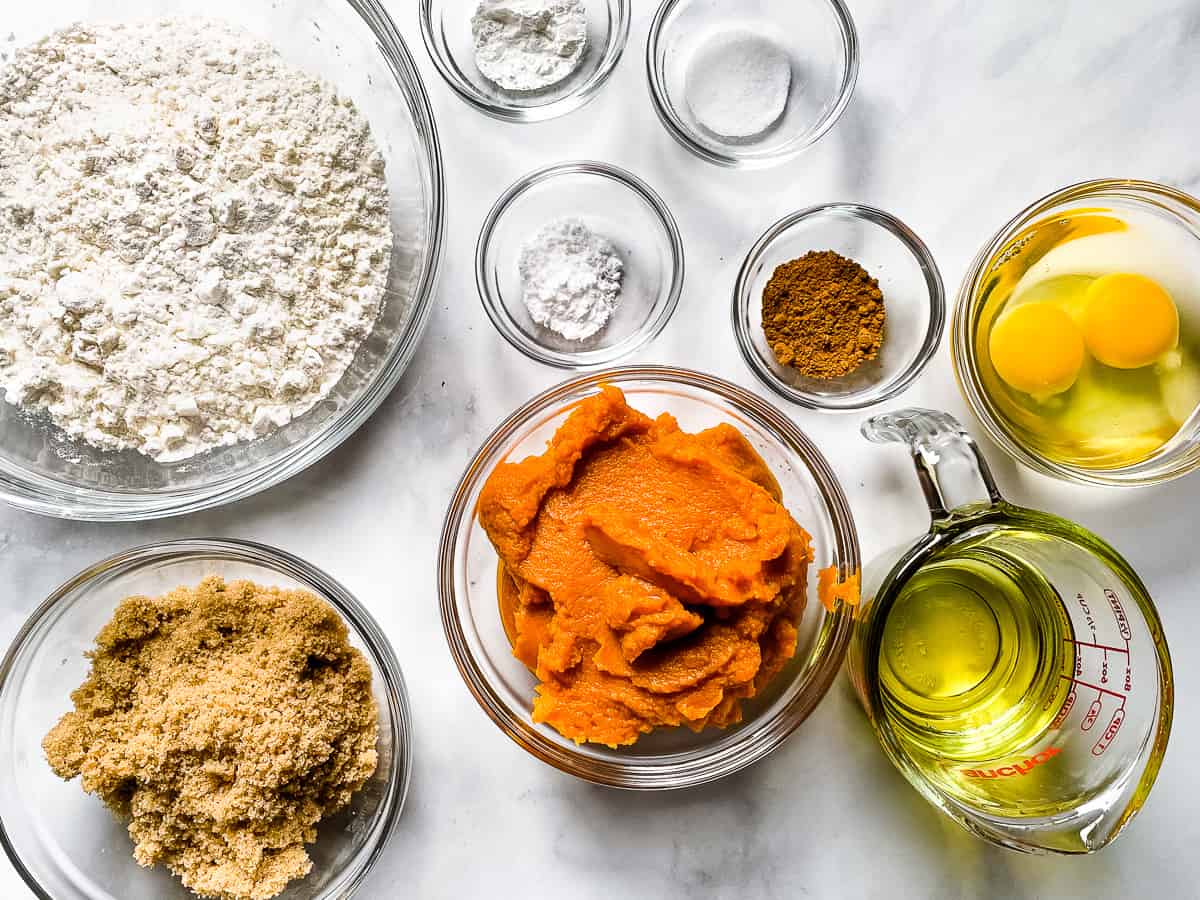 Gluten-Free Flour. A gluten-free flour blend that contains xanthan or guar gum makes these muffins light and tender. The recipe was developed with Bob's Red Mill's 1:1 Gluten-Free Baking Flour.
Baking Powder and Baking Soda. Using both baking powder and baking soda helps the muffins to rise and brown beautifully. For the best results, always use fresh baking powder and soda.
Pumpkin Spice. For the classic "pumpkin" flavor, use pumpkin pie spice. This blend of spices usually contains cinnamon, ginger, nutmeg, and allspice. If you don't keep pumpkin spice in the house, I've included a recipe for it below.
Salt. A little bit of salt enhances the flavors. When muffins are made without salt, they tend to taste flat. Table salt is always best for baking because the texture is fine and it easily mixes into the batter.
Pumpkin Puree. Canned pumpkin (also called pumpkin puree) brings moisture and flavor. Be sure to use pure pumpkin, not pumpkin pie filling.
Brown Sugar. Adds sweetness and flavor. You can use either light or dark brown sugar. Both work great! If you use dark brown sugar, the muffins bake a little darker and have a slightly stronger molasses flavor.
Oil or Melted Butter. Oil or melted butter makes these muffins rich and tender.
Eggs. Two eggs help give the a nice cakey texture.
How to Make Perfect Gluten-Free Pumpkin Muffins.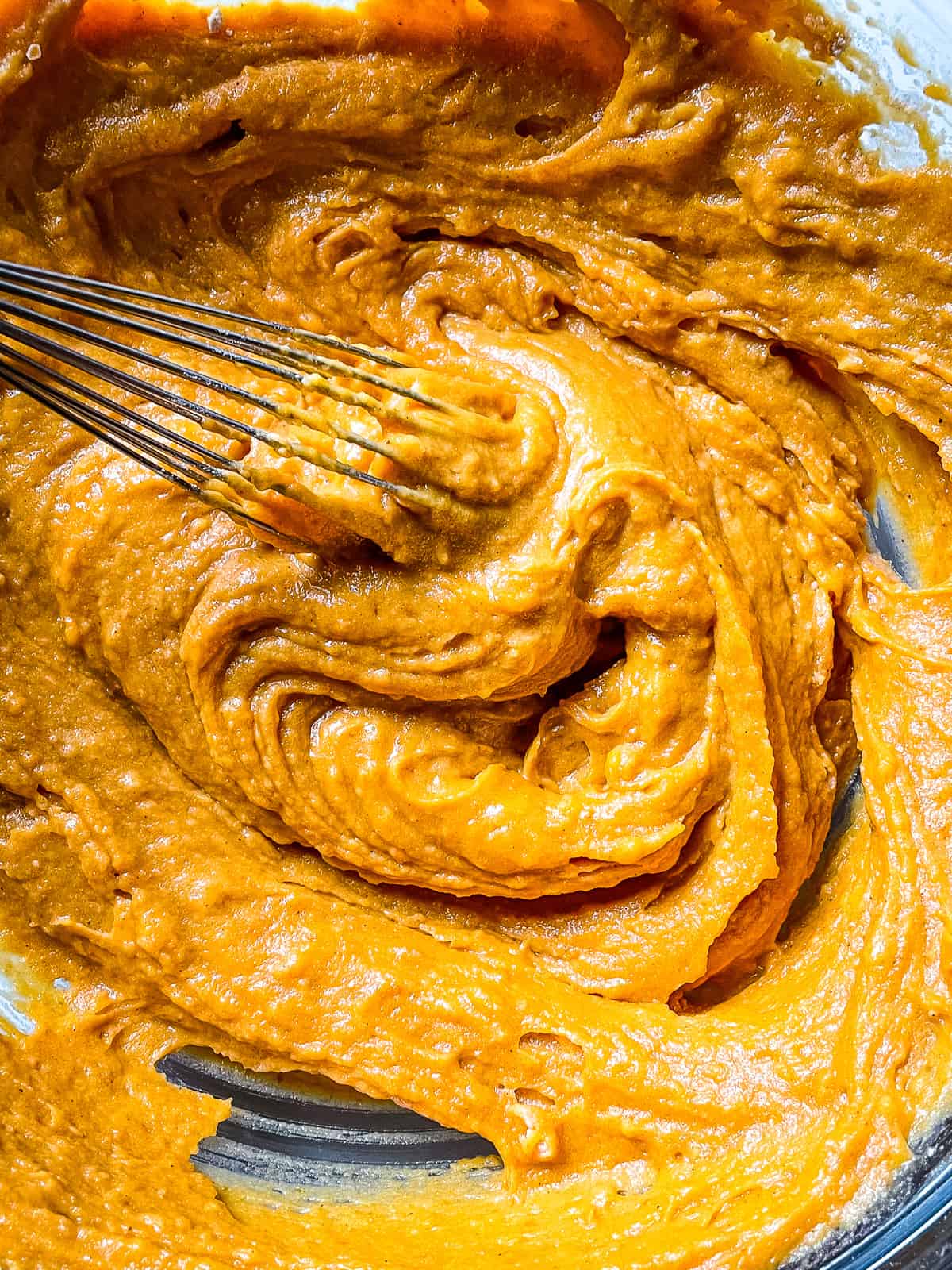 Step One: Preheat the oven.
Muffins started in a cold oven can turn out dense and heavy. Heat your oven before baking. The time this takes depends on the model. Most ovens take about 15 minutes to preheat.
Step Two: Make the batter.
You only need one large bowl to make this recipe. First, whisk the dry ingredients together. This helps evenly distribute the baking powder, baking soda, and salt throughout the gluten-free flour. Why does this matter? When the baking powder and soda are mixed evenly into the flour, the muffins rise beautifully.

Add the remaining ingredients and stir until the batter is smooth. You can use an electric mixer or a handheld whisk to make this batter. After mixing, scrape the bottom of the bowl with a rubber spatula. Gluten-free flour sometimes clings to the bottom of the bowl. you want to mix this into the batter before scooping it into the muffin pan
Step Three: Bake the Muffins.
Fill each muffin cup about ⅔ full. I like to use paper liners when making muffins. If you don't use liners, grease the pan with oil or nonstick cooking spray to prevent the muffins from sticking.
Bake until golden brown. These muffins take about 20 minutes to bake. Check for doneness by inserting a cake tester into the center of one of the muffins. You could also press gently down on the top of the muffin. Look for it to spring back to the touch. If it feels damp or squishy, it's not done.
Cool⁠. Cool the muffins for about 5 minutes in the pan and then remove them from the pan. Place the warm muffins on a wire rack to cool. This allows steam to escape quickly from the muffins. When the steam gets caught between the muffin and pan, the bottom of the muffin can get soggy.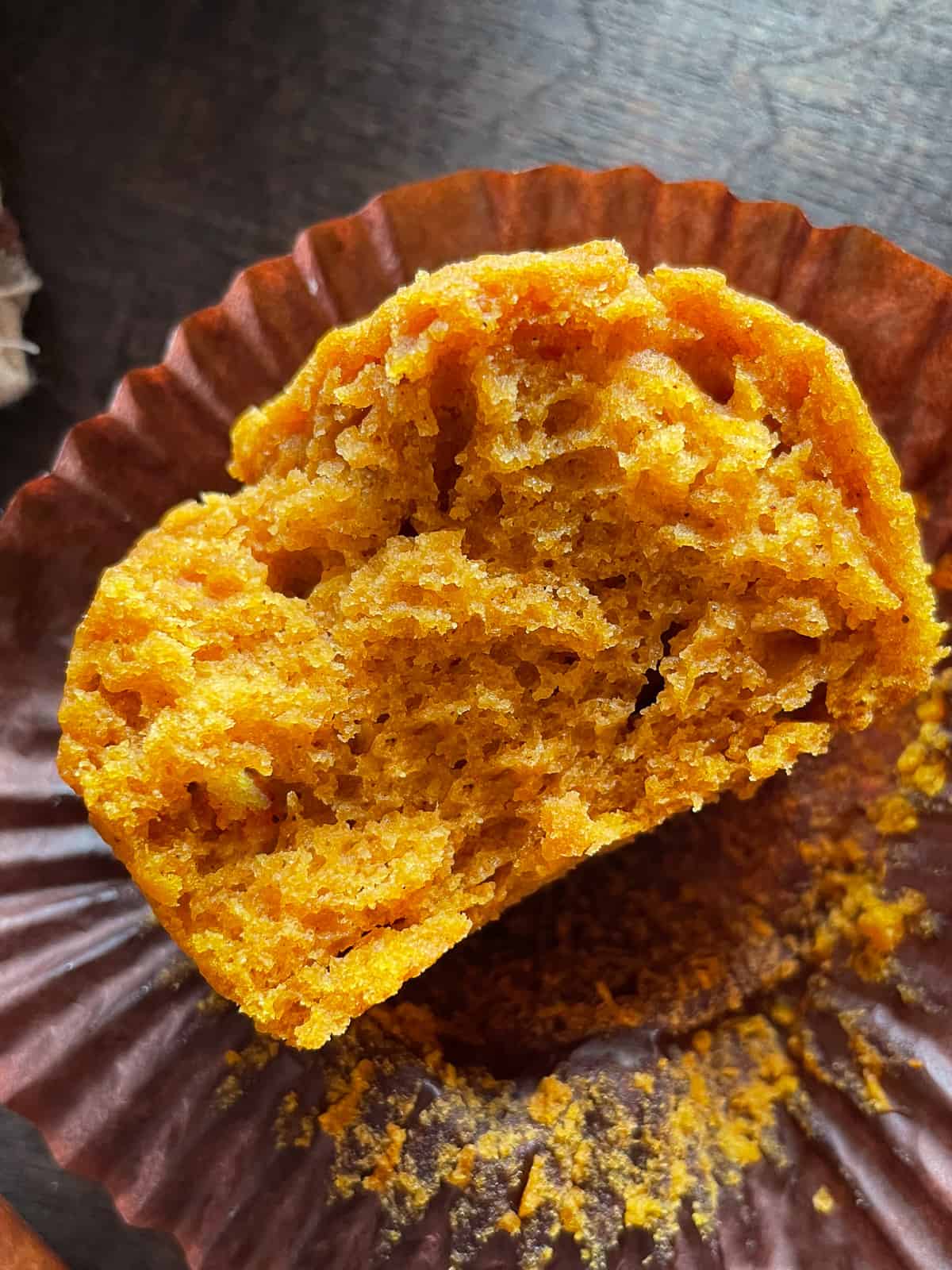 How to Store and Freeze Gluten-Free Pumpkin Muffins.
These muffins are best enjoyed soon after baking. Since they contain pumpkin, they're very moist and remain fresh for about three to four days.

Gluten-free muffins dry out when left unwrapped. Place the cooled muffins in a covered container on the counter. If you need to store the muffins longer than that, it's best to freeze them. After the muffins are completely cool, place them into a freezer bag or container. They keep well in the freezer for up to three months.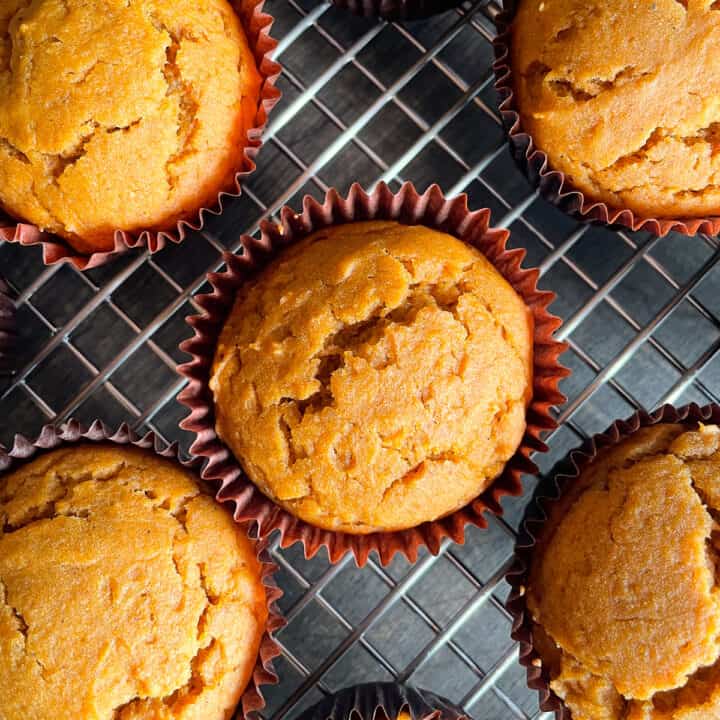 Gluten-Free Pumpkin Muffins
These gluten-free pumpkin muffins are soft, sweet, and nicely spiced. This one-bowl recipe is so easy to make. (Gluten-free/dairy-free.)
Ingredients
2

cups

Bob's Red Mill 1:1 Gluten-Free Baking Flour

(9 ounces/ 260 grams)

2

teaspoons

pumpkin spice, see note.

1

teaspoon

baking powder

1

teaspoon

baking soda

½

teaspoon

salt

1

(15 ounce) can

pure pumpkin puree

¾

cup

lightly packed dark brown sugar

(5 ½ ounces/ 155 grams)

2

large

eggs

(about 4 ounces; 113 grams)

½

cup

oil or 1 stick butter, melted and slightly cooled

(4 ounces; 113 grams)
Instructions
Preheat oven to 350°F. Line 15 muffin cups with paper liners.

Whisk together the gluten-free flour, pumpkin spice, baking powder, baking soda, and salt in a large bowl.

Add pumpkin puree, brown sugar, eggs, and oil. Mix until a batter forms. Scrape the bottom of the bowl with a rubber spatula. Mix any flour that's clinging to the bottom of the bowl into the batter.

Fill prepared muffin cups halfway with batter.

Bake 20-25 minutes or until a toothpick inserted in the center comes out clean. Cool in the pan for 10 minutes; remove from pan and place on a wire rack to cool completely.

Store, wrapped, on the counter for up to three days or freeze for up to three months.
Recipe Notes
Homemade Pumpkin Spice
To make your own pumpkin pie spice, whisk together
1 ½ teaspoons ground cinnamon.
1 teaspoon ground ginger.
¼ teaspoon ground nutmeg
¼ teaspoon ground allspice.