This easy recipe makes the best gluten-free soft sugar cookies. Inspired by the famous Lofthouse brand, these cookies are topped with frosting and finished with sprinkles.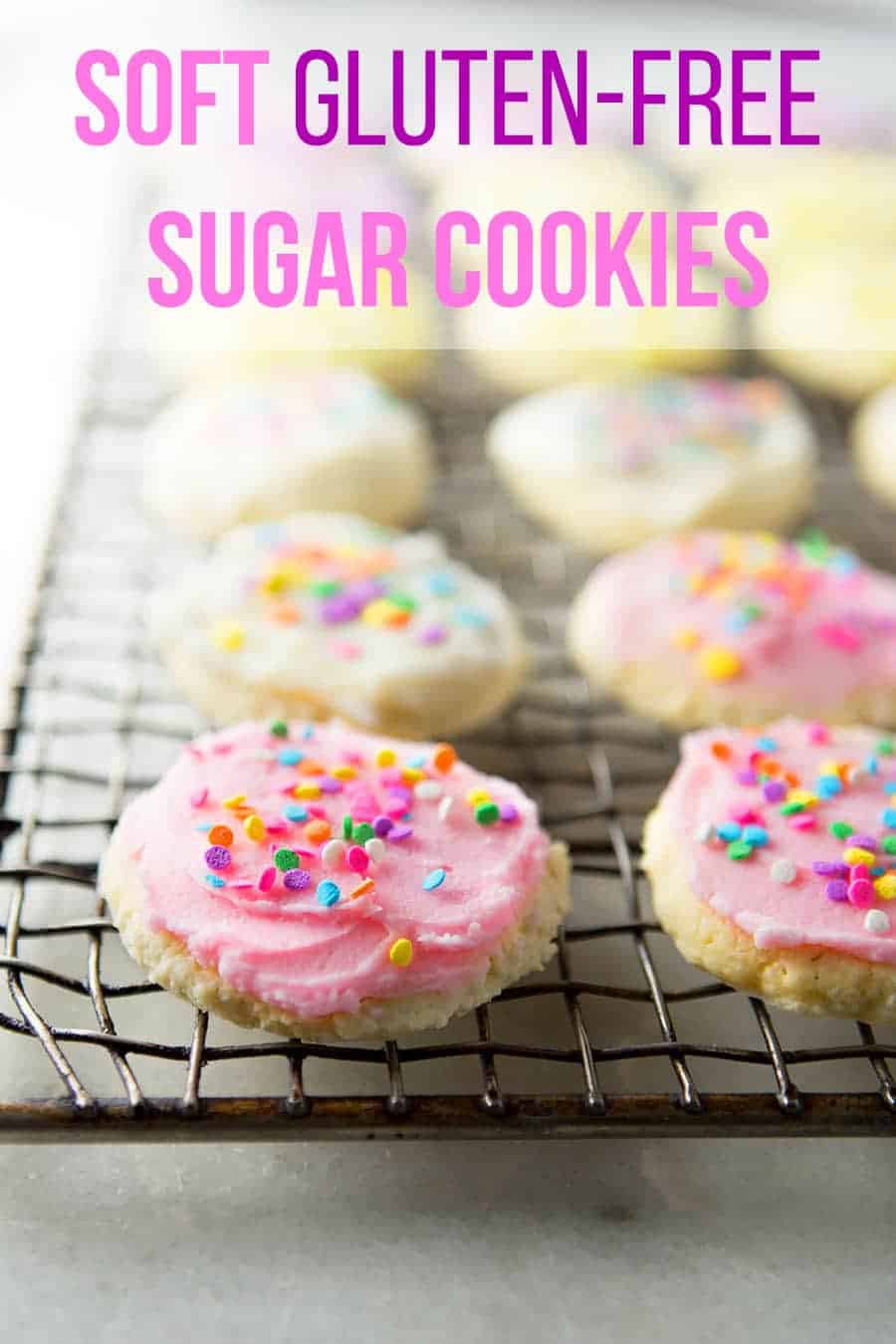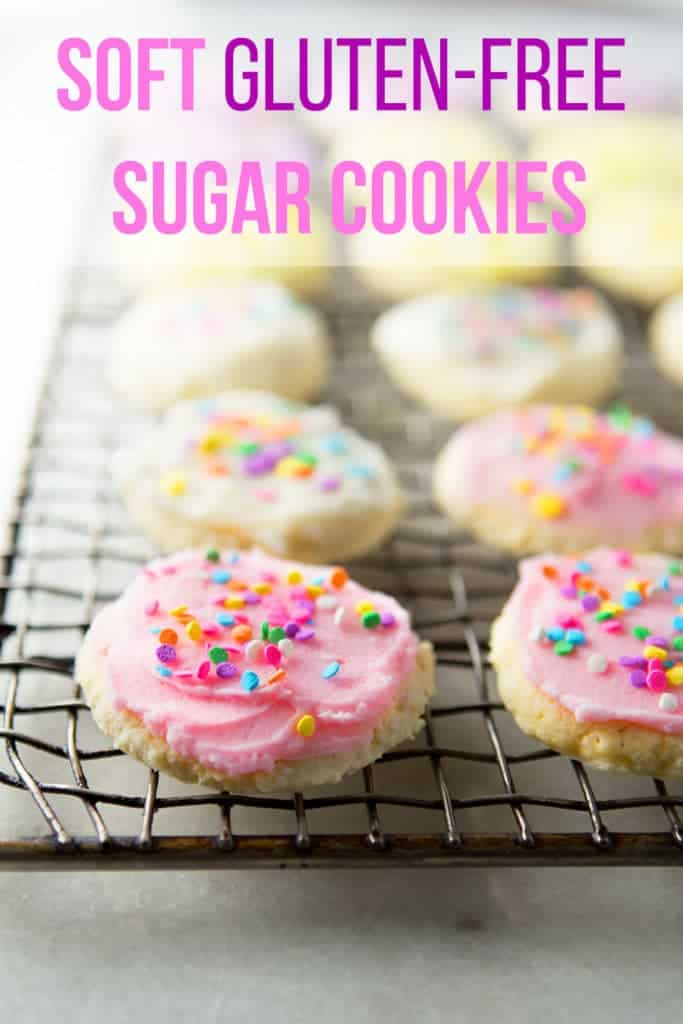 Gluten-Free Soft Sugar Cookies
The first time I saw Lofthouse cookies mentioned was on the internet. Probably pinterest. Someone posted a recipe for soft sugar cookies cookies topped with an adorable pink frosting. They looked so good!
The loving way the writer talked about the cookies made me think that the recipe was inspired by sugar cookies offered at some obscure bed and breakfast called "The Lofthouse." A B&B that serves soft sugar cookies? Sounds idyllic.
Little did I know!
It turns out that"Lofthouse" cookies are those (cheap) sugar cookies sold at almost every American grocery store. Those cookies I'd seen and eaten. I'd just never noticed the brand on the package.
There went my idyllic B&B. (sigh)
I totally understand why lots of copycat recipes show up online for Lofthouse cookies. They're so good, topped with that soft buttercream frosting, that I find it hard to eat just one.
Gluten-Free Soft Sugar Cookies: Making the Dough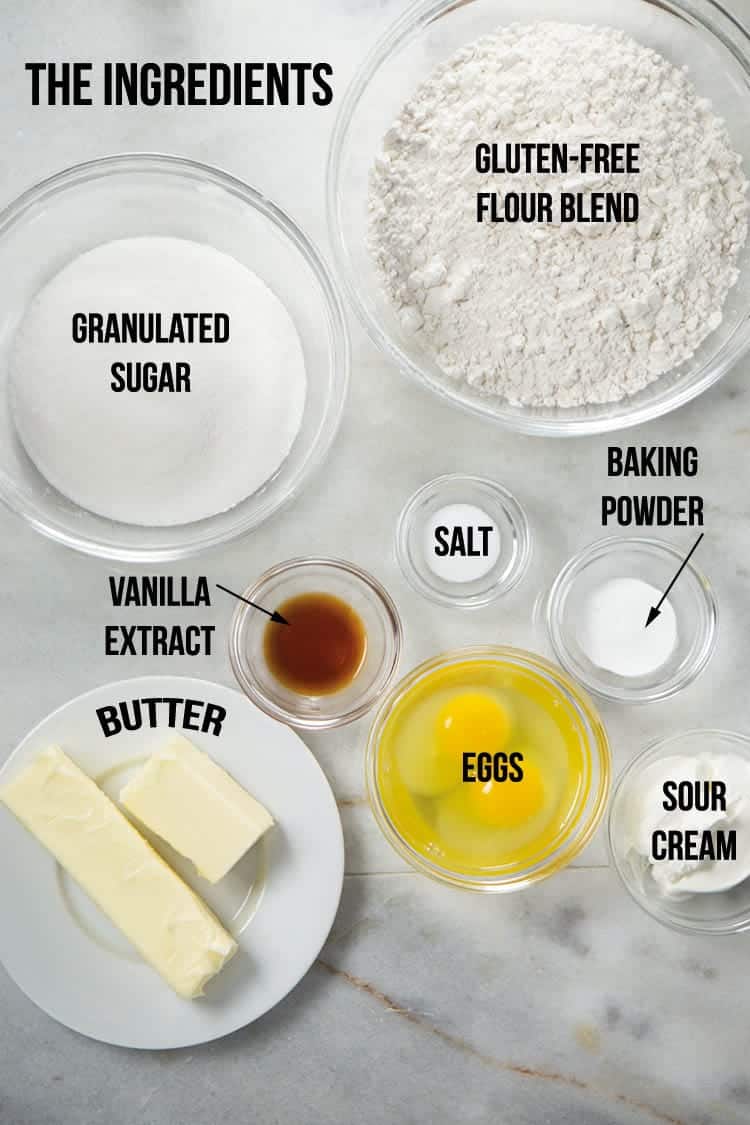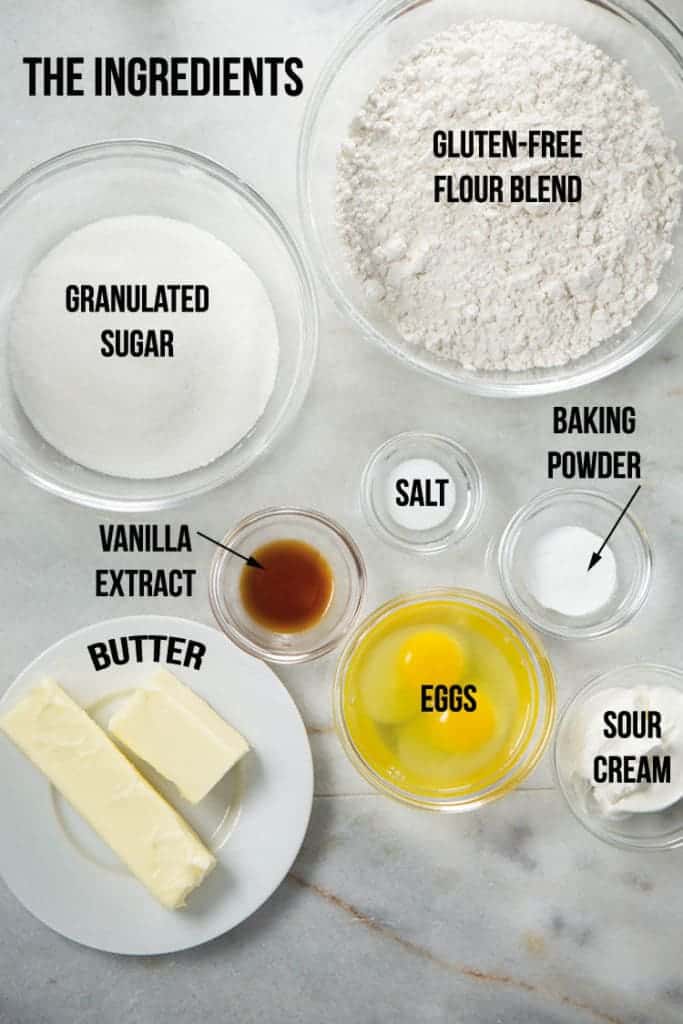 For this recipe, grab some Bob's Red Mill 1:1 Gluten-Free Flour Blend. As you know, I avoided premade gluten-free flour blends for years. Then Bob's introduced the 1:1 blend and I like it a lot. In fact, I used it for these gluten-free chocolate chip cookies, which you guys told me you love. (You have excellent taste because those cookies are the best.)
The flour blend helps to keep these soft sugar cookies soft. Which, for gluten-free cookies, is a bit of feat. Gluten-free cookies tend to dry out fast. The combination of the flours, starches, and xathan gum in the blend helps the cookies hold on to moisture.
Flour alone does not a soft cookie make, however. Granulated sugar brings sweetness and tenderness to the recipe (no brown sugar or maple syrup for this recipe, please.) While our friends butter, eggs, baking powder, salt, and vanilla create a dough that easy to work with.
And then there's sour cream.
While working on this recipe, I tried like heck to avoid using sour cream. I hate recipes that only call for a little bit of something that's not usually kept in the house. And this recipe only uses about 1/2 cup of sour cream. That means you'll have some sour cream leftover. I'm sorry. (Idea: make baked potatoes!)
Yet I kept seeing soft sugar cookie recipes that used either sour cream or cream cheese.
The sour cream ended up being a much needed ingredient. It adds a little extra fat, which softens the dough, and provides just the slightest tang. Without the sour cream, the cookies tasted flat. (The cream cheese made good cookies but they were a little dry for my taste.)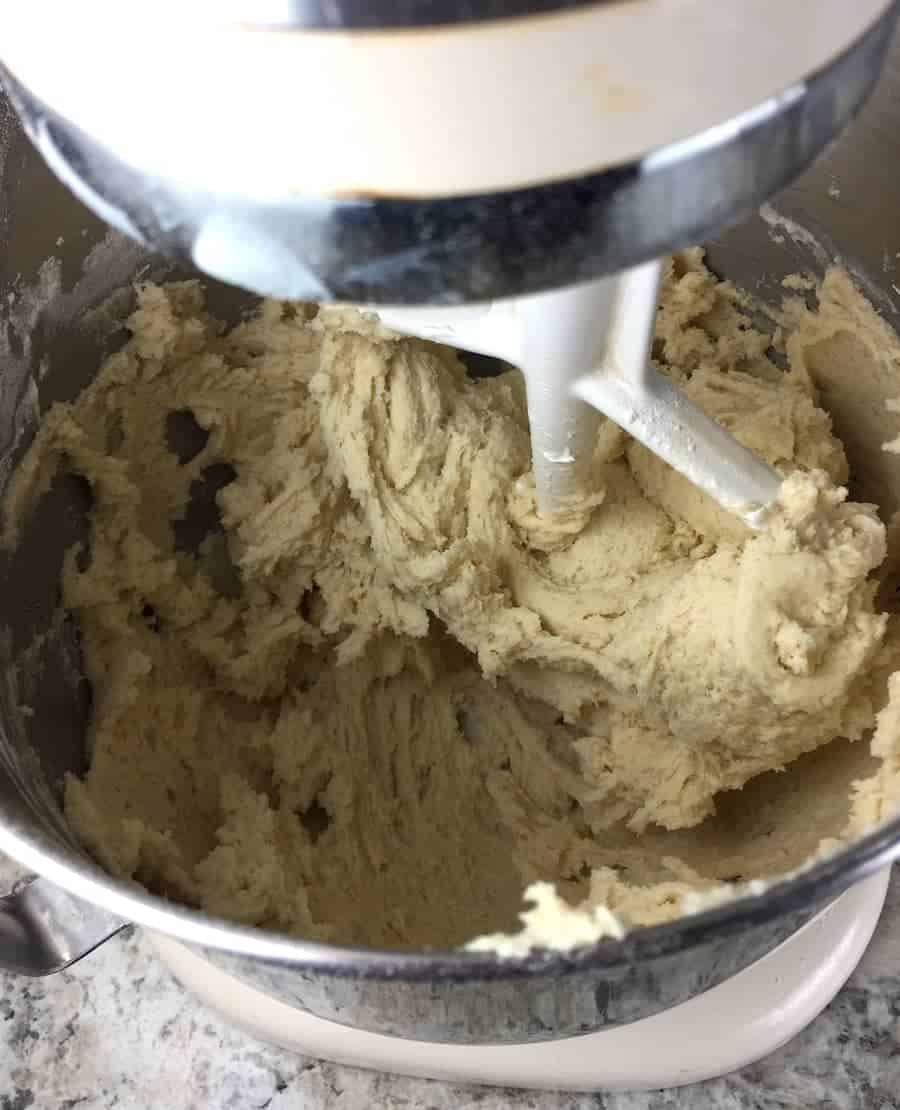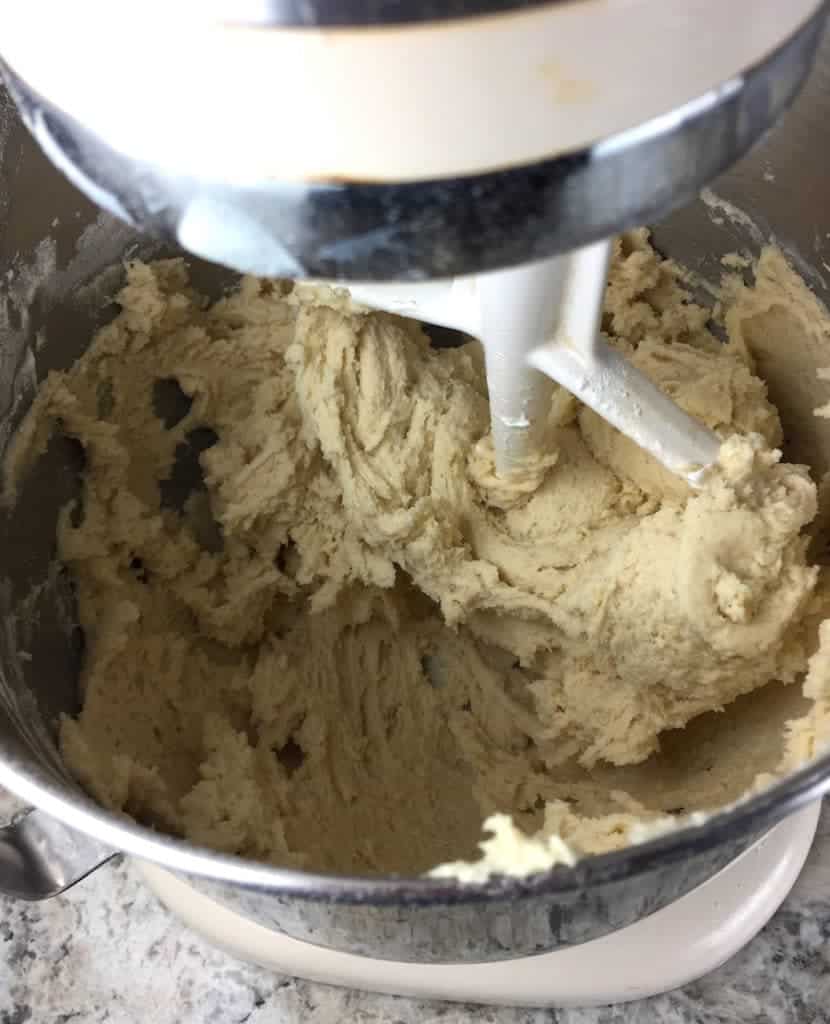 Mix the dough in either the bowl of a stand mixer or with a handheld mixer. This isn't a dough you can chill and roll; it's too soft for that but it's perfect for scooping.
Gluten-Free Soft Sugar Cookies: Shaping and Baking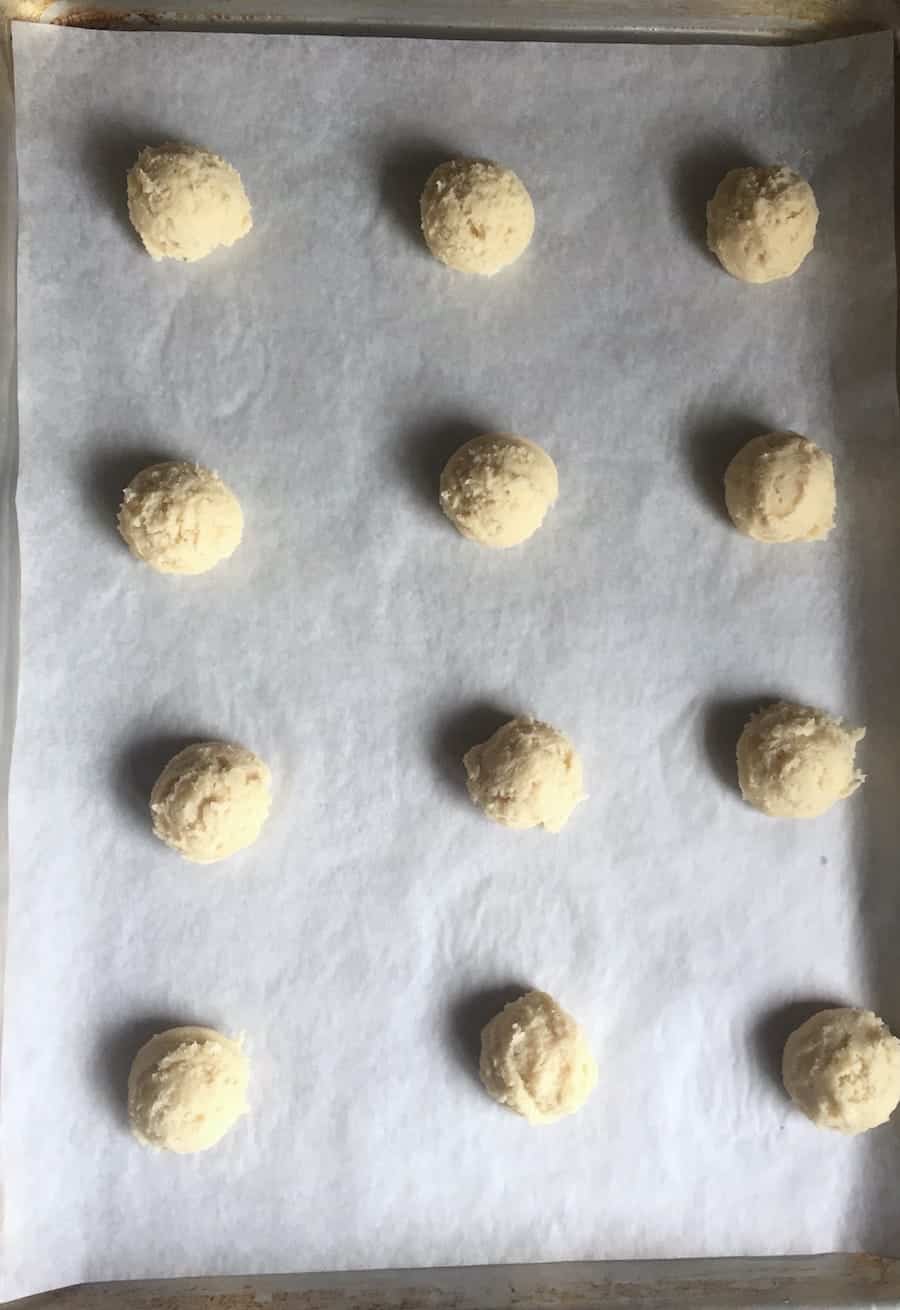 Scoop the dough onto a parchment-lined baking sheet. I can't recommend a cookie scoop highly enough for this task. It makes quick work of scooping the dough and each ball of dough is the same size. Evenly sized cookies=even baking time.
If you don't have a cookie scoop, spoon about two tablespoons of dough into your hand and round into a ball.
Once you scoop the dough onto the pan, press it down. This is key. If you don't press the cookies down, they won't look like a classic lofthouse cookie. This dough won't spread during baking. Whatever it looks like going into the oven is how it looks coming out.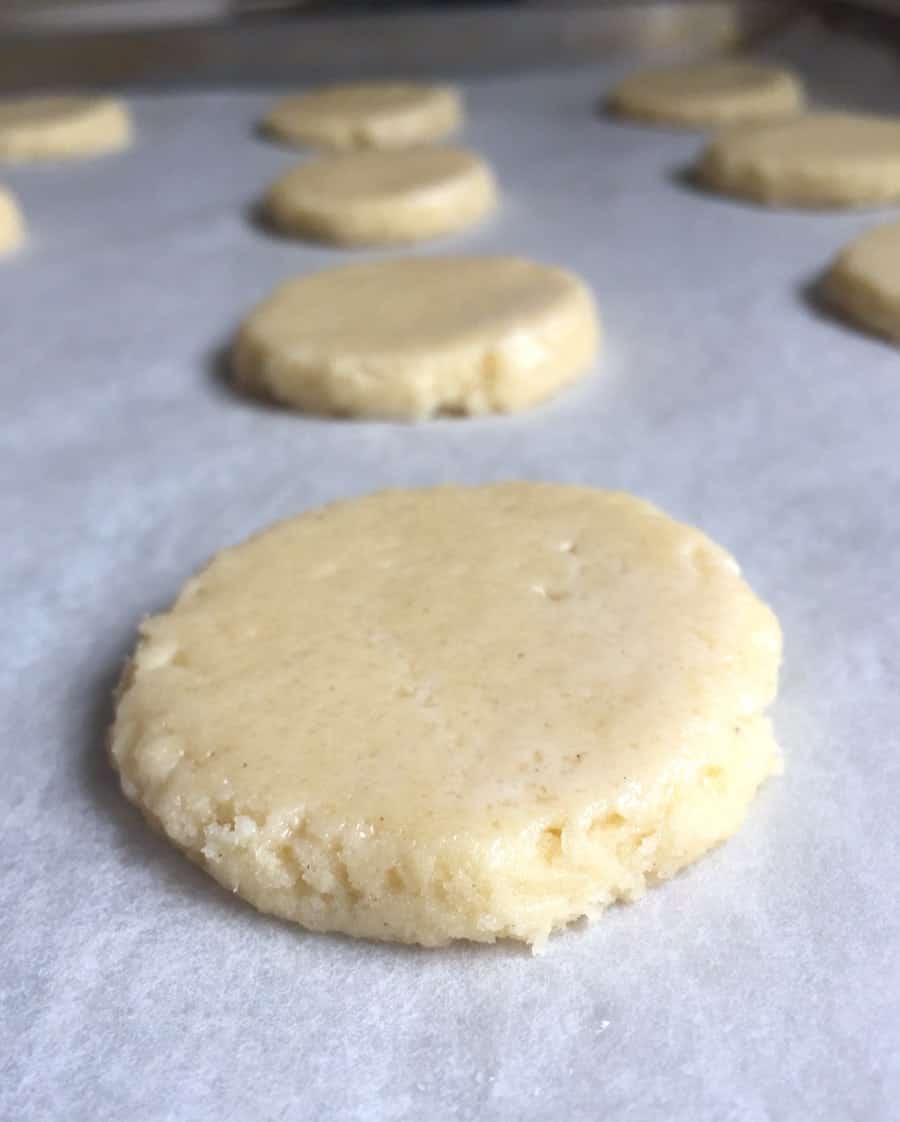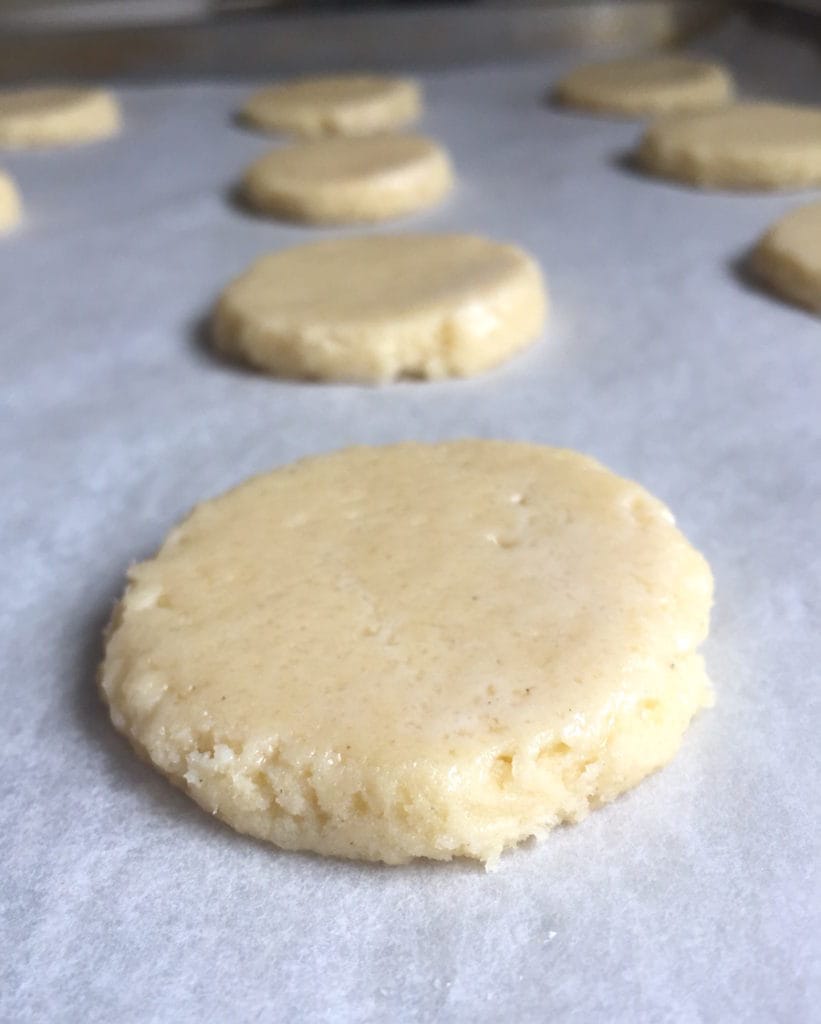 To do flatten the cookies, fill a small bowl with cool water. Dip the bottom of a flat glass or measuring cup into the water. Press the dough down until it's flat. Repeat, dipping the glass into the water frequently.
Bake until the cookies are set. The cookies should look flat, not shiny, when done.
Gluten-Free Soft Sugar Cookies: Frosting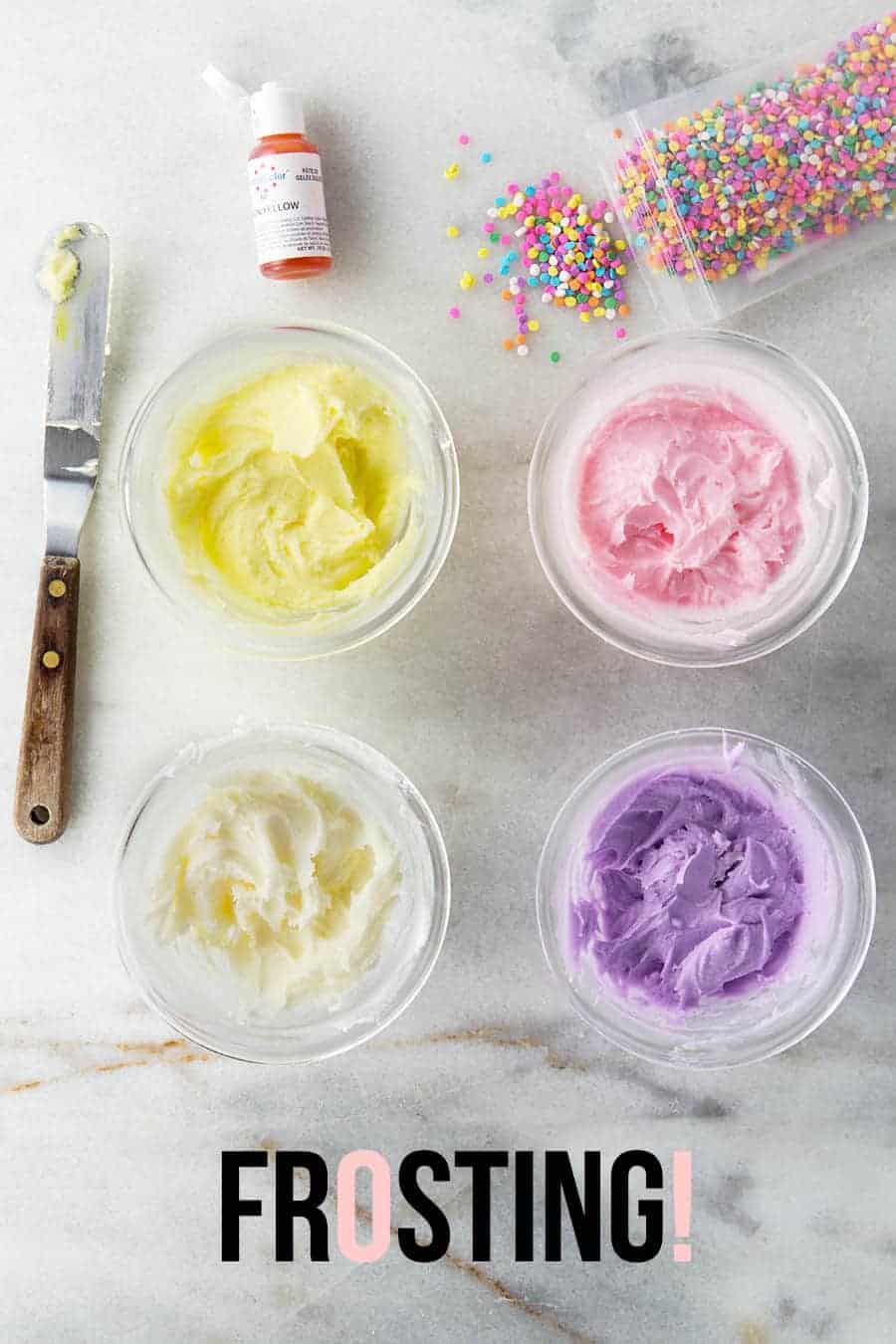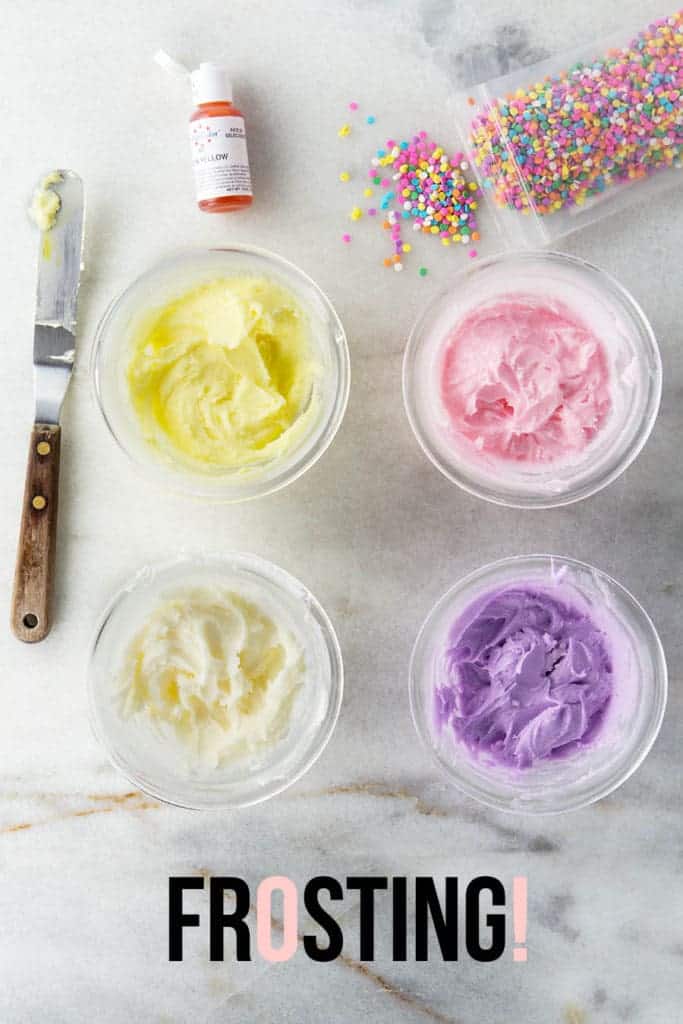 These cookies are frosted with a soft buttercream frosting. Honestly, the frosting made the cookies totally irresistible to me. I seriously had a hard time walking away from a plate of these cookies. "Just one more" was my mantra. A dangerous, dangerous mantra. (Note to self: go for a long walk today.)
The frosting doesn't get hard like royal icing. And, if I'm being honest, that's what I love about it. Royal icing makes pretty cookies. Yet, it doesn't make tasty cookies.
This frosting stays nice and soft and tastes great thanks to the combination of butter and powdered sugar. Now some people find powdered sugar chalky. If you're one of them, try organic powdered sugar. The chalky taste that some find unpleasant comes from the cornstarch that's present in regular powdered sugar. Organic powdered sugar contains tapioca starch which is soft, not chalky, on the tongue. (Or, you could make your own corn-free powdered sugar if you have a high powered blender.)
To frost the cookies, first allow them to cool completely. If you frost the cookies while they're still warm, the frosting melts into a mess. And nobody wants that!
Gluten-Free Soft Sugar Cookies: Holidays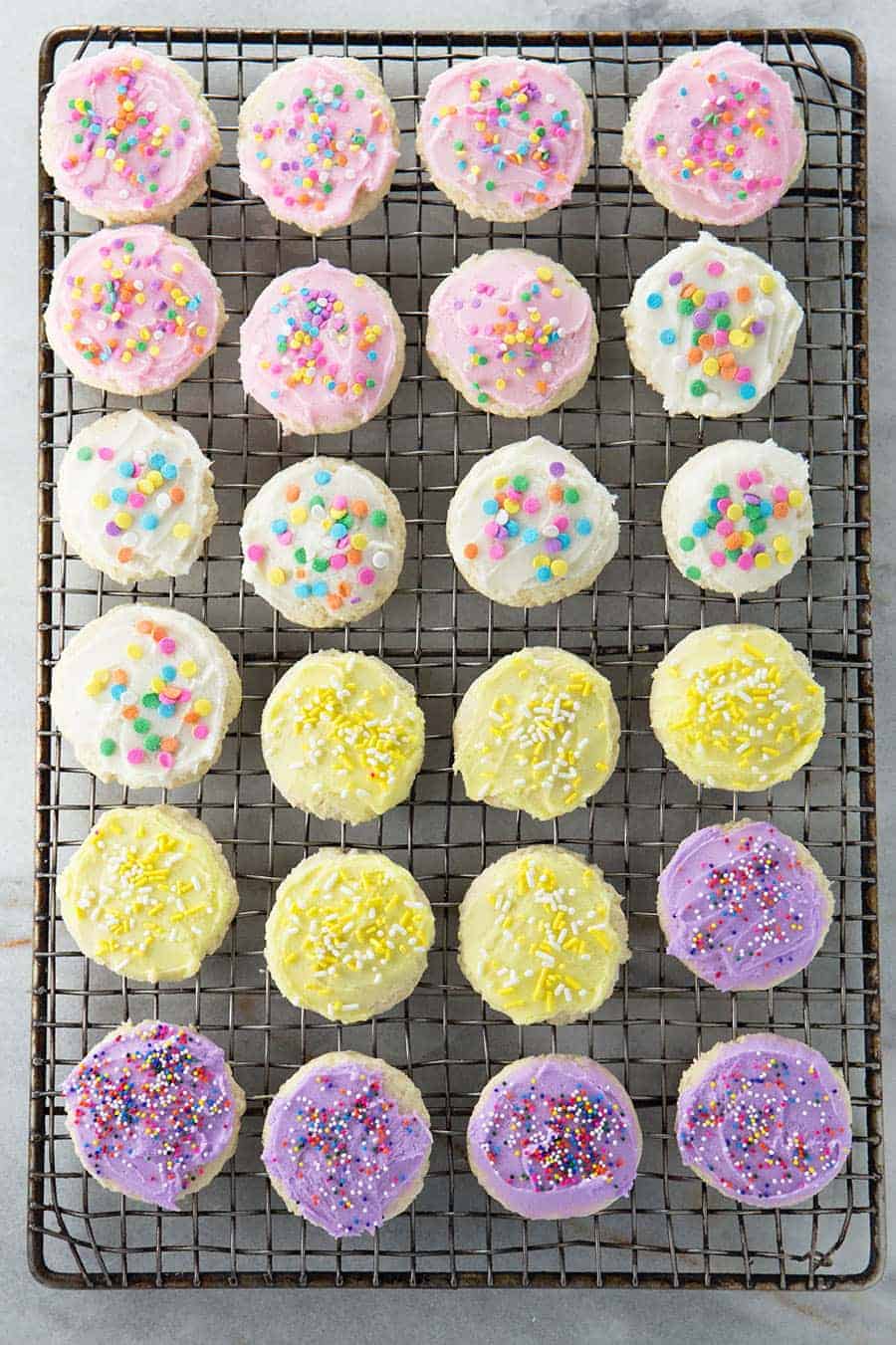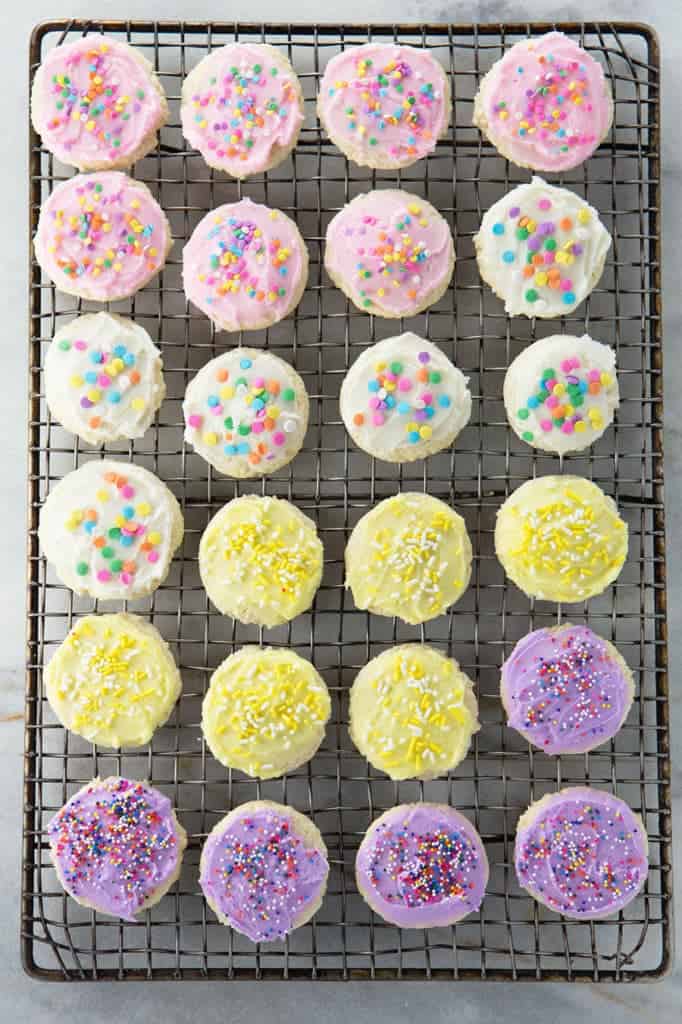 The frosting colors for Lofthouse cookies change with the season. You can do that too! Add a drop or two of food color to your frosting. I recommend using a gel or paste food coloring. This keeps the frosting nice and thick. Liquid food colors can thin down the frosting.
And if you want to change the flavor of the cookies for the season, add a little extract, like orange or peppermint, to the dough along with the vanilla.
Like I said, you can't roll this dough into shapes and make seasonal cutouts but with pretty colored frosting and sprinkles, I don't think anyone will notice.
Q&A
Can I roll this cookie dough?
No. This dough can't be rolled. If you want a roll-out cookie dough, here's my recipe for gluten-free sugar cookies. I love that recipe!
Can I make these dairy-free?
I don't know. I haven't tested this recipe with dairy replacements. If you try it without dairy, let me know how it goes.
Can I make these egg-free?
Probably not. These need the egg to create a soft and tender cookie.
Do these stay soft?
Yes! You want to store them in an airtight container. In the winter, when it's dry in your house, they dry out after a few days but they'll still taste great. Trust me on this.
Do I have to frost them?
Nope. They dry out faster without frosting, however.
Where'd you get those sprinkles?
I got them at the Confectionery House. You can order them here.(As always, be sure to check that your sprinkles are gluten-free.)
Shop the Recipe
The links below are affiliate links. GlutenFreeBaking.com earns a commission when you use the links to shop.
Bob's Red Mill Gluten-Free Baking Flour
Cookie Scoop
Baking Sheet
Cooling Rack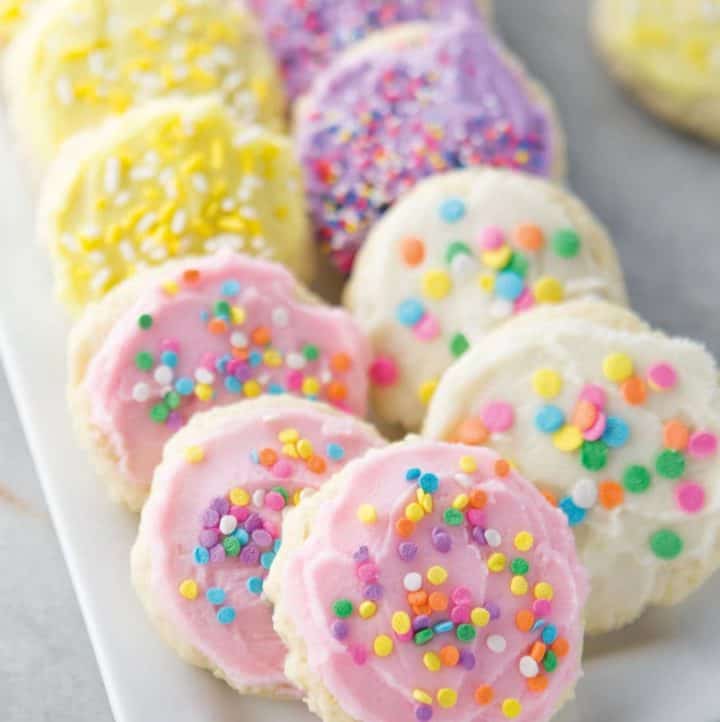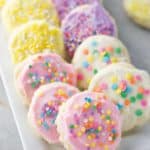 Gluten-Free Soft Sugar Cookies (Lofthouse Copycat Recipe)
This easy recipe makes the best gluten-free soft sugar cookies. Inspired by the famous Lofthouse brand, these cookies are topped with frosting and finished with sprinkles.
Ingredients
3/4

cup

butter, softened

1 1/4

cups

granulated sugar

2

large

eggs

3

cups

Bob's Red Mill 1:1 Gluten-Free Baking Flour

1 1/2

teaspoons

baking powder

3/4

teaspoon

salt

1/4

cup

sour cream

2

teaspoons

vanilla extract

1/2

teaspoon

almond extract
Frosting
1

stick (1/2 cup)

butter, softened

2

cups

confectioner's sugar, sifted

4

tablespoons

sour cream, more as needed

1

teaspoon

vanilla extract

food color, optional

sprinkles, optional
Instructions
For the Cookies
Preheat oven to 325 degrees F. Line two rimmed baking sheets with parchment paper

Beat butter and sugar until fluffy on medium speed. Add the eggs, one at a time. Stop the mixer and scrape down the bottom and sides of the bowl. Turn mixer to low speed. Add the flour blend, baking powder, and salt. Mix for 15 seconds. Dough will be thick. Add the sour cream, vanilla extract, and almond extract. Mix until combined.

Scoop dough, about two tablespoons each, onto prepared baking sheets. Dip the bottom of a small glass into water. Press dough down until flat, abot 1/2-thick. Repeat, dipping glass in water as needed, until all cookies are flat.

Bake until cookies are set, about 16 minutes. Allow cookies to cool on the pan for two minutes before transferring them to a wire rack. Repeat with remaining dough.

Spread frosting on cooled cookies. Top with sprinkles, if desired. Store in an airtight container for up to four days.
For the Frosting
Beat butter, confectioner's sugar, sour cream, and vanilla extract in a medium mixing bowl until smooth. Frosting will be thick. If frosting is too thick to spread, add additional sour cream, about one tablespoon at a time, until the correct consistency is achieved. Stir in food coloring if using. (For more than one color, divide frosting evenly among bowls and stir in food color.)