Single serving microwaved gluten-free spice mug cake. It contains brown sugar and spices. Takes less than five minutes to make!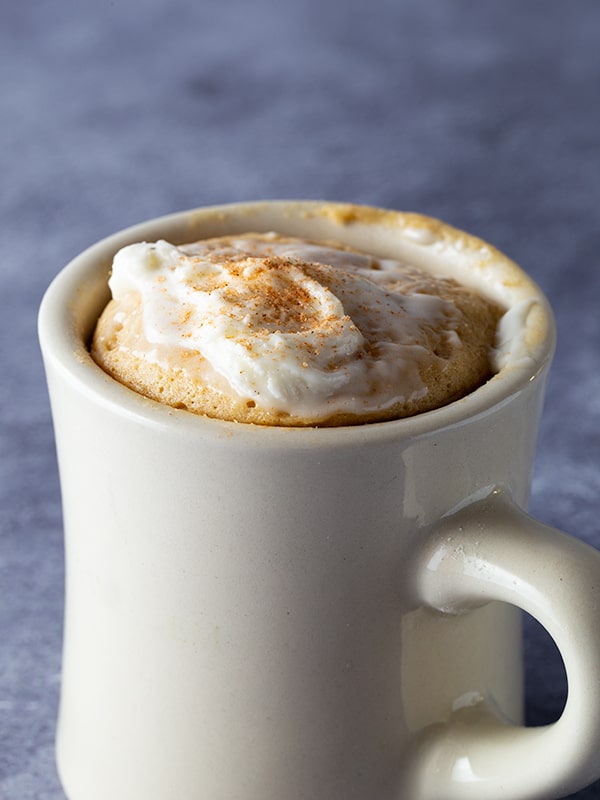 Someone saw my recipe for gluten-free spice cake on Facebook and said that the cake looked great but (there's always a but) they didn't need that much cake.
That gave me an idea: a gluten-free spice mug cake.
As you know, I love gluten-free mug cakes. And while I've made a gluten-free vanilla mug cake and a gluten-free chocolate mug cake, it never occurred to me to make a spice version. Until now.
It's quick. It's easy. And it's really good. Perfect for a cold night when all you want to do is curl up with a movie or good book and some cake.

How to Make Gluten-Free Spice Mug Cake: The Ingredients
Gluten-Free Flour. Use a gluten-free flour blend that contains xanthan gum or guar gum. Without a gum, the cake doesn't rise well.
Egg. For a light and airy cake, an egg is needed. I haven't tested the recipe with an egg-replacer.
Brown Sugar. Adds a molasses flavor. If you don't have brown sugar in the house, replace it with an equal amount of granulated sugar.
Spice Blend. Unlike my gluten-free spice cake, we're using a spice blend for this mug cake to keep things simple.

How to Make Gluten-Free Spice Mug Cake: Keys for Success
Like my other gluten-free mug cakes, this recipe is easy-peasy.
Use a large (but not too large!) mug. You need a mug that can hold about 12 ounces. The cake rises (and then falls a bit) as it bakes. If the mug is too small, the cake can fall out. If you use a really tall mug, think Starbucks grande-size or bigger, it'll be hard to eat the baked cake.
Stir the dry ingredients together. Before you add the egg, oil, and milk, take a second to whisk the gluten-free flour, brown sugar, spices, and baking powder together with a fork. This ensures that you don't get clumps of brown sugar or spices in the finished cake.
Expect the cake to rise and fall. It's totally normal for a gluten-free mug cake to rise during baking (microwaving) and fall a little as it cools. This is simply the egg expanding and contracting.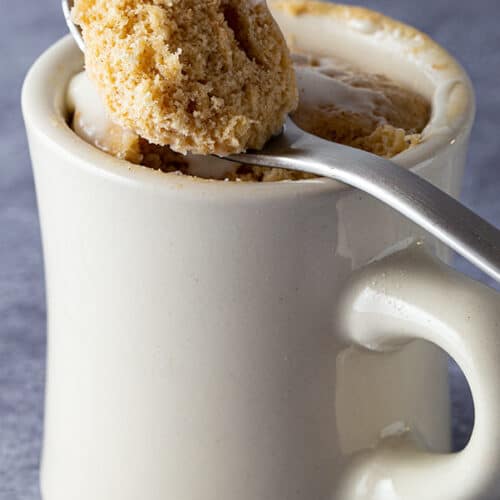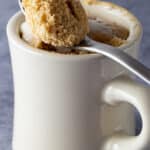 Gluten-Free Spice Mug Cake
Ingredients
1/4

cup

all-purpose gluten-free flour

1/2

teaspoon

baking powder

1/4

teaspoon

pumpkin pie spice

2

tablespoons

brown sugar, light or dark

1

large

egg

2

tablespoons

vegetable oil or melted butter

1

tablespoon

milk
Toppings
whipped cream

vanilla ice cream

cream cheese frosting, recipe below
Cream Cheese Frosting
2

tablespoons

softened cream cheese

3

tablespoons

powdered sugar

1

teaspoon

milk
Instructions
Spray a large (12 ounce) mug with nonstick cooking spray. Stir together gluten-free flour, brown sugar, spices, and baking powder in the mug. Add egg, oil, and milk. Stir until smooth with a fork or mini whisk.

Microwave on high for 60-80 seconds or until cake pulls away from the sides of the mug and the top looks dry. Allow cake to cool in the mug. Top warm cake with vanilla ice cream or whipped cream, if desired. Or allow the cake to cool for a few minutes and frost.

Beat together the butter and powdered sugar until smooth with a spoon. Add milk. Mix until creamy. Spread frosting on cooled cake. If you put the frosting on the hot cake, it will melt.