Paleo sugar cookies are fun and easy to make! The dough needs to chill for about an hour before baking; so be sure to leave yourself enough time to do this!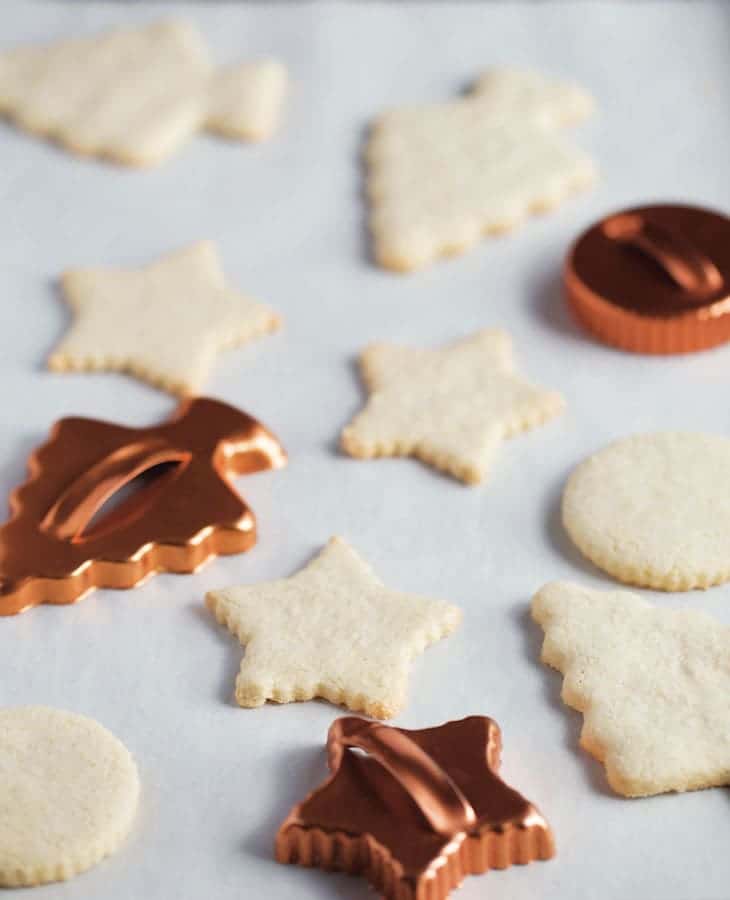 How to Make Paleo Sugar Cookies!
Let's discuss something important! Cookies! (said in the voice of the cookie monster, of course.)
Most of the year, the humble gluten-free chocolate chip cookie wins my heart. It's delicious, easy to make, and contains chocolate. What more could you ask for? Then the calendar flips to December and I don't care about chocolate chip cookies. I'm all about gluten-free sugar cookies and gingerbread cookies.
My seasonal love of cut out and gingerbread cookies has lead to a bit of a problem. I have an, um, massive cookie cutter collection. Right now, the collection is over 100 cutters and growing. But you know what? Even though I hoard love those cutters, I tend to use my mom's old copper cutters each Christmas. They're the ones you see in the photos. And they are the cutters she used when she made holiday cookies. And she didn't just bake a few cookies each holiday. Oh no!
My mom used to bake dozens and dozens of cookies from the day after Thanksgiving right up to Christmas week. Her cut-out cookies were legendary. Everyone got a package. Her friend? Got a package of cookies. The mailman? Got cookies. The lady who worked at the grocery store who she said hello to each Tuesday? You guessed it. She got cookies. During December my mom's car always smelled like cookies. It was the best.
So when I set out to create a cut out cookie recipe for my new cookbook, it was my mom's recipe that served as the inspiration.
To make all those cookies, my mom's recipe needed to be easy. Her method went something like this: measure out the flour, salt, and baking powder. (These cookies were not gluten-free.) Cream together shortening (Yes, back in the day she used shortening. #NoJudgement) and sugar in a large bowl. Add an egg. Add the flour. Chill. Roll. Bake. Done.
That was it.
The question was: could grain-free sugar cookies be this easy?
(spoiler: yes)
Paleo Sugar Cookies: The Flour
My mom had it easy. She baked with wheat flour. This meant she'd throw a bag of all-purpose flour into her cart at the grocery store, probably buying whatever was on sale, and didn't give it a second thought. Grain-free baking means we give our "flour" a lot of thought. For these cookies, I knew I wanted to use almond flour. Made from finely ground blanched almonds, almond flour bakes up surprisingly like wheat flour, especially in recipes like cookies or brownies. The thing about almond flour is that it tastes like almonds. This isn't a bad thing. It just is what it is.
The other thing about almond flour is that, since it's made from ground almonds, it doesn't have the soft mouthfeel that grain-based flours bring to recipes. When I tried cut-out cookies made with 100% almond flour, I liked them. They just didn't taste like cut-out cookies. They were missing the sandy crumb that all good cut-out cookies have.
Enter: tapioca starch.
When you combine an equal amount of tapioca starch with finely ground almond flour, you end up with a dough that's a dream to work with. It rolls out without breaking, holds the shape you cut with the cookie cutter without spreading into a huge blob during baking, and, the very best part, it tastes like a traditional cut-out cookie. Somehow this cookie tastes buttery without containing a drop of dairy!
So while there are many grain-free cookie recipes that do really well without the addition of starch, this isn't one of them. For the best taste and texture, pull out that bag of tapioca starch. (Oh, and tapioca starch is sometimes called "tapioca flour." They're the same thing. No worries!)
Paleo Sugar Cookies: The Sugar
But the flour and starch can't do everything on it's own. It needs some help from our friend sugar.
To our bodies, sugar is sugar. All those claims about some sugars containing extra nutrients are, to me, a little misleading. Sure there are trace nutrients in unrefined sugar, that's true. However, you'd have to eat so much of those sugars to get any nutritional benefit that you'd make yourself sick, which kind of defeats the purpose.
While our bodies think sugar is sugar, our baking does not. There are two types of sugar in the baking world: dry sugar and liquid sugar. For cookies, dry sugar works best. It doesn't bring any additional liquid to the dough. And that's what we want. Cut out cookies don't benefit from extra moisture. In fact, when a cookie dough is too wet, it spreads during baking.
Like this:
That right there is what a broken dream looks like. Now that dough might have been too warm, contained too much fat, or used too much liquid sugar. I don't know because I didn't make the cookie. But since the water content of honey and maple sugar vary from batch to batch, it's best to avoid using them for cut-out cookies.
I prefer the taste and look of evaporated cane sugar for my cut-out cookies. It's light in both flavor and color. But you don't have to use evaporated cane sugar. You can also use coconut sugar in this recipe. Since coconut sugar is so dark, these cookies look kind of like gingerbread cookies when made with coconut sugar. That's fine, I just want you to know that before you make them. 🙂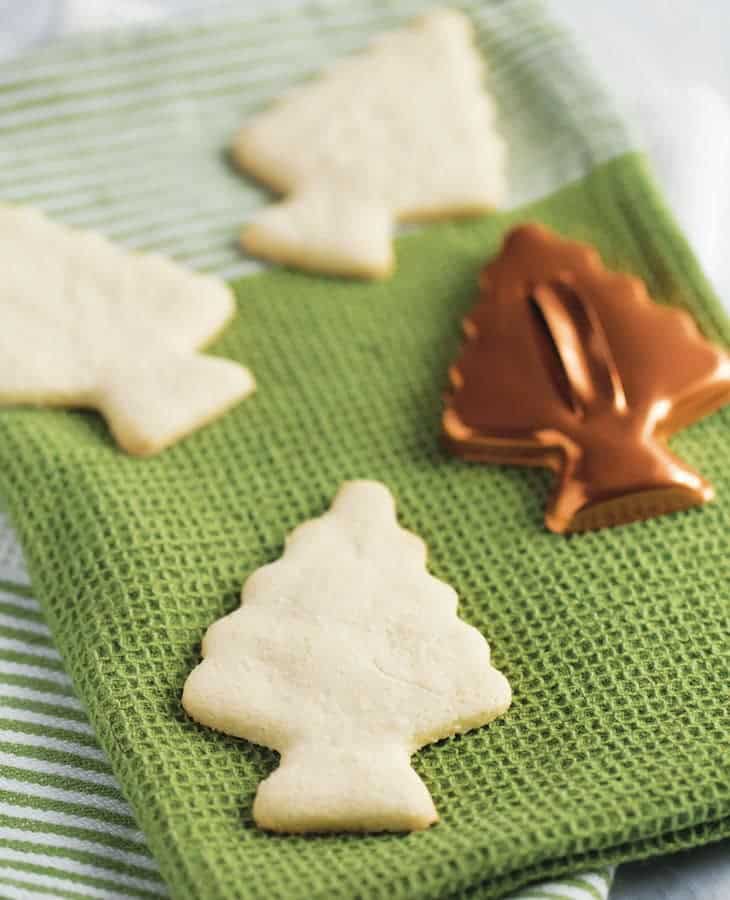 Ah, a cookie that holds its shape. That's what we want!
Paleo Sugar Cookies: The Other Ingredients.
Now that we've talked about the two most important ingredients, the flour and sugar, let's take a quick look at the rest of the ingredients.
Eggs
One egg helps to hold everything together. It also adds flavor and a subtle richness. I haven't tested this recipe egg-free. If I do, I'll let you know how it goes!
Coconut Oil or Butter
Since almond flour brings so much fat with it, we only need 1/4 cup of coconut oil or butter. If you are using coconut oil, make sure it's soft but not melted. Unlike butter or vegetable shortening, coconut oil gets REALLY brittle when cold. It's hard to cream brittle fat! Here's what to do: if the coconut oil is cold and hard, warm it gently in the microwave for about 10-15 seconds. Any more than that and the oil melts. We don't want that! You want the oil soft but not melted. When you cream it together with the sugar, you don't want any large lumps of coconut oil to remain. If you see any large lumps of coconut oil, reach into the bowl and break them up either with your fingers or a fork.
If your diet includes dairy, use butter in place of the coconut oil. I like to use grass-fed unsalted butter. But any butter will do! Be sure it's at room temperature before using.
Water
Without gluten to hold things together, the dough needs a little nudge to come together and play nice. Water does the trick! One tablespoon of room temperature water helps bind the ingredients into a dough without causing it to spread.
Vanilla Extract
Vanilla adds flavor. I think it partners so nicely with the almond flavor. If you don't like flavor of vanilla (gasp!), go ahead and omit it.
Baking Powder
Too much baking powder causes cut out cookies to puff and lose their shape. Too little and you get hard cookies. For these cookies, the "just right" amount is 1/2 teaspoon. Most commercial baking powder contains corn starch. However, it's easy to make your own! I included a recipe below,
Salt
A little salt helps to enhance the flavor of the cookies. Use recommend table or fine sea salt. Kosher or coarse salt tends to be too coarse for baking.
Paleo Sugar Cookies: Mixing and Baking
While these cookies are easy to make, they aren't exactly quick. You need to chill the dough for at least one hour before baking. Freshly made cookie dough is too warm to work with and warm dough=cookies that spread. The dough can chill for more than an hour. In fact, I like to make my cookie dough the night before I plan to bake. If you have the time, I recommend you do the same.
Our friends coconut oil and butter get a little brittle when cold. Actually, coconut oil gets VERY brittle when cold. This means that if you try to roll cold-from-the-fridge dough, it might crack. To avoid this problem, allow the dough to warm up slightly before you roll it out. In most kitchens, 10 minutes does the job. If you live in a warm place, check the dough after five minutes. (Oh, and it the dough gets too warm, it's also hard to roll. To remedy this, just pop it into the refrigerator for 15 minutes.)
Before rolling out your cookies, sprinkle the counter lightly with tapioca starch and then go ahead and rub some tapioca starch onto your rolling pin. Roll out the dough until it's about a 1/4-inch thick. And cut with your favorite cutter(s)! To keep the dough from sticking to the cookie cutter, dip it in tapioca starch.
Bake the cookies on a parchment-lined baking sheet. (This is my favorite baking sheet.)
That's it! I promise, the hardest part of these cookies is deciding which cutter to use!
By the way, this recipe comes from my brand new paleo baking book! I'd REALLY appreciate it if you ordered a copy!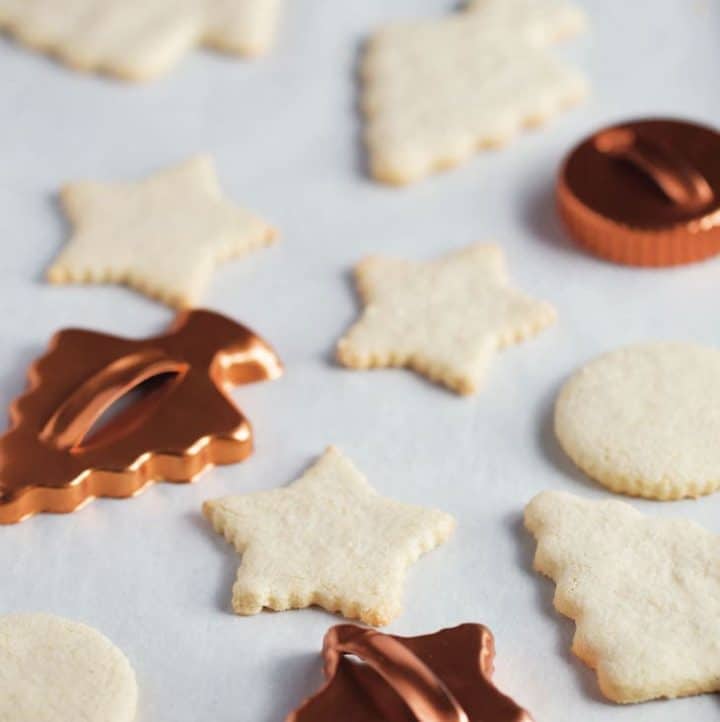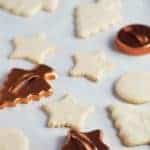 Paleo Sugar Cookies
Prep Time
1
hour
20
minutes
Total Time
1
hour
30
minutes
Servings
20
(4-inch) cookies
Ingredients
1

cup

finely ground almond flour

(4 ounces; 113 grams)

1

cup

tapioca starch

(4 ounces; 113 grams)

1/2

teaspoon

baking powder, homemade or grain-free store-bought

1/2

teaspoon

salt

1/2

cup

evaporated cane juice or coconut sugar

(3 ounces; 85 grams)

1/4

cup

coconut oil, solid, or unsalted butter, softened

(2 ounces; 57 grams)

1

large

egg

(about 2 ounces; 50 grams out of the shell)

1

tablespoon

water

(1 ounce; 14 grams)

1

teaspoon

vanilla extract
Instructions
Whisk the almond flour, tapioca starch, baking powder, and salt together in a small mixing bowl. Combine the evaporated cane juice and coconut oil in a medium mixing bowl. Use a handheld mixer set on medium speed to beat them until a thick paste forms. If there are any large lumps of coconut oil, stop the mixer and squeeze the paste together with your hand, or break up the lumps with a fork. Add the egg and mix until combined. Stop the mixer and add the dry ingredients, vanilla, and water. Mix until a dough forms.

Turn the dough out onto the counter. Knead gently a few times. Wrap the dough in plastic wrap and chill for 1 hour.

Adjust an oven rack to the middle position and preheat the oven to 325 degrees F. Line a rimmed baking sheet with parchment paper.

Allow the dough to sit outside the refrigerator for about 10 minutes. Cut the dough in half and sprinkle your counter with a little tapioca starch. Roll out the dough about 1⁄4-inch thick. Cut into shapes and place on prepared baking sheet about 2 inches apart.

Bake until set and golden brown, about 10 minutes for 4-inch cookies.

Allow the cookies to cool on the pan on a wire rack for 5 minutes, then transfer the cookies directly to the rack to cool completely.

Allow the baking sheet to cool. Reroll scraps and repeat with the remaining dough.