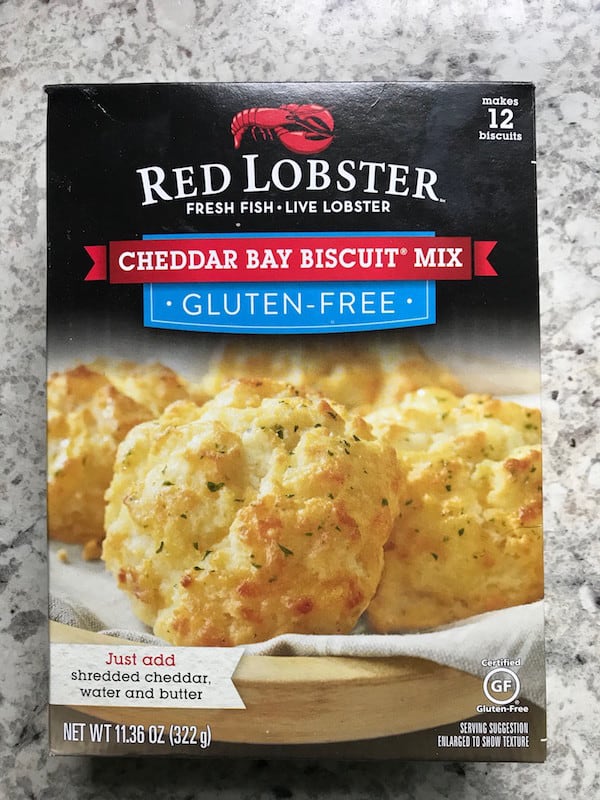 When I read that Red Lobster launched a gluten-free version of their popular Cheddar Bay biscuits, I was surprised. This is not a restaurant that's known for its gluten-free menu.
Then I saw that Red Lobster wasn't making a gluten-free version of their biscuits in their restaurants. No. They created a mix so you can make the biscuits yourself. At home. (As I type this, gluten-free Cheddar Bay biscuits aren't offered in the restaurant, nor does it sound like Red Lobster has any plans on doing so.)
That's…odd? But, still, the mix grabbed my attention. Because I love biscuits the way Oprah loves bread. (I created a recipe for gluten-free Cheddar biscuits a few years ago. Those biscuits, I must say, are pretty darn good.)
So I headed to the only place selling the mix: Wal-Mart. A box cost me $3.84. The non-gluten-free version of the mix was $1.78. As is often the case, the gluten-free version cost most. Sigh.
The Ingredients
Biscuit Mix
Rice flour, palm oil, defatted soy flour, leaving (baking soda, sodium aluminum, phosphate, monocalcium phosphate), cornstarch, food starch-modified, whey powder, salt, dextrose, buttermilk, xanthan gum, soy lecithin.
Herb Blend
Garlic powder, maltodextrin, salt, onion powder, hydrolyzed soy protein, torula yeast, natural and artificial flavors (maltodextrin, butter oil), corn oil, silicon dioxide (anti-caking agent)
The ingredients are pretty boring. A blend of rice flour, soy flour, and cornstarch. While the mix does contain milk, soy, and cornstarch, it looks to be egg-free.
Making and Baking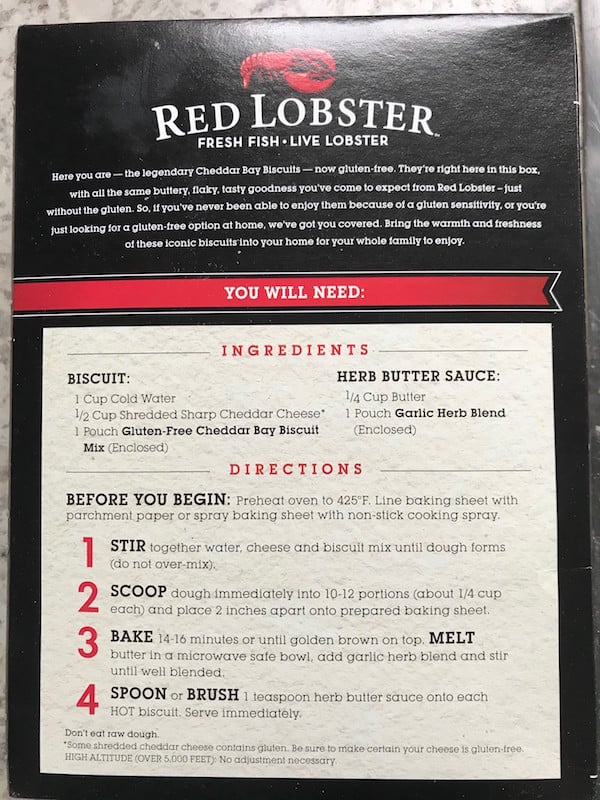 The back of the box calls for 1/2 cup shredded cheese. It also includes this note on the bottom: "Some shredded cheddar cheese contains gluten. Be sure to make certain your cheese is gluten-free."
Here's the deal: I don't know if gluten in shredded cheese is just a rumor or if there is a brand that uses it. I've yet to see one. (That doesn't mean there isn't and you should always read labels!) But at this point, I feel like this is a rumor that's been circulating for years without any proof. I wish someone could name a brand of shredded cheese that uses wheat. (If you know of one, let me know!)
I shredded my own cheese for the mix. Why? I like the taste better. Pre-shredded cheese is convenient but I think it's a bit blah when it comes to taste. So I shred my own.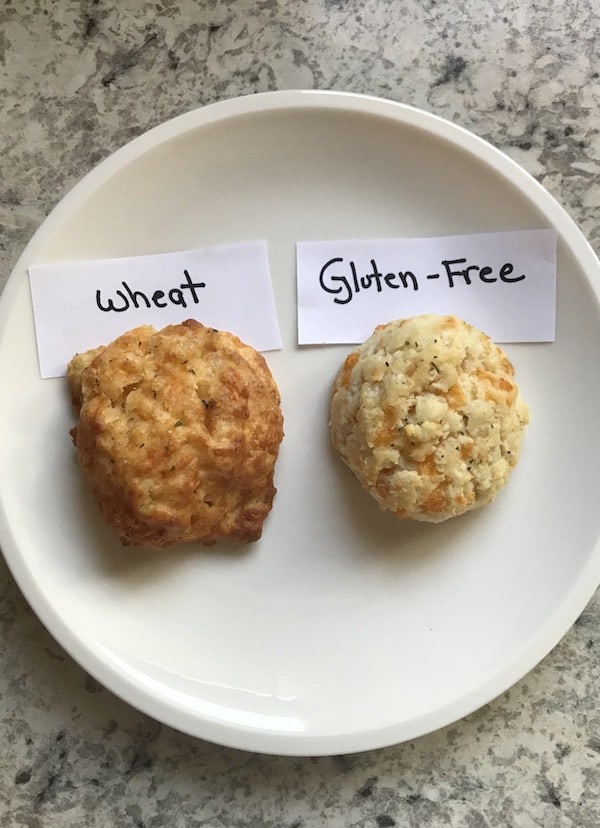 The mix came together easily. The box says to scoop out the dough in "about 1/4 cup" portions. So I did. And I got…nine biscuits. (My biscuits were a scant 1/4 cup each.) This isn't the end of the world but it's a bit annoying.
The biscuits took 16 minutes to bake. On the box, we're directed to "bake until golden brown on top."Hmm…the bottoms were a lovely golden brown. In fact, if I'd baked them much longer, they might have tipped into being too brown.
The top of the biscuit? Not really golden brown at all.
The day before I tested the mix, I picked up a 1/2 dozen (NON-gluten-free) Cheddar Bay biscuits at my local Red Lobster. Those babies were nice and golden brown. Look at how they compare to the gluten-free version.
I melted some butter, mixed it with "garlic herb blend" (this just smelled like garlic and onion) and slathered it on the hot biscuits. The mix says to melt 1/4 cup of butter. That's a generous amount of butter for 9 biscuits. So I had a bit leftover.
The Taste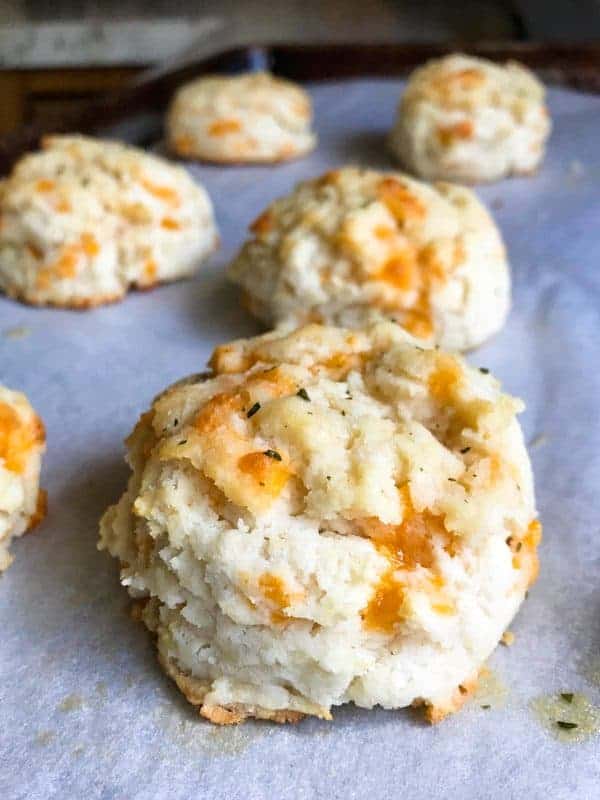 These biscuits were very good. Like the ones sold at the restaurant, they were rich–almost a bit too rich, they left grease on my fingers. The garlic herb butter added a really nice flavor. I'd love to mix the packet into the flour mixture before baking. I think this would add a nice even flavor throughout the biscuits.
The one thing that surprised me was the mild cheddar flavor. It's there but it's not terribly strong.
The Texture
The biscuits were nice and soft. None of that grit that can be present in too many gluten-free baked goods.
The bottom of the biscuits provided a nice crunch, while the inside was soft and tender. (And not gummy. Yay!)
What I liked
I really liked how easy these biscuits were to make. You add some shredded cheese, a little cold water, stir, and you're done. I also like the texture and flavor. Did I LOVE the flavor? I can't say that I did. I found them just a wee bit bland. They were good, not great.
What I didn't like
The price. The box cost almost $4.00, plus the added expense of having to add your own cheese. This seems a bit pricey for a mix that's supposed to make 12 biscuits but only made nine.
Would I buy these again?
That's a solid maybe. While I liked them, they weren't a total standout for me. Since biscuits are such a treat, I'd rather take a few extra minutes and make mine from scratch. This way I can use butter, instead of the palm oil that's included in the Red Lobster Mix.
Grade: B+