These gluten-free pumpkin cookies are soft and tender with a nice pumpkin-spice flavor. The recipe only takes a few minutes to make. And there's no need to chill the cookie dough before baking. Make the dough, scoop it onto a prepared pan, and bake. Finish the cookies with a yummy vanilla glaze. 
A dairy-free variation is included with the recipe.
Other gluten-free pumpkin recipes to try: gluten-free pumpkin muffins and this gluten-free pumpkin bread.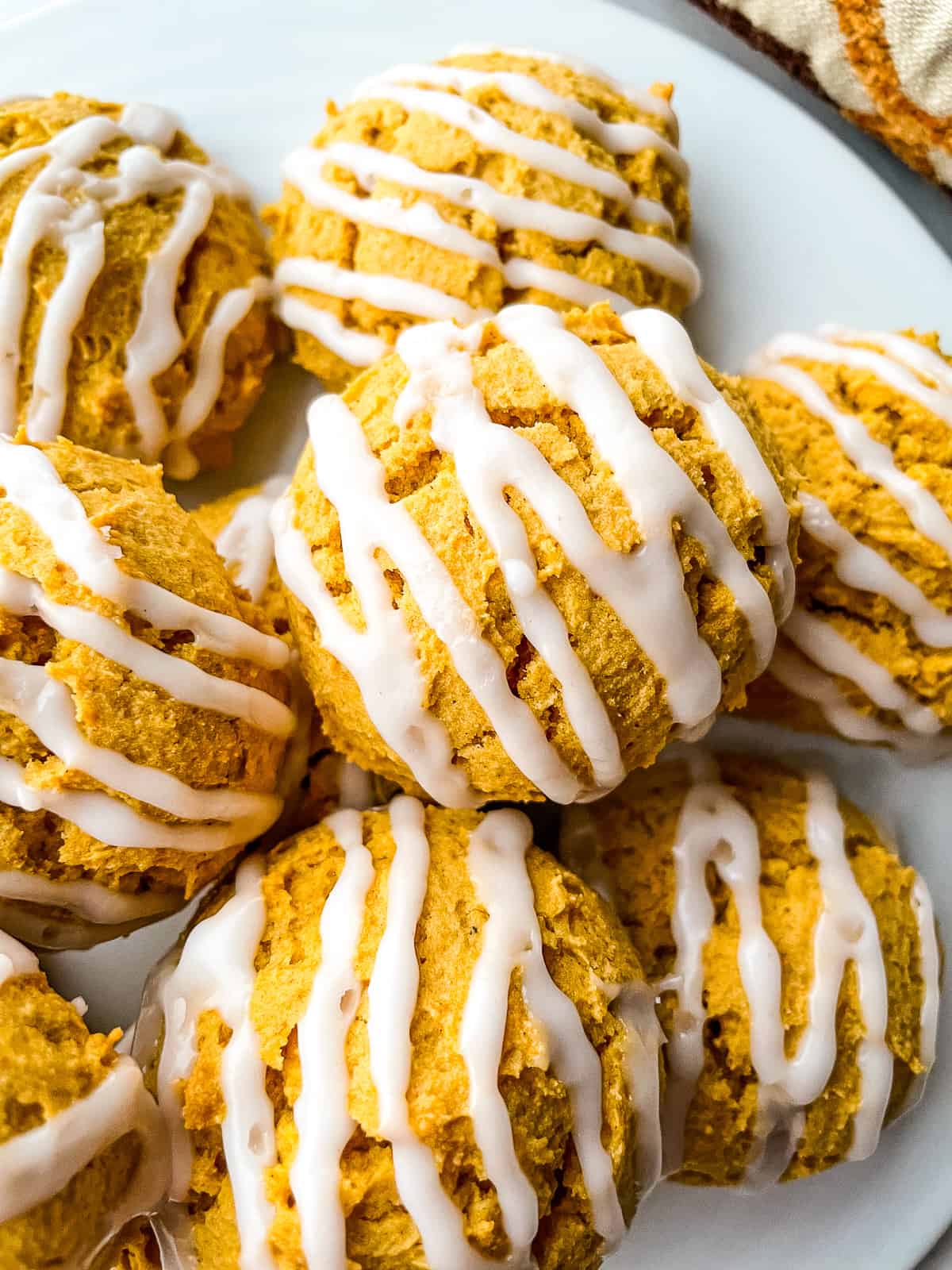 If you love pumpkin desserts, these cookies are for you. While testing the recipe, I jotted down a simple note: "the best pumpkin cookies." I underlined "best". So I was serious about it. After you make a batch, I think you'll agree. They're cakey and filled with a pumpkin-spice flavor. Since the cookies freeze so well; you can enjoy some now and freeze some for later. 
Can't get enough pumpkin treats? Me too! Be sure to try these recipes for gluten-free pumpkin muffins and gluten-free pumpkin bread. Like these cookies, they're loaded with pumpkin flavor and easy to make.
Ingredients.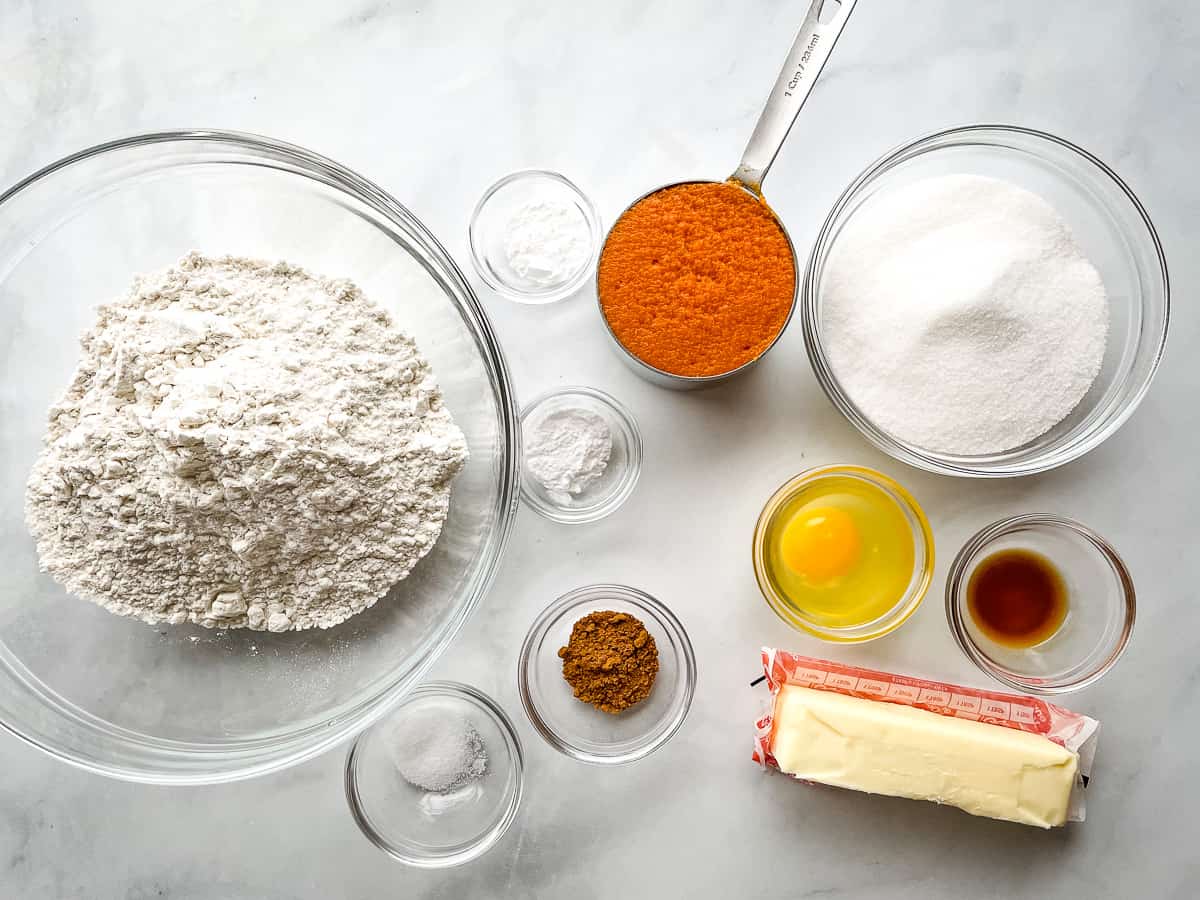 Pumpkin Puree. Gluten-free pumpkin cookies need pumpkin. The pumpkin flavor comes from a cup of pumpkin puree. Use canned 100% pumpkin, not pumpkin pie filling. The filling contains sugar and other ingredients we don't need.
Pumpkin Pie Spice. A blend of cinnamon, ginger, nutmeg, and allspice. If you don't keep this blend in the house, you can replace it with ground cinnamon and ginger.
Gluten-Free Flour. Look for a blend that contains xanthan or guar gum. It helps the cookies hold their shape during baking. If your blend doesn't include it, whisk 1/2 teaspoon xanthan gum into the flour blend before using.
Baking Powder and Baking Soda. The combination of baking powder and baking soda provides lift and helps the cookies to brown.
Salt. Use fine (table) salt. It enhances the flavors of the cookies. 
Butter. Use room temperature (softened) butter in this recipe. If you're dairy-free use a dairy-free butter meant for baking.
Granulated Sugar. The sweetness comes from granulated sugar and helps the cookies have a cake-like texture.
Egg. One egg helps hold the batter together and creates a soft cookie. 
Vanilla Extract. A teaspoon of vanilla extract adds flavor along with the pumpkin spice. 
Optional Ingredients.
Both chocolate chips and chopped nuts are lovely additions to these cookies.
Chocolate Chips. use up to two cups milk or dark chocolate chips or chunks. 
Nuts. Add up to one cup of chopped nuts. For the best flavor, toast them before adding them to the batter.
Dried Fruit. Dried cranberries or cherries taste great in these cookies. Add up to one cup of softened fruit.
How to Make Gluten-Free Pumpkin Cookies.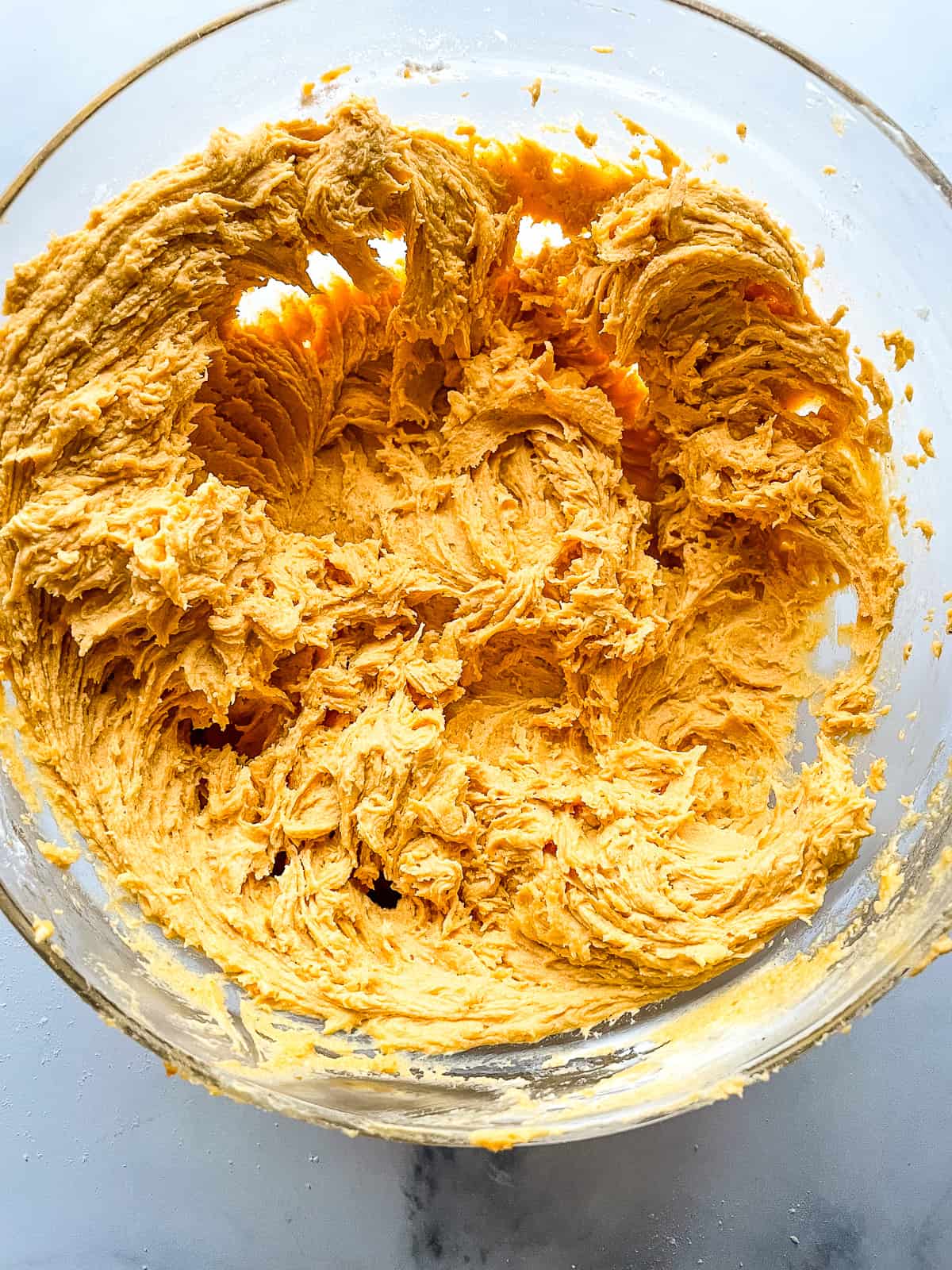 1. Heat the Oven and Prep Your Pan.
Before you make the dough, turn on your oven. This gives the oven time to reach the right temperature as you mix the cookies. If you forget to turn on the oven, no problem. This cookie dough can sit on the counter while you wait for the oven to heat up. It's important that the oven is at the right temperature before you start baking. Placing a pan in a cold oven can cause the cookies to spread. So it's worth waiting for the oven to preheat. 
Line one or two baking sheets with parchment paper. Parchment keeps the cookies from sticking to the pan and makes clean-up easy. If you don't have parchment, grease your cookie sheet lightly with nonstick cooking spray.
2. Make the Dough.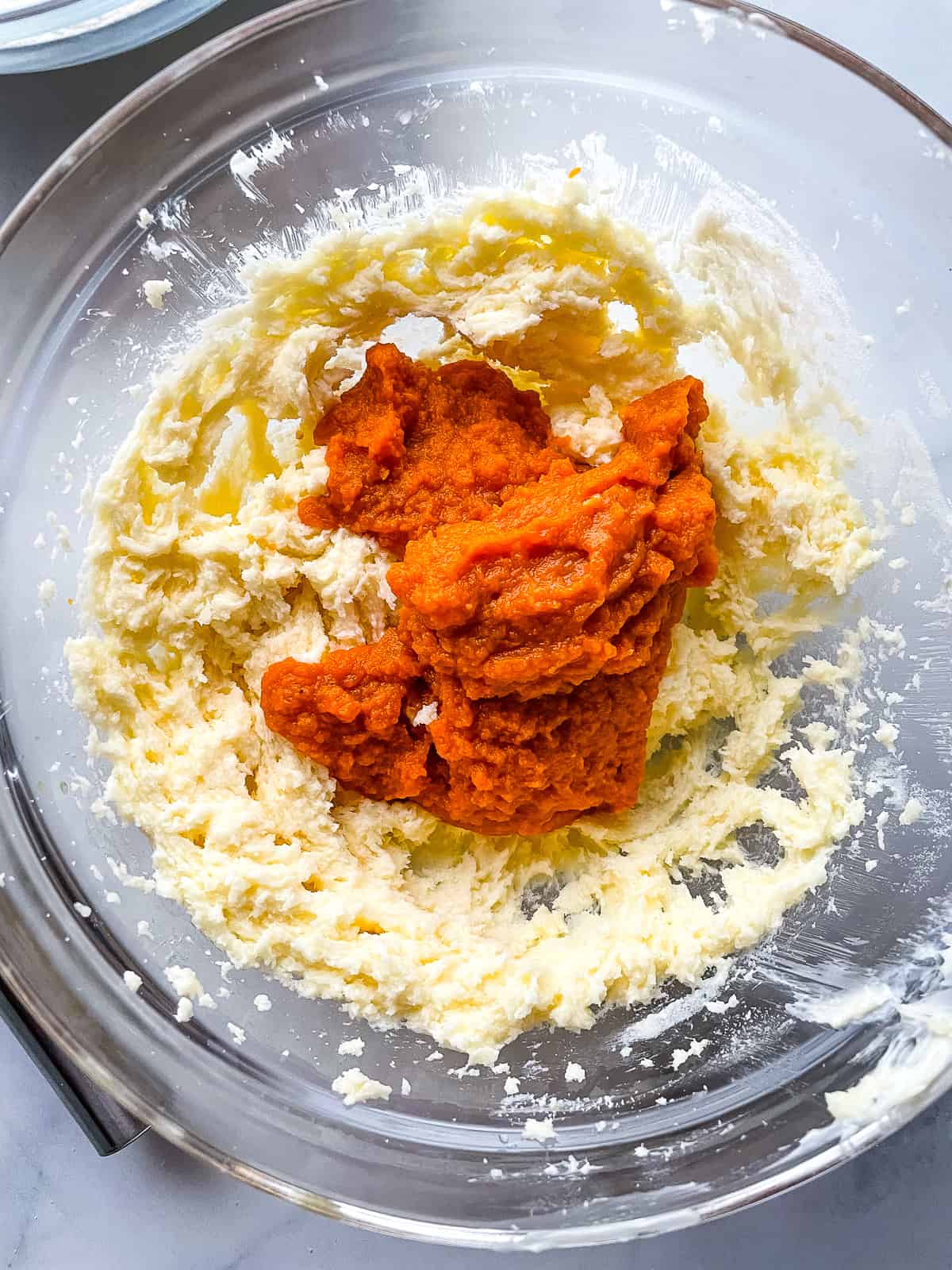 You need two bowls to make these cookies. A small one for the dry ingredients and a large bowl for the dough. Since the dough is thick, an electric mixer is recommended.
Start by whisking the dry ingredients together in a small bowl. This helps mix the baking powder, baking soda, and salt evenly throughout the gluten-free flour. Go ahead and set that bowl aside. You won't need it for a few minutes. 
Get a large mixing bowl and mix butter and sugar until it's smooth and thick. After a minute or so, stop the mixer. Scrape down the sides and bottom of the bowl. A rubber spatula is the best tool for this step. When you do this, remove the thick layer of butter that's clinging to the bowl. If that thick butter blends into the dough, it can make some of the cookies greasy.
Add the egg and vanilla extract. Blend until it looks light and fluffy. When it does, add the pumpkin puree. Stop the mixer and scrape down the sides and bottom of the bowl again.
Finally, stop the mixer and add the gluten-free flour mixture. If you add it while the mixer is running, it can fly out of the bowl.
Mix until a smooth and thick dough forms. The dough looks like a cross between traditional cookie dough and a thick cake batter.
If you want to add chocolate chips or chopped nuts, add them now.
3. Scoop and Bake the Cookies.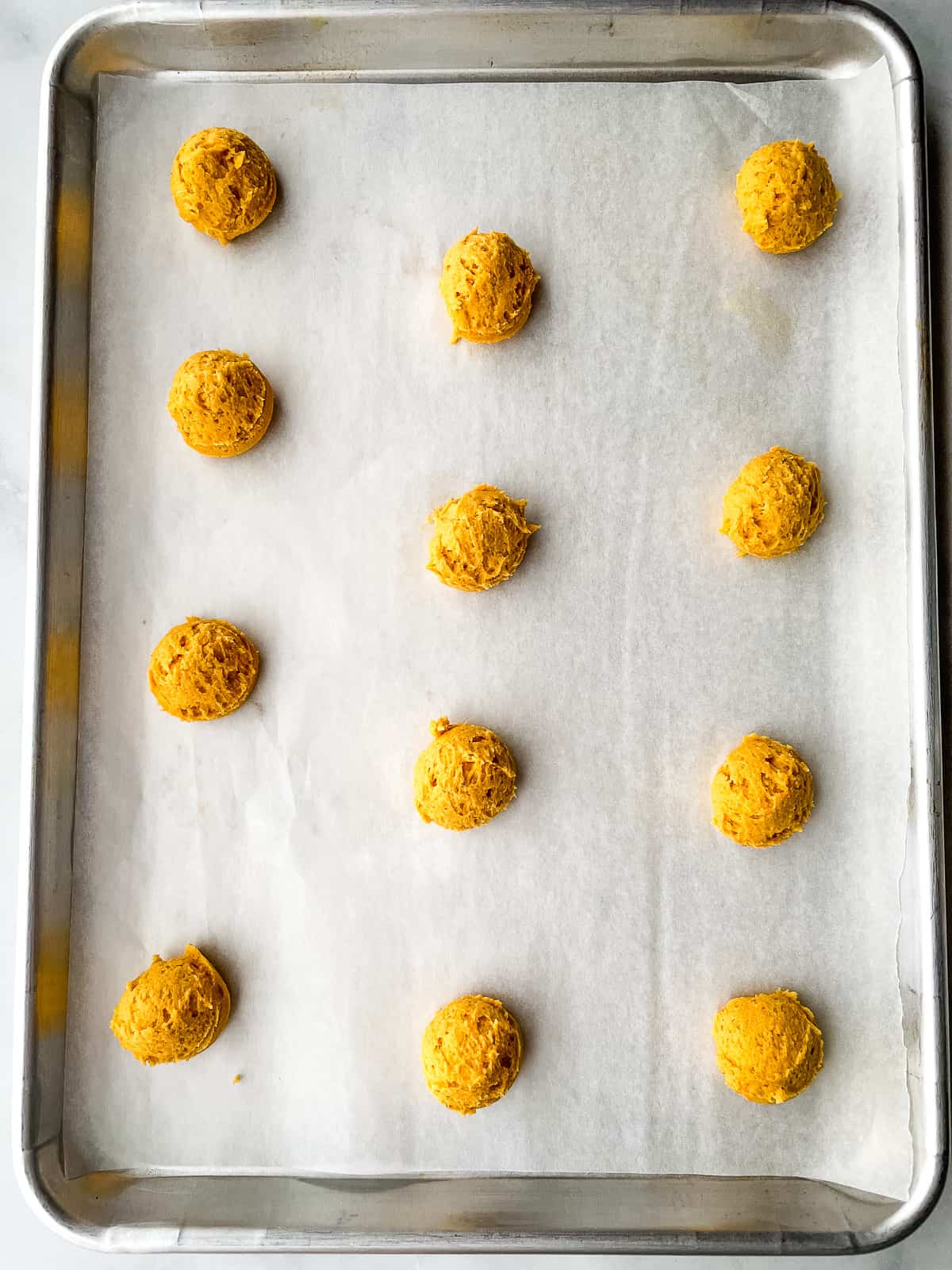 Drop the dough onto the prepared pan. I like to use a cookie scoop for this. It's faster for me than using a spoon and all the cookies come out the same size. If you don't own a cookie scoop, drop the dough onto the pan with a spoon. Use about a tablespoon of batter for each cookie.
4. Cool and Glaze.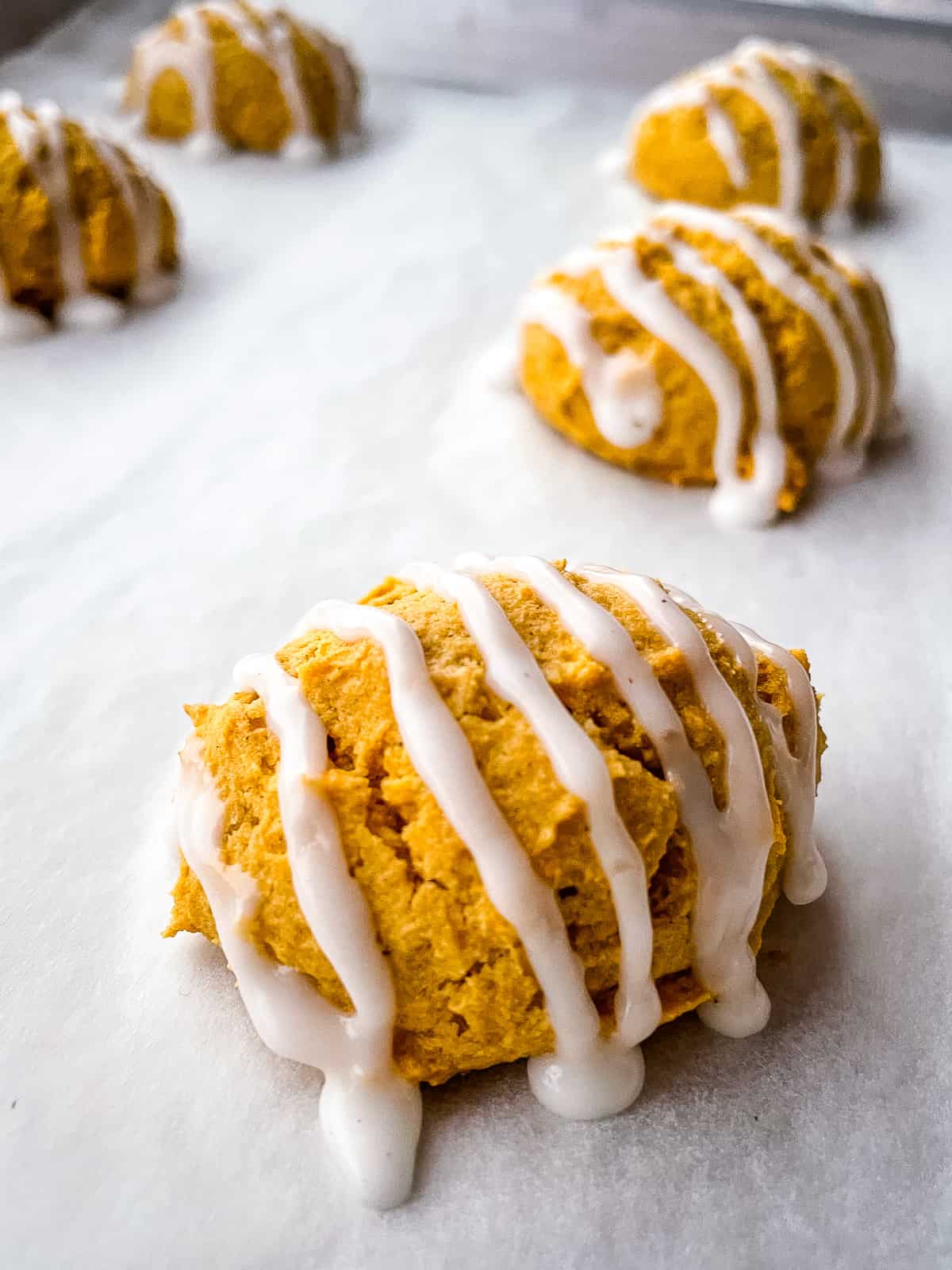 A pan takes about 15 minutes to bake. Look for them to be puffy and set with some light browning on the edges. If they look wet, bake for another few minutes.
Let the cookies cool on the pan for about three minutes. This helps them to set up so they don't break when you transfer them to a wire rack. Transfer them to a wire cooling rack.
I like to finish these cookies with a simple vanilla glaze. It's a snap to make. Just mix together powdered sugar, milk, and a little vanilla extract. The cookies need to cool completely before you glaze them or the glaze runs right off.
How to Store and Freeze Gluten-Free Pumpkin Cookies.
These cookies keep on the counter for about four days. To keep them fresh, place the cooled cookies into a container with a tight-fitting lid.
How to Freeze.
The baked cookies freeze really well. I don't recommend freezing the unbaked dough because of its cake-batter-like texture. If you need to freeze unbaked cookie dough, my gluten-free chocolate chip recipe freezes beautifully.
Let the cookies cool completely. Don't freeze warm cookies. When you wrap warm cookies, it traps the steam. This makes the cookies gummy or crumbly when they thaw.
Place in a freezer container. If you need to layer the cookies, stack them with a piece of parchment paper between the layers.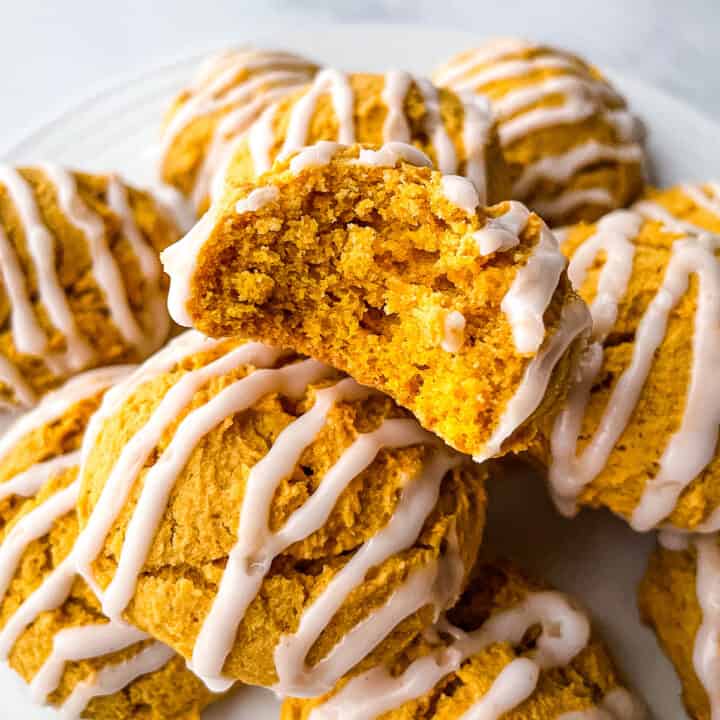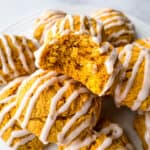 Gluten-Free Pumpkin Cookies
Gluten-free pumpkin cookies are light and cakey with a lovely pumpkin flavor. Finish them with a drizzle of vanilla icing. So good. And so easy!
Ingredients
For the Gluten-Free Pumpkin Cookies
2 ½

cups

gluten-free all-purpose flour

(12 ½ ounces; 370 grams)

1

teaspoon

baking soda

1

teaspoon

baking powder

1 ½

teaspoons

pumpkin spice

½

teaspoon

salt

1 ¼

cups

granulated sugar

(8 ¾ ounces; 248 grams)

½

cup

butter, softened

(4 ounces; 113 grams)

1

large

egg

(about 2 ounces; 56 grams out of shell)

1

teaspoon

vanilla extract

1

cup

pumpkin puree (canned pumpkin)

(8 ounces; 226 grams)
For the Vanilla Glaze
1

cup

powdered sugar

(4 ounces; 113 grams)

1 ½

tablespoons

milk

½

teaspoon

vanilla extract
Instructions
Preheat oven to 350°F. Line a baking sheet with parchment paper.

Whisk together gluten-free flour, baking soda, baking powder, pumpkin spice, and salt in a small bowl. Set the bowl aside.

Mix together butter and sugar in a large bowl until it's thick and creamy. Stop the mixer and scrape down the bottom and sides of the bowl. Mix for an additional 30 seconds.

Add the egg and vanilla. Mix on medium speed until light, about one minute.

Stop mixer. Add pumpkin puree and mix until combined. Add the gluten-free flour mixture and blend on medium-low speed until a batter forms.

Drop dough, about a tablespoon each, onto prepared baking sheets.

Bake the cookies until set and golden brown, about 15 minutes.

Allow cookies to cool on the pan for about three minutes. Transfer cookies to a wire rack to cool completely. Repeat with remaining dough.

Once cookies are cool, make the glaze.

Stir together powdered sugar, milk, and vanilla in a small bowl. If the glaze is too thick to drizzle over cookies, add ½ teaspoon additional milk. If the glaze is too thin (runny), add 1 tablespoon additional powdered sugar. Drizzle glaze over cookies.

Store cookies in an airtight container for up to four days or place in a freezer container and freeze for up to four months.
Recipe Notes
Ingredient Notes and Substitutions.
Gluten-free All-Purpose Flour. This recipe was tested with Bob's Red Mill 1:1 Gluten-Free Baking Flour. Gluten-free flours vary by brand. For best results, use one that contains xanthan gum or whisk in ½ teaspoon to the flour blend. Coconut and almond flours don't work in this recipe.
Pumpkin Spice. Replace the pumpkin spice blend with 1 teaspoon of ground cinnamon and 1/2 teaspoon of ground ginger. For the best flavor, be sure your spices are fresh.
Salt. I bake with table salt. It dissolves best in batters and gives an even flavor. If using kosher or a flaky salt, increase the salt to 1 teaspoon.
Granulated Sugar. I recommended using granulated (white) sugar in this recipe. Sugar replacements give very different results. If you decide to use one, know that the cookies might not turn out.
Butter. Dairy-free butter sticks can be used in place of unsalted butter. 
Egg. This recipe hasn't been tested with an egg-replacer.
Vanilla extract. If you don't have vanilla extract, simply omit it from the recipe.
Pumpkin Puree. Use canned pumpkin puree, not canned pumpkin pie filling. 
Milk. The glaze calls for a little milk. Replace this with a dairy-free milk or water.