Gluten-Free Sugar Cookie Bars are so easy to make! Soft and tender, they taste just like Lofthouse cookie bars.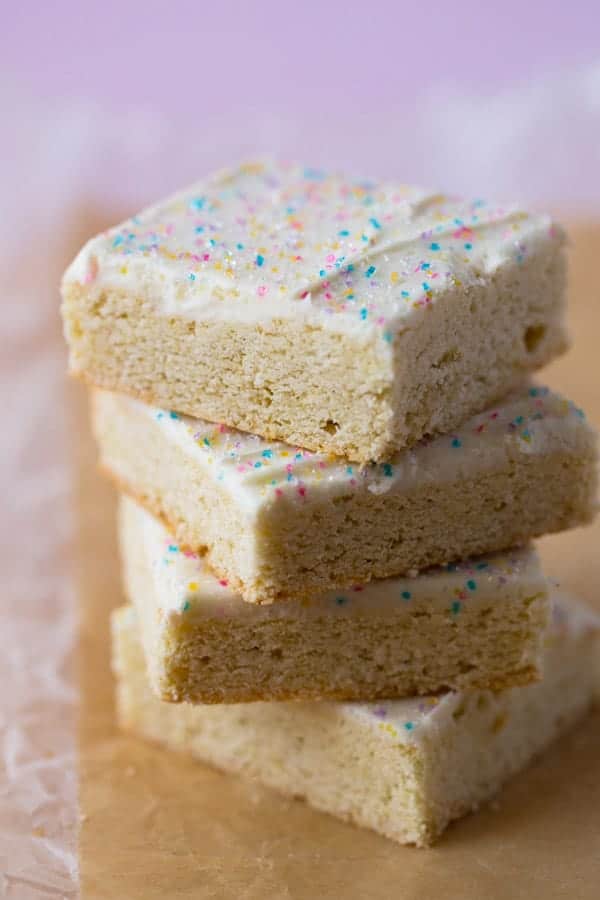 I've got a question for you: why are sugar cookie so darn irresistible to me? I love gluten-free sugar cookies. The cute little shapes are the best. Then there's soft gluten-free sugar cookies. You know the ones I'm talking about, right? They're soft, taste like vanilla and are frosted with buttercream. Perfection. And, my goodness, I can't forget gluten-free sugar cookies with M&Ms pressed into them. When I worked at a bakery, I made thousands of those cookies. And I still love them!
Here's the thing, though, I'm able to walk by a plate of most sugar cookies without always grabbing one to eat. (Most of the time. I mean, hey, I'm not a saint or anything.)
But a plate of sugar cookie bars? Trouble. And, my god, the ways I lie to myself about how many I'm eating.
Here's what usually happens.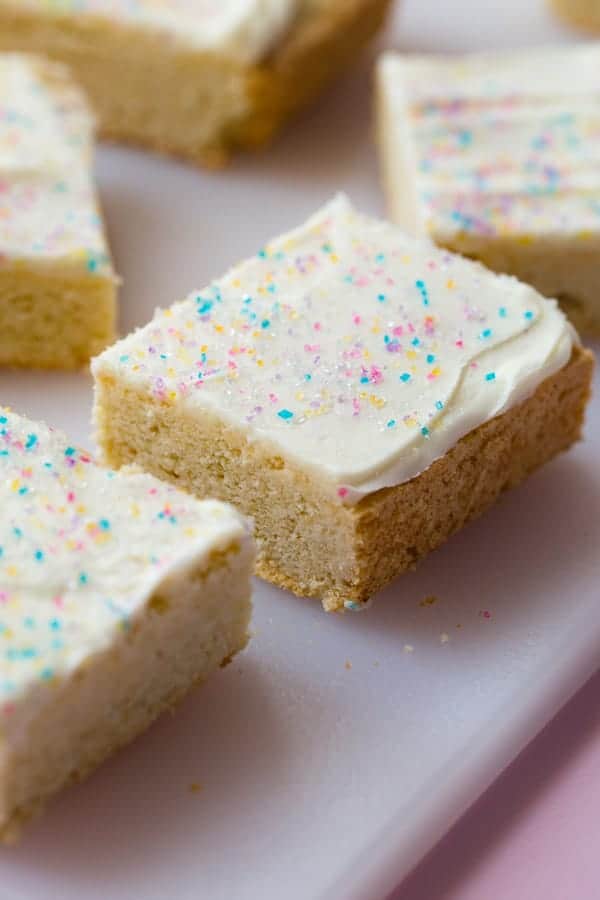 Scene
Kitchen. Early morning.
Elizabeth wants to eat "healthy" today. It will be all green smoothies and other virtuous foods. She sees the a plate of gluten-free sugar cookie bars that were baked yesterday.
A sensible voice in Elizabeth's head says, "Don't have one. It's 9:00 am. Keep walking. You can have a kale smoothie. It's like a milkshake"
Other not-so sensible, cookie bar-loving voice chimes in: "Yeah. A sad milkshake. Made from kale and sadness. Dude. There's sugar cookie bars. And they're sitting right there! You should totally have one."
Sensible voice, "No! You don't want a sugar cookie bars at nine frickin' o'clock in the morning! Keep walking! Kale smoothie. Kale Smoothie!"
Cookie voice, "Oh! They're frosted! And are those…sprinkles? They are! Sprinkles are the best!"
Sensible voice, 'You know what else is the best? Fitting into pants."
Cookie voice, "Two words: yoga pants."
Sensible voice: ::huffs::
Cookie voice: "Hey! I have an idea! Grab a knife. Cut a sliver—just a sliver of the bar. For a taste. You deserve a taste! I mean, it's not like you ate a doughnut for breakfast. What if the bars got stale in the middle of the night. You don't want Greg or your mother to accidentally eat a stale cookie."
Sensible voice: "You kiddin' me right now?"
Cookie voice: hands Elizabeth the knife
Elizabeth slices a thin piece off the bar. Eats it. Repeats the motion. Before exiting the kitchen, Elizabeth eats an entire bar–sliced into four small slivers
End scene.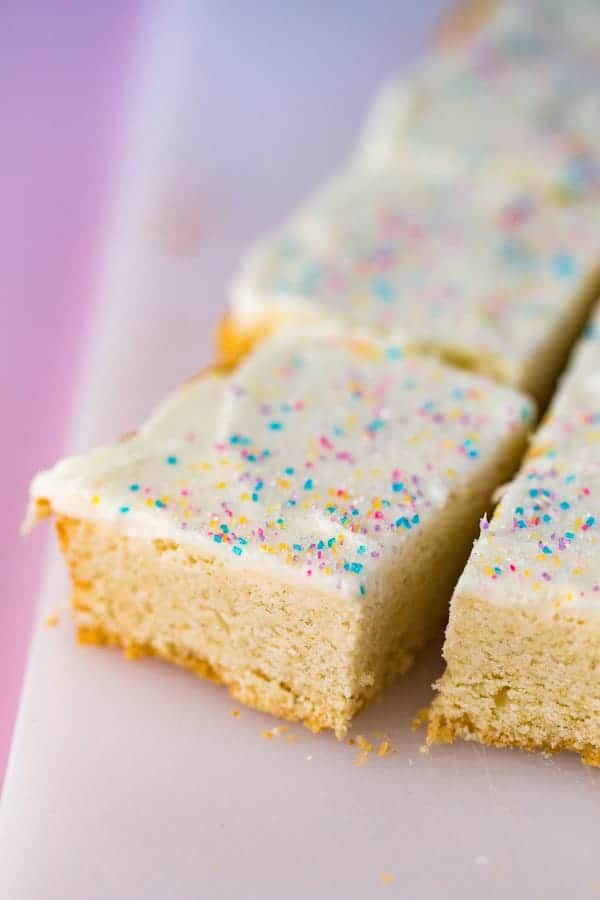 Does something like this ever happen to you? (I'm going to pretend you said yes.) I rarely pick up an entire bar to eat. That would be bonkers. I just…you know, slice one up a few times and eat those slices. There's less calories that way. Right? Right?
And not only are sugar cookie bars one of my favorite things to eat, they're also one of my favorite things to bake.
To make a batch, all you need is some gluten-free all-purpose flour, butter, sugar, and eggs. Okay. That's not all. There's also some baking powder, salt, and vanilla thrown in for good measure. But seriously, these bars are all about butter, sugar, and eggs. They're classic soft sugar cookies, like Lofthouse or Cheryl's cookies, made into bars.
You press the dough into a 9×13 inch pan. (I recommend lining the pan with a piece of parchment paper. This makes the bars easy to remove. You just grab the paper and lift.)
Once the bars are cool, I frost them with a thin layer of vanilla buttercream. Yes. I said thin layer. Now, hear me out. This isn't cake. So I don't like mounds of frosting on the bars. If you prefer more frosting, double the recipe.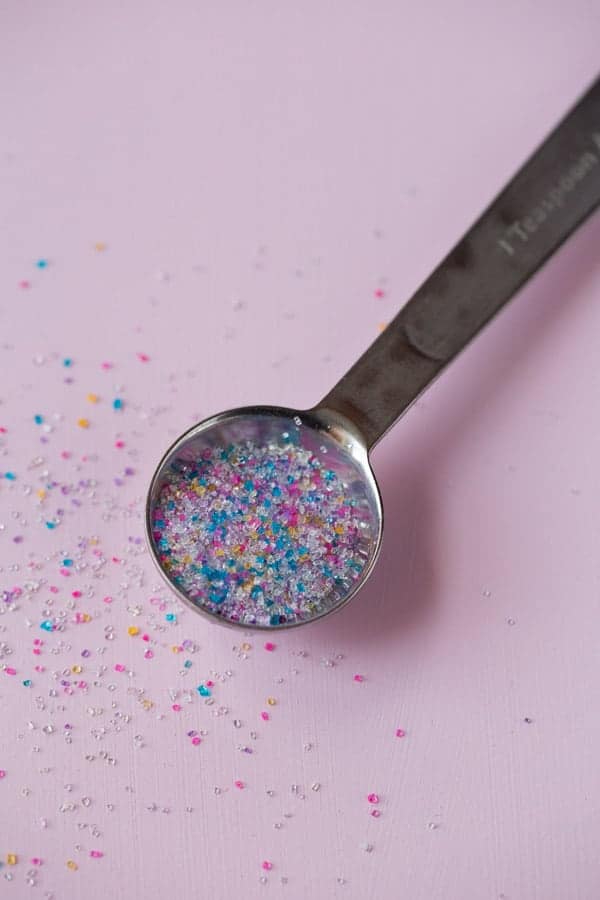 Finish the gluten-free sugar cookie bars with a light sprinkle of colored sugar or jimmies. Or, you could leave them plain. If you're anything like me, you don't care what they look like, you just want to enjoy them. One sliver at a time.
Gluten-Free Sugar Cookie Bars: Recipe Notes
The Flour: I developed this recipe using Bob's Red Mill 1:1 Gluten-Free Baking Flour. It works great. If you swap this flour for another blend, the results might change. Be sure to use a flour that includes xanthan gum. If your blend does not, add 1/2 teaspoon to the recipe.
The Butter: If you're dairy-free, substitute the butter with a dairy-free alternative. Something like Smart Balance works better than coconut oil or shortening in this recipe.
The Sugar: This recipe does not work with a sugar replacement.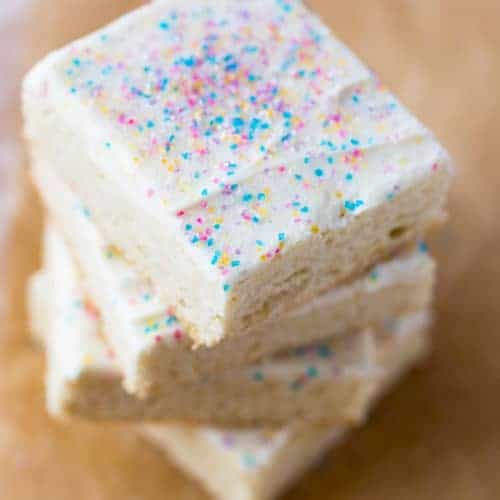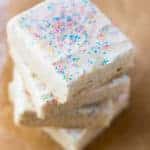 Gluten-Free Sugar Cookie Bars
Easy gluten-free sugar cookie bars. Soft and buttery, these taste like a Lofthouse sugar cookie bar. Frosted with a simple buttercream.
Ingredients
2

sticks

softened butter

8 ounces/ 226 grams

1

cup

granulated sugar

7 ounces/ 198 grams

2

large

eggs

about 4 ounces/ 113 grams out of shell

1

teaspoon

vanilla extract

3

cups

Bob's Red Mill 1:1 Gluten-Free Baking Flour

13.75 ounces/ 390 grams

1

teaspoon

baking powder

1/2

teaspoon

salt
Frosting
6

tablespoons

softened butter

(3 ounces/ 85 grams)

1

cup

powdered sugar, sifted

(4 ounces/ 113 grams)

2

teaspoons

milk, plus additional as needed

1/4

teaspoon

vanilla extract
Instructions
Preheat oven to 350 degrees F. Spray a 9x13-inch baking pan lightly with nonstick cooking spray. Cut a piece of parchment paper large enough to cover the bottom of the pan and overhang the sides. About 17-inches long and 9-inches wide.

Mix together the butter, sugar, eggs, and vanilla extract until smooth, about one minute on medium speed. Add the eggs, one at a time, and allow them to incorporate after each addition. After you add the second egg, mix for one minute.

Stop the mixer and scrape down the bottom and sides of the bowl with a rubber spatula. Mix for 20 seconds.

Stop the mixer and add the flour, baking powder, and salt. Mix until a dough forms.

Press the dough evenly into the prepared pan. (If the dough sticks to your hands, dust them lightly with gluten-free flour.)

Bake until the edges of the bars are golden brown, about 20 minutes.

Remove the pan from the oven and allow the bars to cool in the pan. Lift the bars out of the pan using the overhanging parchment paper.

Frost the top of the bars. (recipe below) Sprinkle with colored sugar or gluten-free sprinkles. Cut into 15 bars. Store wrapped bars on the counter for up to four days.
For the Frosting
Mix together the butter and powdered sugar until smooth. Add the milk and vanilla. Mix until fluffy. If frosting seems too thick, add additional milk, one teaspoon at a time. Spread on cooled bars.