Gluten-free gravy is a must-have part of many holiday meals. This easy recipe makes a flour-thickened gravy that's deeply flavorful and a snap to make. You only need three ingredients and about 10 minutes to make a batch.
By the way, what would a Thanksgiving plate be without gravy and stuffing? Try this homemade gluten-free stuffing recipe. It's delicious on its own or topped with lots of gravy!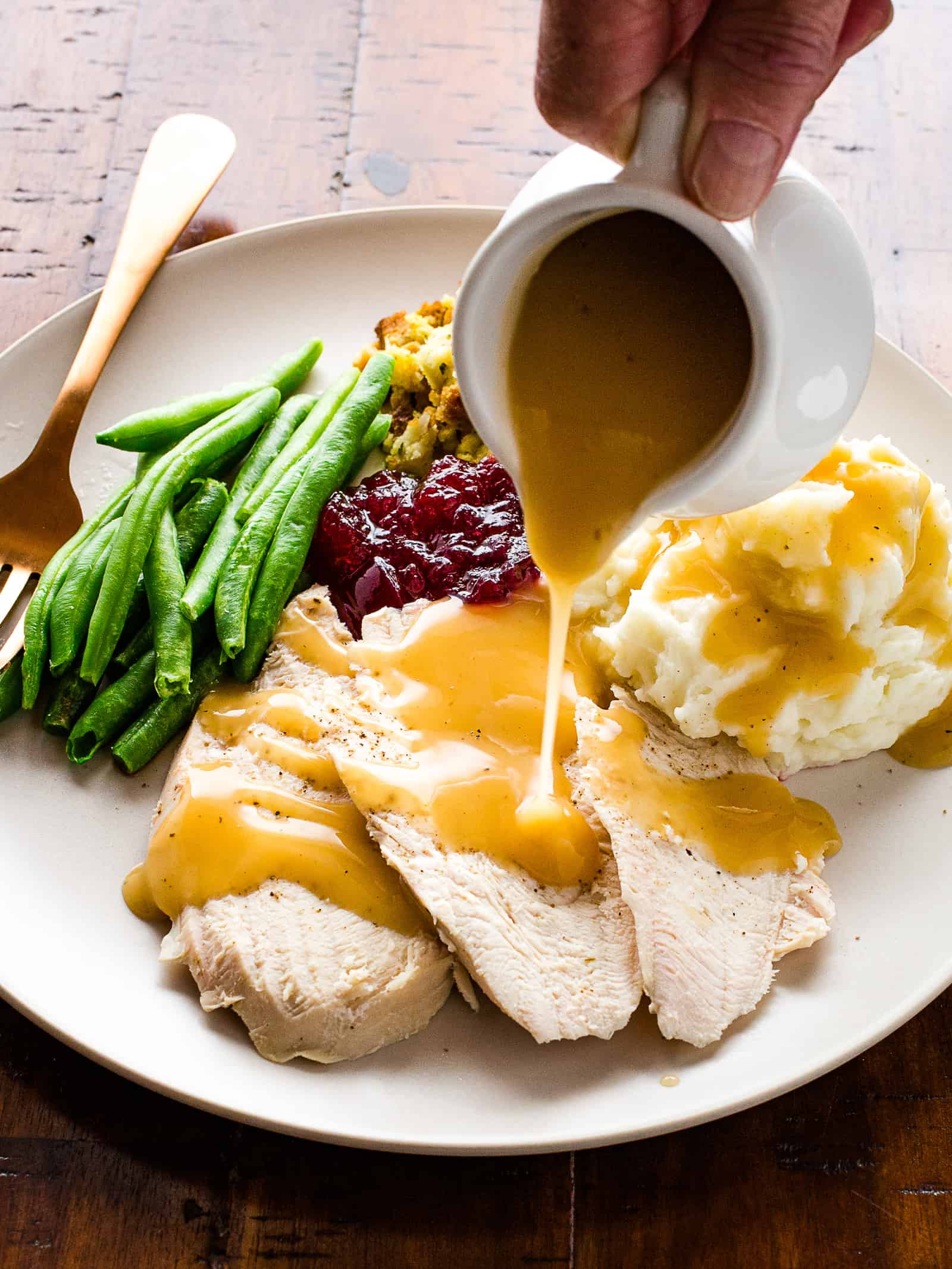 Nothing beats the taste of homemade gravy. For me, it's one of the best parts of Thanksgiving. The rich, savory flavor enhances everything it touches—from turkey to mashed potatoes to gluten-free stuffing.
But there's no need to save this recipe for Thanksgiving. It works well with chicken, beef, or vegetable stock. Make it whenever you want something a little special for dinner.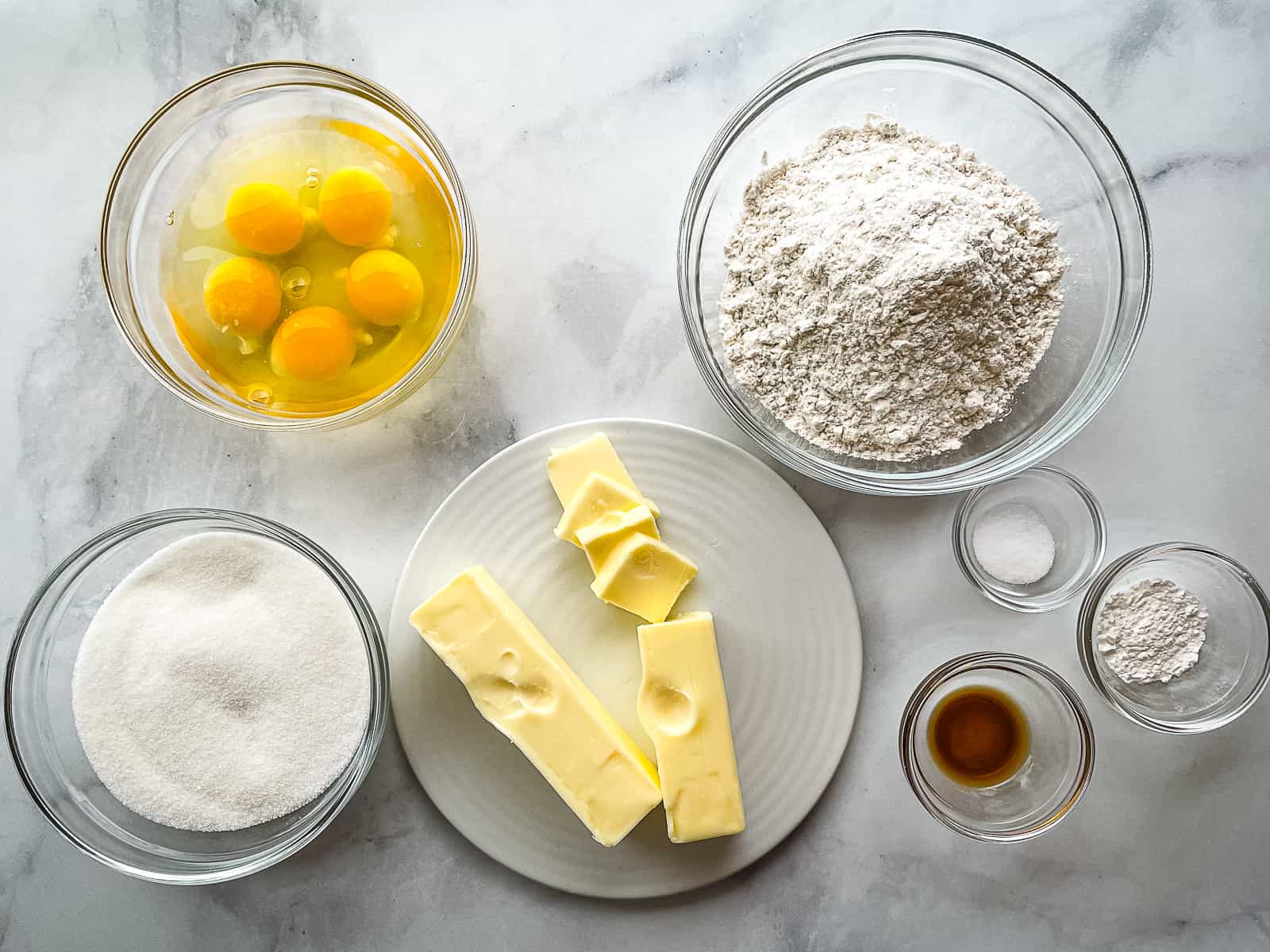 Select Your Ingredients.
Only three ingredients—plus salt and pepper—are needed to make a great gluten-free gravy. Here's a guide to the ingredients you'll need. Mix and match them to make a gravy that's perfect for your tastes.
Richness: Butter and Other Oils.
This gravy is thickened with a roux—a cooked mixture of fat and flour. Any one of these fats, or a combination, make for a silky and rich gravy.
Butter. The classic choice for gravy. It adds a buttery flavor. Use either salted or unsalted butter.
Turkey Fat. (also works with chicken or beef fat.) You can use the fat left behind after cooking your turkey. This adds a nice layer of flavor to the gravy. There's one big downside to using turkey fat: you need to wait until the last minute to make the gravy, unless you want to roast a few turkey wings in advance.

To use turkey fat: After roasting your turkey, transfer the pan drippings to a bowl or gravy separator. Let the fat rise to the top and skim it off.
Bacon Fat. Adds a smoky note to the gravy. Use the fat that's left behind in the skillet or pan after cooking.
Olive Oil. Like butter, olive oil is ready to use. Gravies made with olive oil vary in flavor because olive oils vary in flavor. Some olive oils are very mild and others have a pronounced flavor. To gauge the flavor of your oil, dip a small piece of gluten-free bread into the oil and give it a taste. If you like it, use it in your gravy recipe.
Dairy-Free Butter Spreads. If you'd like to make this gravy dairy-free with a buttery flavor, use a dairy-free butter spread. Use one that you enjoy. The flavor comes through in the gravy.
Coconut Oil. I recommend coconut oil with reservations. It works in this recipe but the flavor of coconut can come through.
Thickeners: Rice Flour and Other Gluten-Free Flours. What to Use and What to Avoid.
Sweet Rice Flour. Made from short-grained white rice, sweet rice flour is an excellent choice. Thanks to the naturally occurring starch (amylopectin) it makes a smooth gluten-free gravy. And since its flavor is so mild, it lets the savory flavors of the stock take center stage.

Sweet rice flour is sometimes labeled mochiko or glutinous rice flour. In this case, glutinous means "sticky". It's a gluten-free product. (Always read labels to ensure the product is gluten-free.)
White Rice Flour. Like sweet rice flour, white rice flour is mild and makes a tasty gravy. If you can't find sweet rice flour, this is what I'd use.
Whole Grain Gluten-Free Flour (brown rice, millet, sorghum) Gravy made with a whole-grain gluten-free flour, like brown rice flour, tastes nutty and, depending on the flour, can have a slightly gritty texture.
Gluten-Free Flour Blends. Premixed gluten-free flour blends often contain starches and other thickeners, like xanthan gum. They can be unpredictable in gluten-free gravy. Some work great. Others get really thick and clump. I avoid using them for this reason.
Almond Flour. Made from ground almonds, almond flour doesn't provide thickening power and can't be used in this recipe.
Coconut Flour. Makes an unappetizingly thick gravy with a strong coconut flavor.
What About Using Cornstarch in Gluten-Free Gravy?
Cornstarch is a popular thickener for gluten-free gravy. The method for using cornstarch is different than using a gluten-free flour. For this reason, it can't be used in this recipe.
Flavor and Body: Stocks and Roasting Liquid.
Gravy is simply a sauce made of thickened meat or vegetable juices. And now we're going to focus on those juices. There are lots of tasty options!
Turkey, Chicken, or Beef Stock. Homemade or high-quality broth or stock are perfect for making gravy. If you're buying the stock, be sure it's salt-free or low-salt. As the gravy cooks, the salt can concentrate. This means your gravy can go from great to salty in just a few minutes. Always check ingredients to ensure the stock is gluten-free.
Vegetable or Mushroom Stock. If you're making a meat-free gravy, use a vegetable or mushroom stock. For the deep flavor, use half vegetable stock and half mushroom. The combination makes a lovely gravy.
Bouillon Paste or Cubes. A quick opinion for making gravy is to use bouillon paste or cubes. Reconstitute them according to the package. (You'll need enough for two cups.) Some brands of bouillon are salty. Look for a low-salt version. Check current ingredients to ensure the bouillion is gluten-free.
Roasting Liquid. A roast gives off juices as it cooks. If the roasting liquid doesn't burn, you can use it to make gravy.

A quick note about using roasting liquid. If you plan to use the pan drippings, be sure to have stock or broth on hand. Sometimes pan drippings burn or there's not enough liquid to make gravy.

How to Use Roasting Liquid (Pan Drippings) to Make Gluten-Free Gravy.
Carefully spoon or pour the remove the liquid from the pan. Strain it through a fine mesh strainer to remove any bits of bone or fat. Place the drippings into a measuring cup. The fat will rise to the top after a few minutes. Skim the fat or your gravy will have a greasy texture.
Seasonings: Salt, Pepper, and Other Ways to Add Flavor.
Salt. Add salt to the gravy after it's cooked and is at the desired consistency. If salt is added too early, it can concentrate as the gravy cooks.
Pepper. Freshly ground black or white pepper adds a little heat to the gravy. Some folks don't like pepper in their gravy. It's fine to leave it out. Add it to taste along with the salt.
Gluten-Free Soy Sauce. A nice flavor booster is a little gluten-free soy sauce or tamari. Both add umami. A mere teaspoon boosts the savoriness of gravy. If you're using soy sauce, add it before seasoning with salt.
Fresh Herbs. If you've got the time, simmer your gravy with a few springs of fresh thyme or some parsley. They lend a freshness to rich gravies. After about 30 minutes, remove the herbs.
Other Ways to Add Flavor.
Use the pan drippings. After roasting, small bits of meat or vegetables stick to the bottom of the roasting pan. This is called "fond." These little bits are very flavorful. Even if you aren't using the roasting liquid, you can use the fond. Simply scrape the bottom of your pan with a wooden spoon. (Metal utensils can scratch the pan.) Then pour a little stock into the pan. Stir to remove all the fond. Strain this mixture in case there are any small pieces of bone. Then to the gravy.
Boost the Broth. If you're using store-bought stock, you can amp up the flavor before using it. Place three cups of stock in a pot. (This is one cup of additional stock.) Simmer with a few peeled carrots, a stalk of celery, and a dried bay leaf for about 30 minutes. If you've got them, add a few whole peppercorns or a few dried mushrooms. Strain the stock before you make the gravy.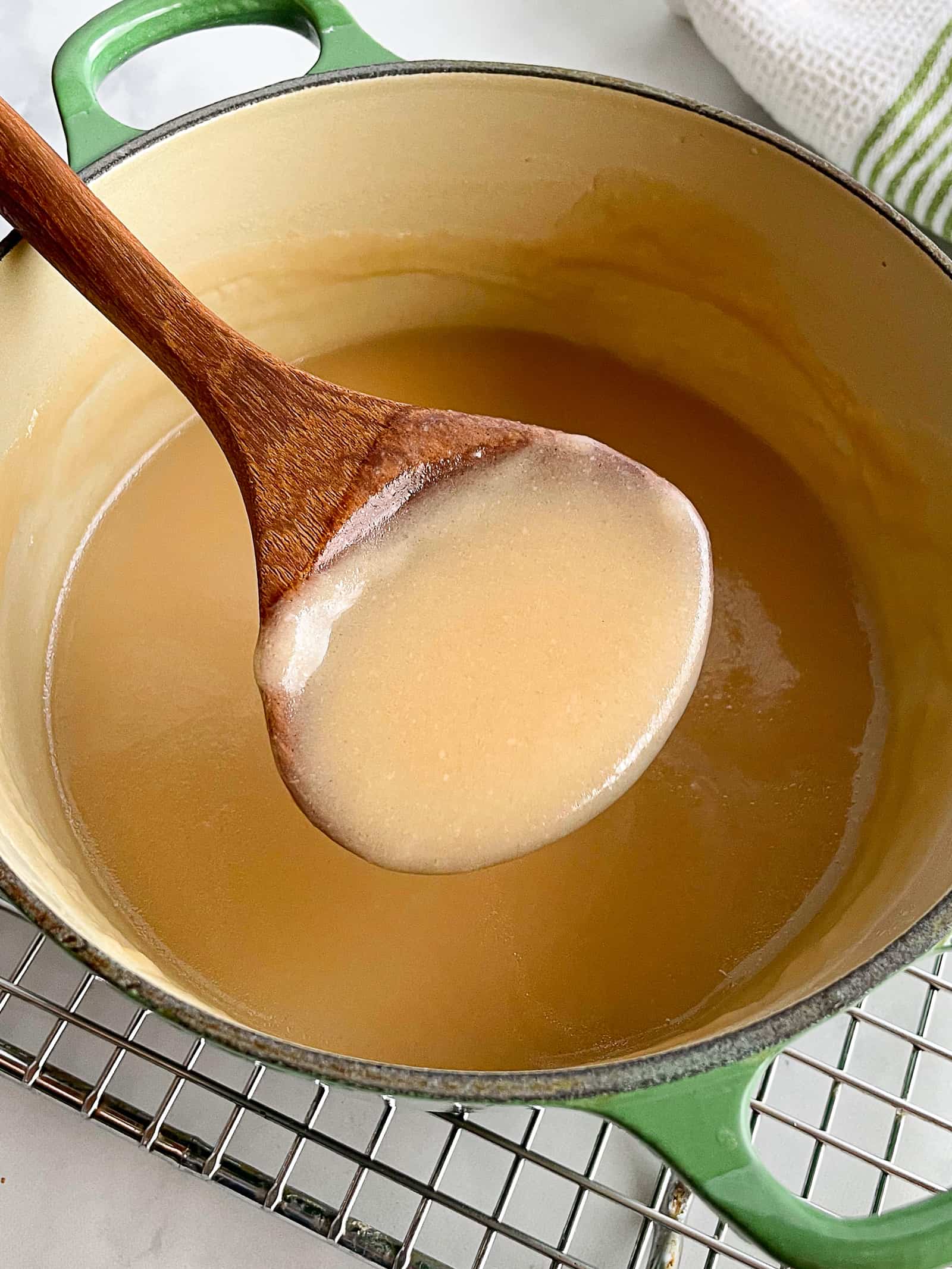 How to Make Gluten-Free Gravy. Key Steps.
Step One: Make the Roux.
This gluten-free gravy starts with a cooked fat and flour mixture called a roux. Cooking the two together until light brown gets rid of the raw flour flavor. And the darker you cook the roux, the more flavor it adds to the gravy.

Here's how to make the perfect roux. Heat the butter or fat in a pot. If you're using butter, let it melt. If you're using oil, heat until it simmers but doesn't smoke. There's no need to get the butter or oil too hot.
Once it's hot, add the gluten-free flour and whisk. The roux will look thick and almost dry at first. As it cooks, it loosens a bit. Whisk constantly as it cooks to prevent burning. For the best flavor, cook until the mixture turns golden brown.
Step Two: Slowly Add the Liquid.
After you've cooked the roux, it's time to turn it into gravy. This is the best part. To do this, you need to add the hot stock or roasting liquid in a slow and steady steam, whisking as you add the stock. This step is really important. If you add liquid too fast, the roux can clump. Clumpy roux means lumpy gravy. (Don't fret if that happens. I've included common fixes for gluten-free gravy in this post.) Pour the hot liquid into the pot in a slow steam.

It takes a minute or so for the starch to swell and thicken the gravy. If your gravy seems thin at first, don't worry. It thickens as it simmers.
Step Three: Bring to a Boil.
After you add all the liquid, bring the gravy to a gentle boil. Then reduce the heat and let it simmer for about 10 minutes or until it reaches the consistency you like. Stir the gravy occasionally as it simmers to prevent it from scorching on the bottom of the pan.
Step Four: Season to Taste.
It's finally time to taste the gravy. Before adding anything, try a spoonful. Tasting it is especially important if you've used boxed stock or bouillion.

After trying it, season with salt and pepper. If you're using the optional teaspoon of soy sauce, add it before seasoning with salt.
As gravy simmers, it concentrates a bit. If you season it too early, seasonings, especially salt, can overwhelm the gravy.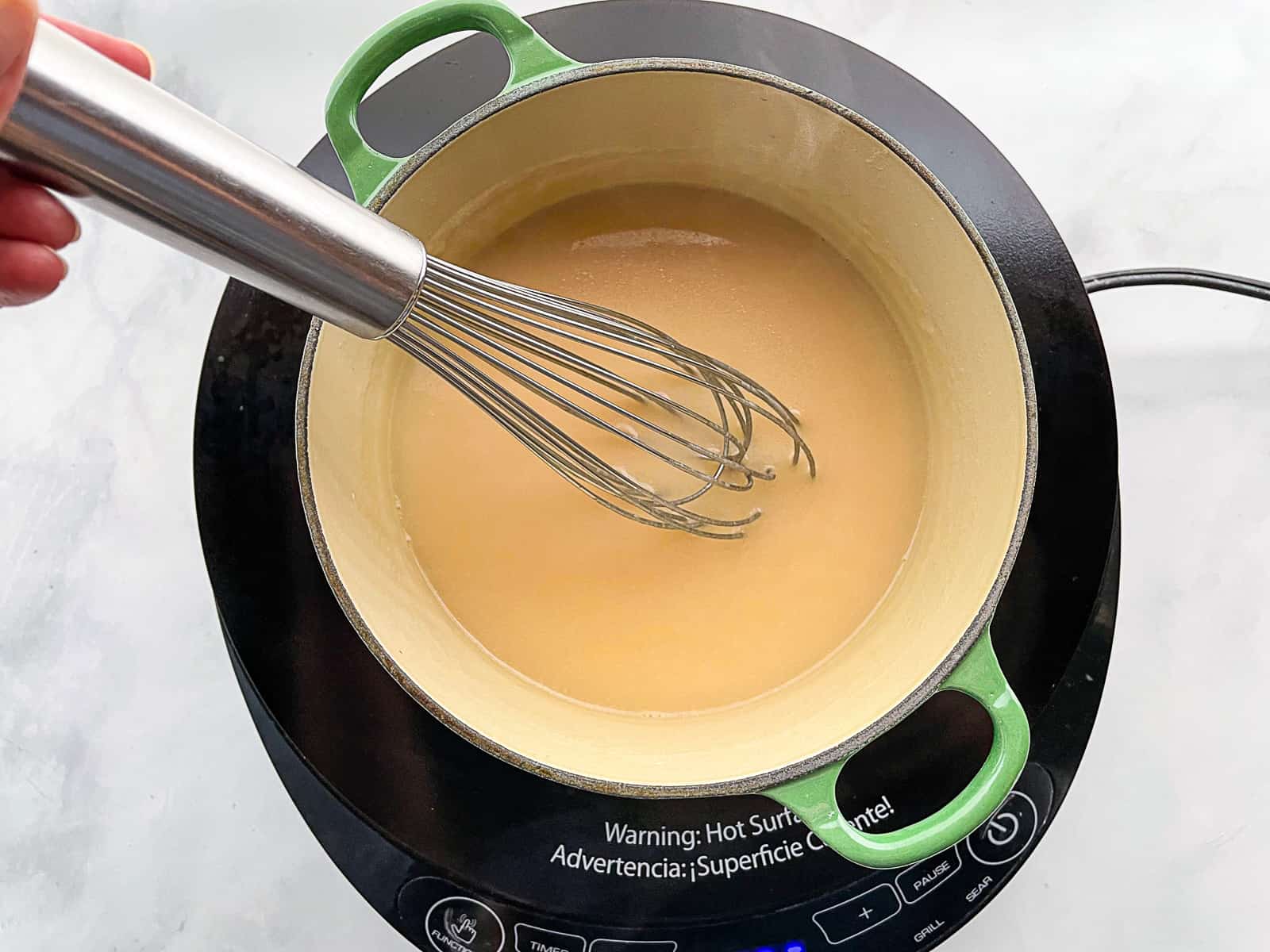 Fixing Gluten-Free Gravy. Common Issues.
Problem: Lumpy Gravy. Gluten-free gravy doesn't clump as easily as a wheat flour-based gravy. But it can happen. If you notice your gravy is lumpy, it can be fixed.
First, try to whisk the gravy. Sometimes after a minute or so of vigorous whisking, the lumps go away. If that doesn't work, blend the gravy on low speed with a blender, either a regular blender or an immersion blender. Or ladle the gravy through a fine mesh strainer. This is my least favorite method. It's messy and requires more cleanup than using a whisk or blender.
Problem: Thin Gravy. If your gravy is too thin, whisk two teaspoons of cornstarch with a tablespoon of water. Add the cornstarch mixture into the gravy and bring it to a boil. (Cornstarch must be boiled to thicken sauces). Don't add cornstarch directly to hot gravy. It can clump.
Problem: Thick Gravy. Gravy that's too thick is an easy problem to solve. Whisk in additional stock or broth until it reaches the right consistency.
Problem: Salty Gravy. An overly salty gravy is unappetizing and can ruin a plate of food. There isn't an easy fix for this. Although old kitchen wisdom says to add potatoes to salty gravy to "absorb the salt", this doesn't really work. The best way to fix this is to make a half batch of gravy without any salt. (If you're using stock, make sure it's salt-free.) Then combine the two. This usually fixes it.
How to Make Gluten-Free Gravy in Advance.
You can make gravy up to four days in advance. There's no need to wait until Thanksgiving day to make it. This is especially nice if you're having a large gathering and need to make several batches.
To make gravy in advance: Prepare the recipe as directed. Cool it and store it in a covered container in the refrigerator. Right before serving, warm the gravy over low heat. If you'd like to add pan drippings, stir them in right before serving.
Storing and Reheating.
Store leftover gravy in an airtight container. Refrigerate for up to four days.
To reheat: place the gravy in a small saucepan and heat over low heat. Stir occasionally as it heats.
Freezing.
Gluten-free gravy made with flour freezes really well. (Cornstarch-thickened gravy does not. It gets really watery.) It can be frozen for up to three months.
Cool it and place it into a freezer container or zip-top freezer bag. Freeze the gravy for up to three months. When you're ready to serve, transfer the gravy to the refrigerator the night before serving. Let it thaw overnight. When ready to serve, place the gravy in a pan and heat over medium. If gravy is thick, stir in a little stock to thin.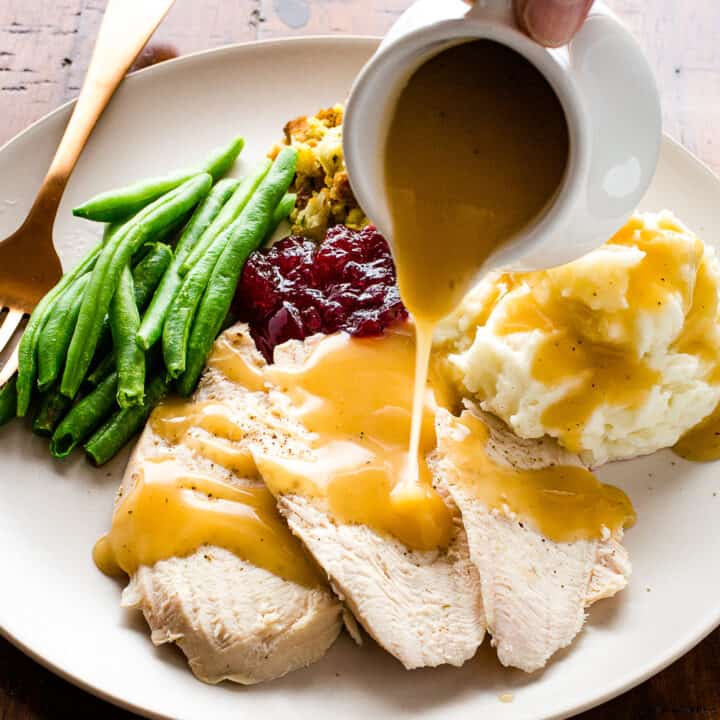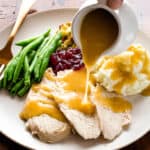 How to Make Gluten-Free Gravy
Gluten-Free Gravy is easy to make. This recipe only requires three simple ingredients. The gravy is perfect for Thanksgiving or any meal!
Ingredients
3

tablespoons

unsalted butter or olive oil

(1½ ounces; 42 grams)

3

tablespoons

sweet rice flour or white rice flour

(¾ ounce; 21 grams)

2

cups

warm turkey or chicken stock, see note

(16 ounces; 453 grams)

1

teaspoon

gluten-free soy sauce, optional

salt and freshly ground black pepper
Instructions
In a small pot, melt the butter over medium-high heat. Or heat the oil until it shimmers but doesn't smoke.

Add the sweet rice flour and whisk until a paste forms. Continue whisking until paste turns light beige, about 3 minutes.

In a slow and steady stream, whisk in warm stock. Cook, whisking constantly, until gravy thickens and begins to bubble. Reduce heat. Simmer for 10 minutes.

Add soy sauce if using. Season with salt and pepper to taste.

Serve warm. Store leftover gravy in the refrigerator for up to four days.
Recipe Notes
Stock.
Homemade or store-bought stock can be used in this recipe. Be sure to use salt-free or low-sodium gluten-free turkey, chicken, or beef stock. If using gluten-free bouillion, reconstitute it according to package directions before adding to the gravy. 
Roasting Liquid.
If you'd like to use roasting liquid, ladle the liquid into a bowl. Strain the liquid and then skim off the fat. Measure it. You'll need two cups. Don't use the roasting liquid if the bottom of the roasting pan is burnt. If you don't have two full cups of roasting liquid, add stock until you have two cups.