Gluten-Free Chocolate Cake for Two
Valentine's Day always makes me notice all the food I can't eat. Someone brings gluten-filled cupcakes to work or offers me heart-shaped homemade fudge studded with nuts (I'm also allergic to nuts) or—you get the point, it's rough. Who wants to spend the entire day turning down chocolate treats? Not me!
This easy recipes makes just enough chocolate cake for two. And it comes together quickly enough that you can make it at the end of a long day—when you're really craving some chocolate. (I add chocolate chips to the chocolate cake batter for a double dose of chocolate. Sometimes too much is just enough, right?)
The recipe was inspired by those microwave chocolate mug cake recipes you see floating around Pinterest. However, this cake is baked in the oven instead of taking a quick whirl in the microwave. When made in the microwave, I found the texture unpleasantly spongy. When baked in the oven, you're rewarded with a deep, rich chocolate cake that'll help you forget about all the treats you had to turn down all day.
Usually I finish this cake with a light dusting of powdered sugar. You know what else tastes great on this? A light drizzle of vanilla-spiked heavy cream. Yup! Heavy cream poured over warm chocolate cakes is AMAZING. Simply stir in a drop or two of vanilla to a tablespoon or two of heavy cream. Pour over the cake. Done!
Allergen-Notes
Dairy-free: Use coffee instead of milk in the recipe.
Egg-Free: This recipe does not work without eggs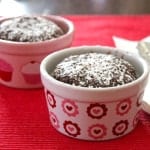 Gluten-Free Chocolate Cake for Two
Ingredients
1/4

cup

granulated sugar

(1 3/4 ounce; 50 grams)

3

tablespoons

white rice flour

(3/4 ounce; 22 grams)

2

tablespoons

cocoa powder, natural or Dutch process

(3/8 ounce; 11 grams)

1

tablespoon

tapioca starch

(1/4 ounce; 7 grams)

1/8

teaspoon

salt

1/8

teaspoon

baking soda

3

tablespoons

milk or coffee

(1 1/2 ounces; 42 grams)

2

tablespoons

vegetable oil

(about 1 ounce; 24 grams)

1

large

egg

(about 1 3/4 ounces; 50 grams)

1

tablespoon

chocolate chips, optional

(about 1/3 ounce; 10 grams)

confectioners' sugar

optional
Instructions
Preheat oven to 350°F. Lightly grease two 1-cup ramekins with non-stick cooking spray. In small bowl, whisk together granulated sugar, white rice flour, cocoa powder, tapioca starch, salt, and baking soda. Add milk (or coffee), vegetable oil, and egg. Whisk until smooth.

Sprinkle chocolate chips evenly between the two prepared ramekins. Divide batter evenly between the ramekins. Bake until cake is firm and aromatic, about 25 minutes. Remove from oven. Allow to cool for five minutes. Dust with confectioners' sugar if desired. Serve warm.